Edited from Chronjam's Weapon Update on apathbeyond.com

RPG-7
The RPG-7 is a brand new, inexpensive anti-armor grenade launcher used by the Soviet infantry forces. Mass-produced for an anti-tank role to ensure squads have appropriate countermeasures against Allied vehicles, the RPG-7 is a rugged weapon that will surely change the face of combat forever. Part of its ruggedness comes from simplicity, and a notable lack of internal or external guidance systems; users simply point and shoot. While this makes it less than stellar at long distances and difficult to aim against aircraft, lacking even the cursory guidance the LAW features and poor fin stability, most vehicles' armor will quickly succumb to its fast volleys.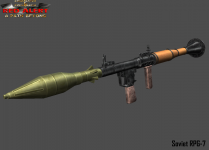 While not intended for use against infantry and without perfectly level flight, the RPG still can harm infantry in close quarters. Due to a lack of stability and absolutely no guidance systems, the rocket projectile tends to form a very lazy arc. This requires a user to aim above their target at longer distances, but against structures, aiming is a trivial matter. An alternate firing mode will disable the timed fuse on the warhead but results in less thrust, making it worse for long range engagement but excellent for mortar-esque attacks or when fired from hills.
Its ballistic behavior performs best against slower vehicles and buildings of all sorts, allowing Soviet infantry to lob attacks into Allied bases from afar outside retaliation range; or, indirectly fire over base walls or from behind cover. Unfortunately, its warhead's effectiveness does not gain any boosts when used to attack the inside of an enemy structure. It does, however, provide an inexpensive way to overcome Allied Pillbox defenses as it can either outrange their heavy machine guns, or arc a projectile over from behind cover.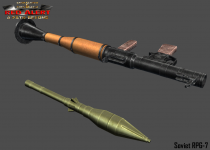 An RPG-7 has been issued in bulk to Soviet infantry forces, and features a long-range timed warhead and a shorter-range untimed warhead. Original model by r34ch, texture by TheBeerinator.