Hello everyone,
Today I will present you a few things.
Metal Sonic
First, and maybe the most important for the Sonic fans, Metal Sonic will be included in the mod.
You will fight him in Stardust Speedway Zone Act 3 (Bad Future), just like the original game. And even if it's Doom, you will have to race him to win. But of course, Eggman won't let you win this, and you'll be annoyed by him.
Since the mod uses a hub level, you will have a button to reset the level in case you fail the race.
A video of the race :
The hub level
I've already explained a bit what is the hub level before. Now, I am able to specify a few things.
You will be able to travel into each act and level by finishing the previous level. Sometimes, you will be able to choose because you'll meet a crossroad. But of course you will be able to go into all of the ways to play all the levels that will be included.
Also, the Red Star Rings that you can collect. They will unlock some bonus levels in the Hub Level. So, be sure to collect them all!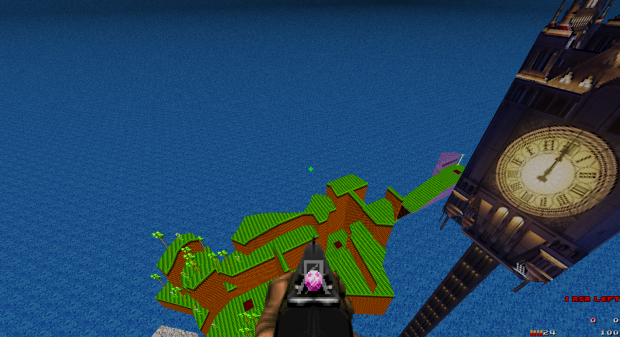 Super Emeralds
Since the number of levels increased a lot, I decided to include the Super Chaos Emeralds. They will function just like the Chaos Emeralds. You will get way stronger weapons with them than with the Chaos Emeralds... But you will need to collect the 7 previous Chaos Emeralds to be able to find these special stages.
Information on levels available
Now it's time to specify how some levels will work. Since you are in the Sonic World, but with the Doom Guy, the levels you will play will include their mechanics, sometimes with a twist. Also, a lot of the Sonic 2D levels will be included so your experience will be varied.
Sonic CD levels
Sonic CD levels will include the time travel. Past, Present, Bad Future and Good Future will be there for each levels of it, with the exception of the 3rd act. You will need to navigate through them all with the exception of the Good Future to complete the level.
Sandopolis Zone Act 2
Just like in Sonic 3 & Knuckles, you will need to turn the light on. Otherwise, new monsters or dead monsters will spawn indefinitely.
Metallic Madness Zone
Some parts of the level will make you extremely tiny, against giant monsters... Same with the layout of course.
Carnival Night Zone
Working on the barrel of doom... Maybe ?
Sonic 3D levels
I got a few requests to include some of them, and I will give you a list of the levels that are guaranteed to be included :
- Station Square (Sonic Adventure 1)
- Emerald Coast (Sonic Adventure 1)
- Mystic Ruins (+ jungle) (Sonic Adventure 1)
- Windy Valley (Sonic Adventure 1)
- Twinkle Park (Sonic Adventure 1)
- Lost World (Sonic Adventure 1)
- Final Egg (Sonic Adventure 1)
- City Escape (Sonic Adventure 2)
- Meteor Herd (Sonic Adventure 2)
- Crazy Gadget (without the upside down probably) (Sonic Adventure 2)
Maybe, if I can figure out something interesting (and textures) :
- Aquatic Mine (Sonic Adventure 2)
- Pumpkin Hill (Sonic Adventure 2)
- Metropolis Zone (Sonic Heroes)
- Crisis City (Sonic 2006)
You can suggest some if you want.
Reminder : you can play the first beta of the mod here :
That's all for now !