Development update
Important things first: we have recently released an update. Here is the breakdown for those of you that are not yet aware of this...
Increased FOV of the grenade and rocket units to be same as machine gunner
Added loading indicators to main menu items
Added a loading message for all ways in which you can load a match
Removed the long " matchmade" info for matchmade games to make the sidebar (slightly) less cluttered
You are now able to delete games in which you have not submitted a single turn
Games for which you are waiting do again show up in the Active Games list
If you accept a "game ask" and someone else accepted before you did, then you will be informed via a message box
You can now select multiple game modes to be matchmade on, and if you and your opponent dont agree on any Dark Extermination is chosen by default.
Your plans are now saved if you switch matches before you've committed (I am seriously worried this feature is going to break things, so you have to opt-in by checking a box in the options menu)
items in the feed are now time-stamped (x happened "a minute ago" or "2 hours ago")
Improved the sniper unit
The generator will never give you more than one sniper in a Dark Extermination match
The generator will always spawn Snipers at the farthest spawn point from any enemies in a Dark Extermination match
Added the option to generate a Symetrical Dark Extermination match in the Advanced create game page.
Fixed a problem where the "Activate Friend Key" buttons would sometimes dissapear
Charge now defaults to 6 turns
Charge requires you to be over the line for three seconds to win
Fixed incorrect Charge scoring
Fixed a crash which occured when dragging the aim handle during playback
Fixed a very rare circumstance where a rocket explosion could case a unit very close to a wall to become stuck in a wall (thanks Mosimo)
Added the ability to import levels from .png files. SImply have a white image of any size with red rectangles for walls and blue rectangles for boxes/windows. The option is in the Editor tab in the Editor.
Biddable zones are now further away from the attacker spawn zones in secure
Adjusted Secure scoring to be a maximum of 200, and more sensibly reflect bidding – massive bids do not have much of an advantage
Lead Designer Ian worked incredibly hard on this a couple of weeks ago, mostly because he got married on Saturday and is now off on honeymoon until August! Many congrats to him and his lovely wife Lizzie.
The response so far has been very good - my favourite comment has been "the game get so much better every time you guys update it". Cheers for the support - we are trying to push things forwards as much as we can.
News Round-up
Bit-Tech Bloggings
I have recently started a blog for Bit-Tech. You can read it here - the latest edition should be out later this week. I was digging around to find some screenshots of our first prototype, and I found this, which amused me: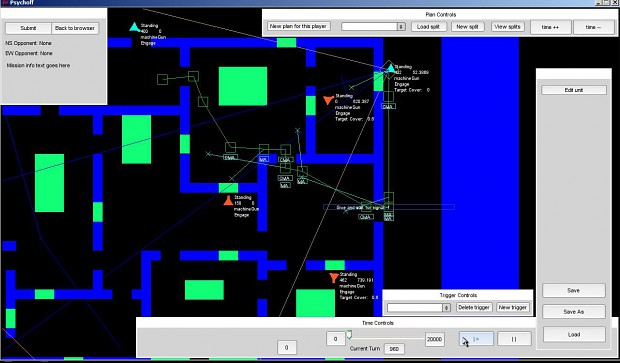 The game really has come a long way!
Podcast
The latest episode of our podcast Visiting the Village is up. Check it out:
Other Stuff
There still isn't a video of us hijacking the World of Love conference! I'm told one is on the way.
We didn't get chosen for the PAX10 - this was extremely disappointing and there's not much more to say beyond that. We weren't given any feedback about it. Good luck to everyone who did make it!
We've submitted the game to both Indiecade and The Indie Games Arcade (which are different things), so hopefully you will be seeing it around the place if you attend various things that are coming up later in the year.
I recently attended Develop in Brighton. It was very interesting as usual: I think the best thing about it was catching up with people I haven't seen for a while. This Mark Rein vs. Cliffski thing happened while I was there - it was an interesting collision of worlds. Cliff was pretty angry about it afterwards!
Among the most interesting speakers were Jagex who make Runescape: those guys really know about taking care of their customers. They put their games and customers first, yet are incredibly successful - we hope to follow their example even though we make totally different kinds of games to them!
There is a lot to do at the moment - I'm hoping to get a new trailer out soon to boost sales of the pre-order, which is going ok but we could definitely use a lift! I also need to work on some new music, and as soon as Ian is back we will be starting a big, hard crunch on the UI to get that sorted out once and for all.