(Note: Don't download this, it's been superseded by the 1.1.5.1 release.)
Thief 3 has an original bug where, if the Windows font size is made larger, the mouse cursor will become invisible. The mouse is still functional, you just can't see where you are. If the cursor image is visible it is stuck in the middle of the screen.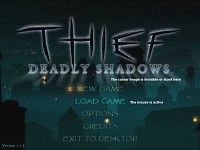 If you can, please test this build, which has a fix for this bug. Revert the font size if you changed it, verify that the issue is back and then install this pre-release. You should then have a working cursor, which has a white pixel at the tip to show that the fix is active.
Feedback from people with Windows XP and/or slow graphics cards is especially valuable: An old XP laptop I tried it on needed the fix even at the Normal (96 DPI) font setting. The fix worked, but the cursor was flickering a lot.

Thanks in advance!