Hey guys, Warman here!
Things have been changing a lot for the mod over the past few months. You guys saw a WIP version of one of the planned improvements for the mod in the Earldoms trailer. There's a bunch of important updates coming along soon that I can't wait to show you guys. The main thing that is delaying me slightly is the process of bringing the MKTW sub-forum into the Attila hosted mods forums on Total War Center. Since there's a lot to talk about and I'd like to do it all at once, I'm waiting for that to go through first. Hopefully this won't take any longer than a week.
But what exactly do I keep referring to here? Well let's just say for now that these adjustments address a lot of the comments and feedback regarding the faction list and what's not on it. There are remnants on the MK summary page from when this mod was under a different leader who with all due respect wasn't sure what he was doing. When he gave the mod over to me I left in a lot of what he put down and as this mod has grown and improved I've taken out or adjusted what was there. Now I intend to give a clean slate once we're ready. By the by you guys have seen hints of it already like the Georgian units posted in the screenshot section. We also have a new team member helping us out now with campaign research and 2D art not covered by Finix, he'll get a proper introduction soon.
And lastly like I said that Earldoms trailer was very much a work in progress. I wanted to change the weapons on the knightly retinue units so that they are holding lances rather than one handed weapons. Same with the Earl's bodyguards for that matter. Also I got a bunch of feedback as well regarding the banners, the overuse of kettle helms on the serjeants units, etc, etc. I can safely say I've addressed all these criticisms and I'm sure you guys will like it. I also took reference from reenactment pictures I saw of the Battle of Bouvines (1214) and other mods and games. While I'm waiting a bit to show you guys a ton, here's a screen of the new and improved Earl of Montfort(Leicester?) and his bodyguard to savor your appetite.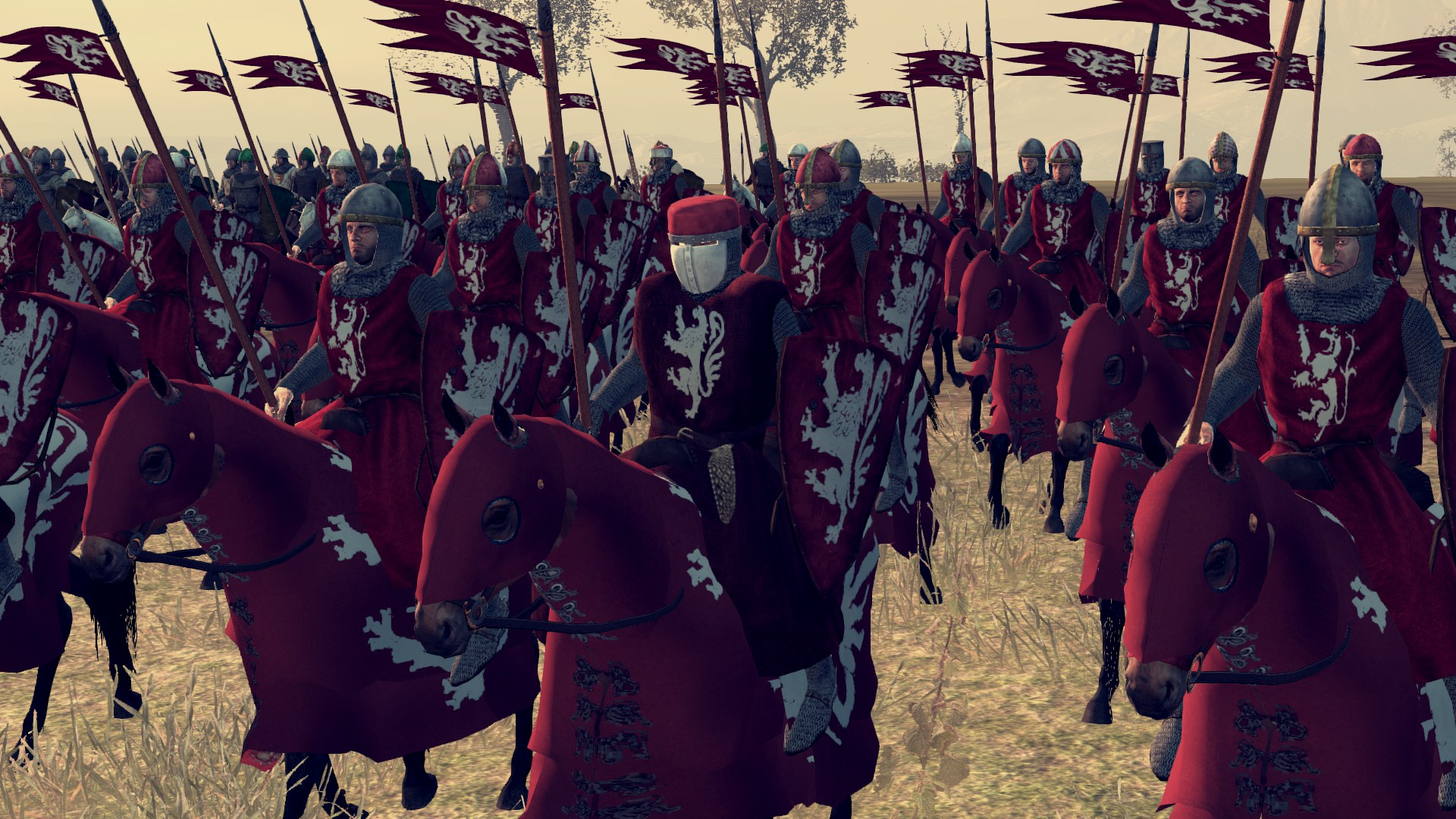 That's all for now. I'll leave you guys with this teaser. Fans of Tsardoms Total War, War of the West, Broken Crescent and Rusichi Total War will like these changes....
Regards,
-Warman