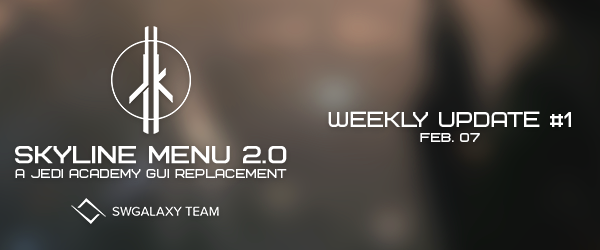 Hello!
There were no updates for a month, so it's time to introduce the 'Weekly updates' to SkyLine 2.0! I will post the recent news and pics of the GUI's development every Saturday or Sunday.
So, today we have:
- I've found the artwork artist I've been looking for, hope he will bring us the best artwork we could imagine :);
- slowly, but neatly I'm renewing SkyLine 2.0 PSDs at the moment.
I've been thinking about the whole development process and came to the conclusion:
1) releasing 2 basic versions of both SP and MP GUI replacement for 4:3 and for 16:9 monitor formats to bring the best aspect ratio and quality possible with JKA's menu sctructure;
2) make the GUI full-static in order to use it on every possible toaster without crashes;
3) create a new HUD and crosshair (you could find the concepts below);
4) 50/50: allow converting the GUI for different mods - basically releasing the GFX sources and .menu guides (still thinking about this).
As promised, I've uploaded some of the new UI screenies (see them in our Images section) or get them in this imgur album (imgur reduces quality of the pics, still they look awesome).
See you next week,
- Sentra
---

With the Humble Bundle's recent Star Wars pack I hope JKA will get a fresh wave of new players :)
If you didn't buy Jedi Academy game for some reason, now it's the right time!