It's a long time coming, but Situation Outbreak Two, the prequel to the original Half-Life 2 total conversion about the impending zombie apocalypse, is currently being developed as a "stand-alone" Counter-Strike: Source modification.
Many of our dedicated fans have known this for a couple of weeks now, however this is an official announcement, and as such I have some media to show off and additional announcements for everyone here at ModDB.
First off, what is SO2 all about? Well, as mentioned it's a prequel to the original SO, before the infection took complete control over the world. Most of the major governments are still intact, and to combat the growing number of zombies, they have assembled an elite task force. In Situation Outbreak Two, you will take the role of one of these agents and, with a vast arsenal of weapons at your disposal, will be expected to eliminate as many undead as possible while tending to those survivors who have -- at least so far -- managed to fight off the infection on their own.
Now, down to what we've been working on! There are plans to remake many of the original Situation Outbreak maps and convert them to SO2. As an example, I will show you what I have personally been working on as far as mapping is concerned, and that is a remake of so_sv_cityblock: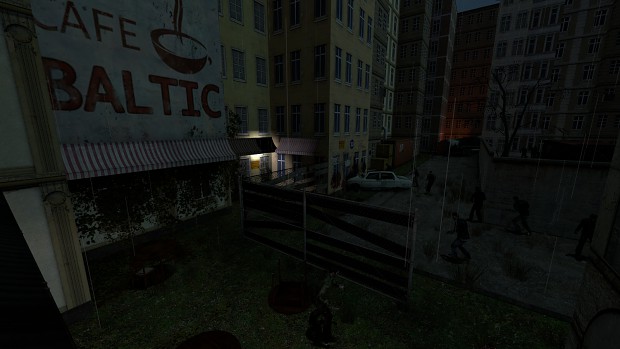 Don't worry, we'll be making plenty of new environments too and several are actively being developed, but they simply aren't ready to be shown publicly quite yet, so stay tuned and thanks in advance for your patience.
Secondly, I've been working very hard this past week revising many of the original features found in SO and converting them to the new codebase. I've also been adding some new functionality along the way, and thanks to Murphy who hacked together and textured our first player model, the character customization system has been born:
What does this system do exactly? Well, it allows players to add and remove various accessories from their characters in-game and in real-time. This way folks can easily add a personal touch to their agent with a few simple clicks of the mouse. Players will also be able to choose their characters once additional player models are compiled.
Now I feel it's time to address the obvious: why Counter-Strike: Source?
Well, let me first state that Situation Outbreak Two is a "stand-alone" modification. That means while you have to own CS:S in order to play SO2, it is not a modification that involves launching CS:S and joining a specific server to play; to play SO2, you will first have to download it and launch it via Steam's "Library" menu. It's just like any other Half-Life 2 modification you may have downloaded, but this one is based on CS:S, not HL2 or HL2DM.
Since that's out of the way, allow me to address the original question of why we chose CS:S over the usual choice of HL2. To be perfectly honest, I simply do not have the time to put together a total conversion, and CS:S seemed like the next logical choice to base SO2 on given its wide range of weapons, environmental models and other assets. Everything fits in nicely with the urban-based zombie fighting I've had in my head since the creation of the original SO, which generally featured more rural environments. But do not be fooled: since this is a "stand-alone" CS:S mod, we are not limited by the kinds of in-game, server-based CS:S modifications are. We can and are implementing entirely new systems coding-wise, creating brand-new maps and piecing together original content just like people have come to expect of Agent Red Productions. As another example of this beyond the stuff I have shown off today, all CS:S weapons have already been reorigined, implemented and retextured from scratch thanks in a big part to the legendary Teh Snake. There are also plans to create new weapons as well as port over some of the ones found in the original Situation Outbreak, like the incendiary grenade and zombait, but this will take time.
Some of you may be wondering when SO2 might be made available to the public. Well, it already is!
That's right, Situation Outbreak Two is entirely open source, and it's available for download via our Google Code page right now! Note however you need to be familiar with and have a subversion client installed to download the files and play it. I will be updating the SVN on a daily to weekly basis, but by no means should people expect every build to be stable, and the current one contains only a fraction of the features planned for the first big release. I have decided to do this because I anticipate SO2 will take some time to develop despite the fact it is not a total conversion, and I didn't want folks waiting around for it.
Well, I think that's it for now. You can expect at least monthly news updates, but given my busy schedule, please don't hold me to that! I will try my best though.