It's been a while since you've heard from us so we wanted to make sure we gave you a little early present this year. Below you will find information about the new class coming to the game, the Siege Engineer as well as developer musings on some key aspects of our next planned release.
Siege Engineer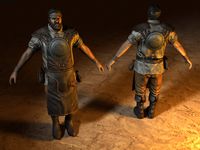 Outside of the battlefield, while soldiers engage in rigorous training and exercise, this plump fellow toils away in his workshop honing his craftsmanship and skills. What he lacks in professional training and stamina he makes up for in brute strength with shoulders hardened from the grueling task of working metal.
Inventory
- Two Handed Warpick
- Workhammer
- Building Materials(2)
- Pitch Jar
Warpick
The Siege Engineer's primary battle weapon, this modified mining axe is held with both hands by the shaft and can deliver a blow strong enough to crush (or using the back side, pierce) even the thickest of armour. Due to its weight and balance the weapon becomes awkward at times and it often takes longer to perform the next swing as a result.
Workhammer
---Previous Model Likely to change---
This is the Siege Engineer's one handed crafting tool that can be used as an alternate weapon in battle to club those foes foolish enough to misjudge his pudgy shape. It, in conjunction with building materials, allows the siege engineer to construct/repair various items.
Building Materials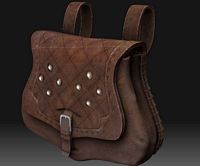 The photo above is a picture of what the building materials may look like in the players hand before he uses them.
The tools and materials needed for the Siege Engineer to construct/repair items these essentially act as "ammo". Different objects take different amounts of building materials to fully construct. When this "weapon" is selected and mouse1 is pressed, the player will toss the materials onto the ground, making them ready for construction.
Pitch Jar
--Photo Currently Unavailable--
The pitch jar is a weapon that relies on team work and as such is a very unique weapon. Filled with extremely flammable substance, the pitch jar, when struck with any fire damage will erupt in a wall of fire, most similar to napalm. The siege engineer will be able to place/throw these jars onto the ground and if they are struck by fire of any type (oilpot, catapults, fire arrows [oops, let that one slip!]) they will burst and spread flame in a big area around the jar. The enemy will be able to light your jar's too so be certain you want them to go off where and when you place them!
Abilities
Construction - Achieved by throwing building materials onto the ground and then striking them with the workhammer. The siege engineer will be able to build barricades and ballista to fortify his allies position. Building materials do not restock, all constructed items are destructible, no siege engineer can have more than 2 items active on the battlefield at one time or it will break his oldest one automatically.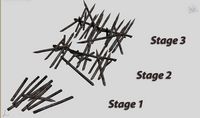 Barricades - A wooden obstacle that provides ranged cover for your forces while also forcing your enemy to maneuver around, or smash through it, giving you more time to dispatch him or wait for reinforcements. 250 hp, 2 materials required to construct.
Ballista - A giant mechanical crossbow, the ballista in future versions will fire large spears capable of impaling multiple opponents and pinning them to walls! The equivalent of a medieval turret. 400 hp, 3 materials required to construct (team work!).
Objectives - Some objectives (repair the bridge etc.) may become the siege engineers task so these will act as a "protect the VIP" minigame in many ways. He will also be able to certain build items in various maps such as the ladders for helms deep.
Repairing - The siege weapons will be destructible. At this time we can confirm that the catapults, ballista and barricades will be destructible and repairable, though we may decide in the future we also want to have siege towers, ladders, rams, bomb wagons and trebuchetes also able to be temporarily disabled.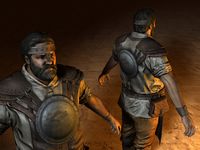 Animation Overhaul
Well, it would be a bit silly for us to claim that the current animations we have are anything spectacular. In fact its one of the most commented about things from our community, so it's time to let you know that we're listening.
The next version of Age of Chivalry will feature, not only every single existing aoc animation redone, but also will not contain even a single Hl2 animation. Furthermore, we are moving to the L4D system of handling animations, which will help us ensure animations do not skip or glitch and is a much more solid and reliable method.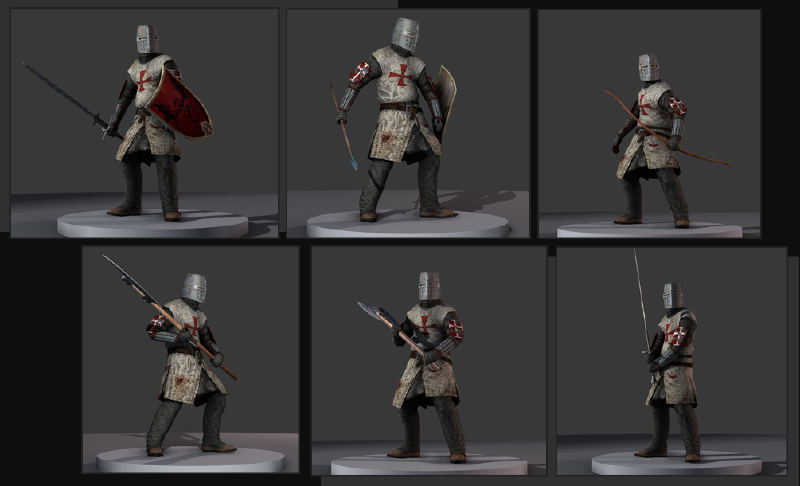 The above images display the new idle stances for various weapon types in the game and are but a taste of things to come in the animation department!
What this means is that we will have a smooth, organic Age of Chivalry combat that is much more reliable, allowing you to trust the animations of your opponents and react more accurately. Not only will combat be smoother, but we are moving to full-body sprinting animations and experimenting with other interesting ideas such as sprint attacks and evasion maneuvers! Much more on these things to come so stay tuned and remember to vote for Age of Chivalry for the 2009 Moddb.com Mod of the Year Awards!
To Vote for AoC:

----------
Team Chivalry is desperately seeking a skilled 2D Graphic Artist with a heavy emphasis on GUI skills (for building HUD elements and in-game menus etc.) To apply, please send an email and attach relevant works or a link to your demo reel to jobs@age-of-chivalry.com
Get more Age of Chivalry Information on our Website and other Community Hotspots!: