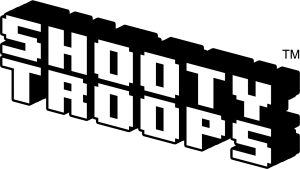 "Ladies and Gentlemen ...
we have lift-off"
T-Minus 0:00 and SHOOTY TROOPS™ - The Endless Arcade Shooter is officially launched into the world.
You're Welcome.
804 Game Studios is proud to say we kept updating content until the last second, adding even more features that we thought would make SHOOTY TROOPS a lot of fun to share with your friends and fellow gamers.
You see, SHOOTY TROOPERS are competitive people .... and there is nothing that a competitive person likes more than PROVING they won. Sure ... you can SAY you won ... but in friendly competition, nothing says "I STOMPED YOU INTO THE DIRT!!!" like leaderboards (achievements coming soon). Some say this is petty .... but we stomp those people into the dirt as well.
So since SHOOTY TROOPS™ is "for reals" and officially out there, let's start keeping score.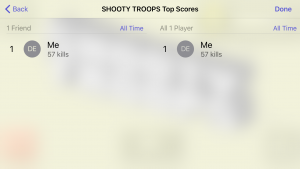 I introduce you to the SHOOTY TROOPS™ Menu of Greatness. Keep track of your high scores on the leaderboard, and challenge your friends to match your SHOOTY TROOPER awesomeness. 804 will be continuing to add leaderboards and achievements as time goes on. To that end, we do trust our players to let us know what kinds of leaderboards they would like to see as well. Use our "hotline"to let us know what you think you deserve a big shiny badge for. What stats do you want to record? If we throw it on the board and it sticks...maybe we will throw you some coins in return.
804 kept the leaderboard pretty simple for now. You can keep up with the leaders in Top Scores (Total Kills, Bullets Fired, and Time Played will come soon). Stats that truly prove the steel of your nerves, the skills of your thumbs, and your overall SHOOTY TROOPER-NESS.
And make no mistake .... leadership board players will be REWARDED from the 804's Mount Olympus. Maybe with special codes. Maybe with a special character from an upcoming SHOOTY TROOPS™ TOP GUN competition (hint-hint).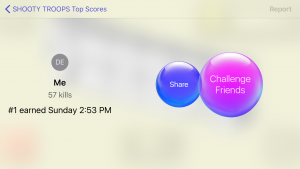 Finally we have the piece of pie that I would think any old school shooter would cheer for. Your ability to challenge friends.
Don't have friends playing SHOOTY TROOPS™? One, I'm disappointed in you for not letting your friends know about the most thumb-numbing, nerve-crunching, yell-out-loud-fun, endless arcade shooter ever. What did they do to you that you would punish them like this? Maybe you like to use the excuse that it is just hard to quickly share the game with them.
804 is all about problem solving and we have solved that problem with a big button that says "Share". And the button does just that ... it shares your score with your friends in your Social Media platform of choice. Like teasing a cat with a toy, once they fall for your cleverly disguised "Share Trap" and install the game .... you may destroy them with the bigger and much more intimidating "CHALLENGE FRIENDS" button.
This is a payoff for you players as well. The 804 want players to be challenging each other and pushing the game as we continue to develop content and new game play options. The more friends you bring on, the more challenges you hold, the more challenges you hold .... well, let's just say 804 keeps some stats of their own that are not on the leaderboard and a huge challenge pool is going to get our attention and we can guarantee development aimed at those players, as this was a prime goal when we set out this game developing journey. This may also open up mystery weapons, strange character abilities, and even custom characters ... which is a real thing.
BUT REMEMBER!!! A lot of the characters can only be accessed by promotion codes and gift boxes, be it outright shown and advertised .... or fun, clever, or silly words hidden in dev blogs .... words like "LIFT-OFF" ..... but that is a hypothetical example and not a real promotion code. Put it in and see. Nada ... I actually fought to get it for one and it isn't.
The promo board looks like this for when you want to use it. Not a clue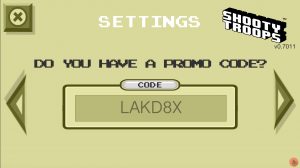 REMEMBER: THE GIFT BOX IS YOUR FRIEND when it comes to your character selection. Whether it is hitting the jackpot and getting the free Character of the Month from the gift box, or simply building your phat stack loot to buy a new one of your choice.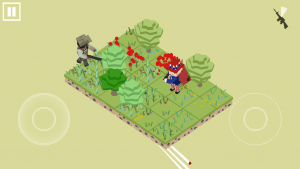 The July Character of the Month is Uncle Stan!

Bush Wookie leaving ... until next time ... Keep your inner gamer happy …
Subscribe to the 804 Game Studios™ Development Newsletter or follow us on your social media platform of choice.
SHOOTY TROOPS™: Shootytroops.com
804 Game Studios™804gamestudios.com
804 Game Studios™ on Twitter: Twitter.com
804 Game Studios™ on Facebook: Facebook.com