Dear Modding community, we know our updates have been few and far between when it comes to this site, but we wanted to assure you know that we have never stopped working on this project. We are continuing to expand Shattered Lineage's assets and scope, in order to create a truly authentic and immersive Warhammer experience. We have made a host of new models, and we hope that these illustrate that we are not merely settling for mediocrity, but are striving to make something that will be both enjoyable and canon. We have been focusing heavily on laying a foundation of quality models and concepts that will allow us to build an environment that both feels and looks like a Warhammer game.
Media
Our 3d modellers have been very busy since last time. So here's some new content!
Dreadnought
DarkMessiah has worked hard on the dreadnought, its almost ready for animating and texturing! We are very excited about it and look forward to seeing it in-game. The following few screens show the render of the devastating multi-melta, the heavy duty gun that is capable of burning through anything, including those foul chaos tanks!
Extirpation has gone into overdrive, chewing out models constantly, to a very high standard.
The Thunderbolt is one of the two main fighter patterns used by the Imperial Navy. While not as fast or agile as the lighter Lightning fighter, the Thunderbolt is more heavily armed and armoured. As such, it is more commonly used as an air superiority fighter, while the Lightning is usually relegated to a reconnaissance role.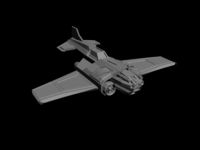 Imperial Tanks are a necessity for the imperial divisons on Tallarn, Providing defence from the desert storms and heretics a-like. Here a screen of the mighty Leman Russ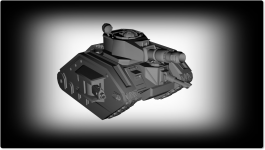 Basilisk
The Basilisk is the main line artillery piece of Imperial Guard regiments throughout the Imperium. It is armed with an Earth shaker Cannon. It can be mounted on Chimera bodies or be fixed, such as shown below. The Imperium and the chaos followers use this mighty piece of artillery, to devastating results.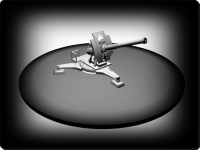 Art
Our recently acquired artist "radioblur", has been working hard making sure that our produced models are proportionately correct to their Warhammer counterparts. He has also taken on the task of drawing concept art for the mod, in order for us to have a collective vision of how both our characters and the landscapes should look. His first piece for us is amazing and we look forward to more concept art.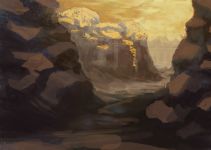 Programming
Synaptic and Revengous have been working for us in the technical department, with some code already produced to alternate weapon types and the beginning of psychic powers, along with a custom motion blur effect. More this will be seen in coming weeks, as the mod moves closer to a beta release.
We have a lot more content to show, including animations, textures and more models. If you have any questions feel free to drop by our forums and we will be happy to answer them.
Shattered Lineage Development Team