SGI Mod Release through Google Groups
Intro
The SGI Access google group is now active and ready for requests! Please keep in mind that this is an early access release, we are providing these files so you can all have the most current mod build while we work on it.
Files delivered through Google drive permissions can sometimes take a while to arrive. The official word from Google is to wait 24-48 hours in such cases. The mod size should be 3.02Gb (size on disk 3.04Gb), 11 folders inside the root. If you use the Google desktop sync there will be 7089 files total, if you just download and place the files in your mods directory you should have 7077 files. Google places one desktop.ini file in every folder if you choose to sync the mod through the desktop app.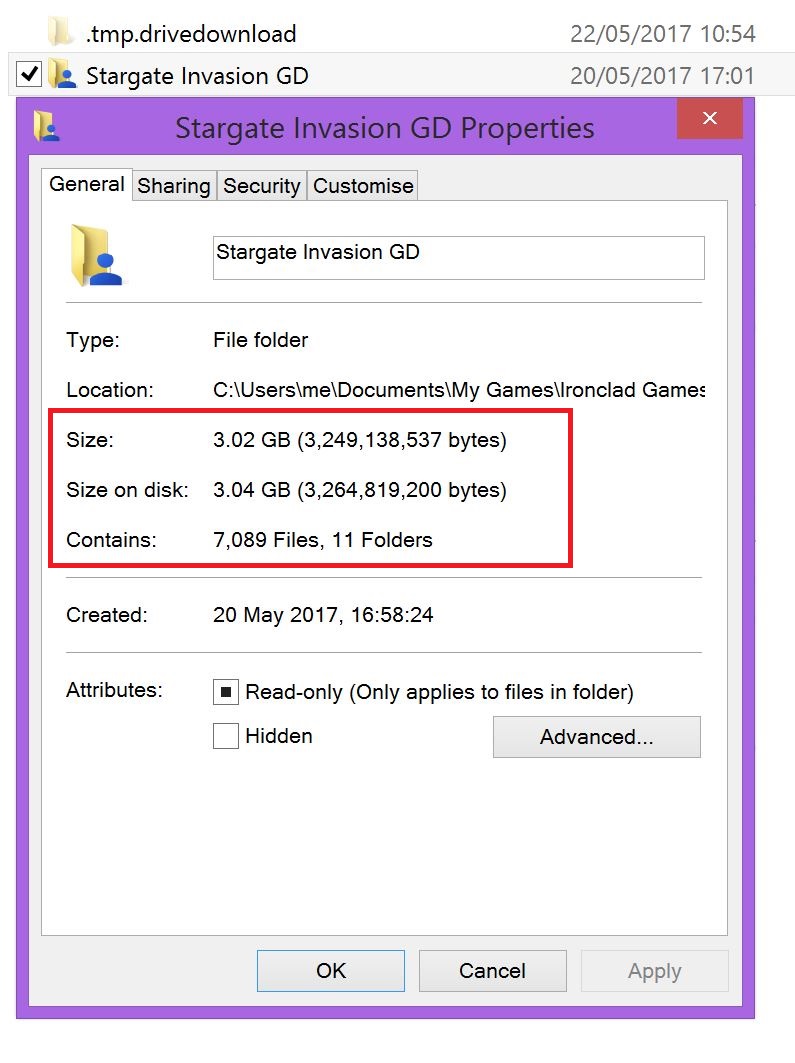 If you encounter consistent minidumps after downloading, please check your file counts and compare them to the above image.
I've applied but my application wasn't approved immediately, why?
To keep the strain on Google Drive to a minimum and allow the files to arrive in a reasonable time frame (as mentioned above it can take google 24-48 hours to deliver files after they have been shared), we are accepting 25 new members every day. Additional requests will experience some delay (up to 3 days at the moment).
If your application is not approved within 3 days then please contact me and I will add you to the group as soon as possible.
Google Group Name and Set-up
The name of the Google Group is SGI Access. Follow these steps if you would like to join:
1. Go to Google Groups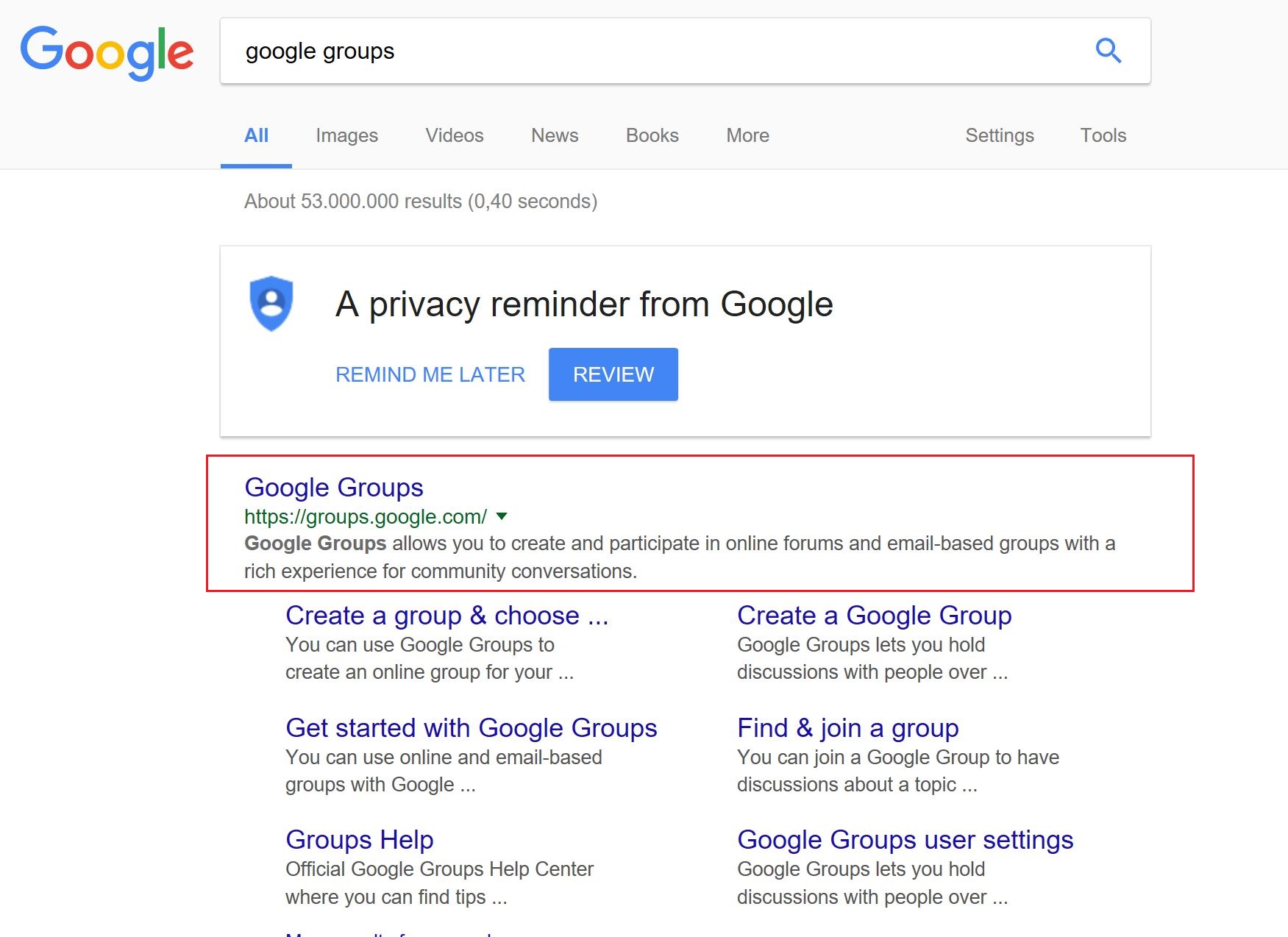 2. Sign in with your Google Account and search for SGI Access

3. Select the group and request to join.
4. Wait until we add you to the group (we will check for requests at least once a day). Once you have been added you will receive the following email: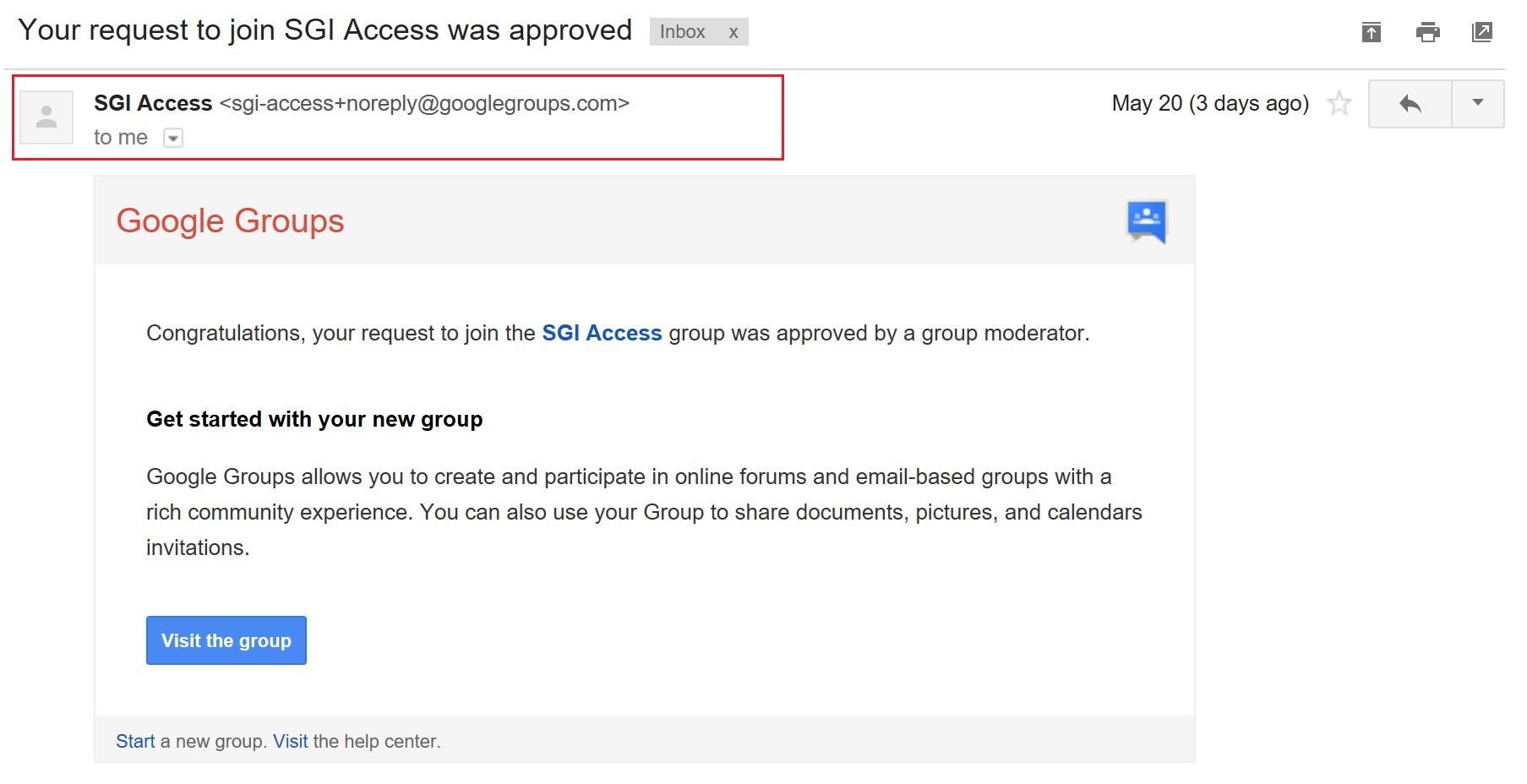 5. Now that you are a member, go to your Google Drive - Shared With Me section and look for a folder named Stargate Invasion GD, this is the entire current mod and you can either sync it with the Google drive Desktop App or you can just download it directly and place it in your SOASER mods folder.

If Stargate Invasion GD is not in GD Shared With Me after being accepted
1. A way to push google to add the folder (assuming the files have arrived) is to search your drive for Stargate Invasion GD. You can then add it to My Drive and it should also appear in Shared With Me.
2. If you do not see the files in your Shared With Me section even after searching Google Drive, sign in to Google Groups and open SGI Access.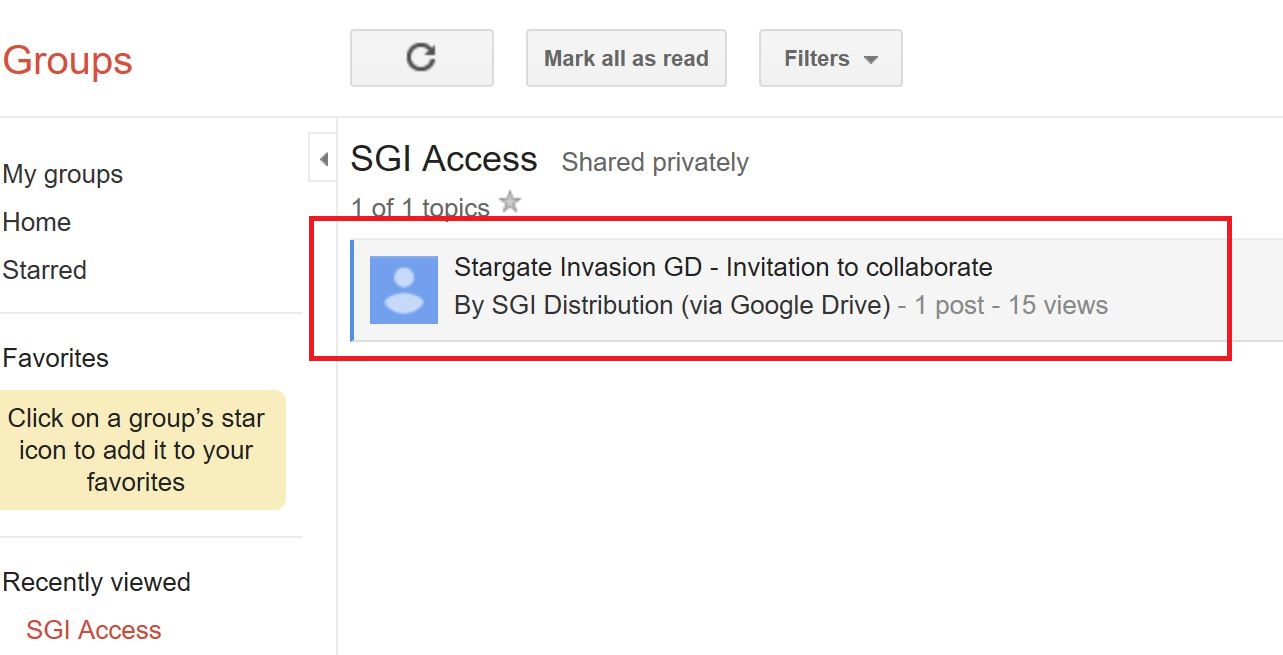 There should be a single post there with the invitation to share the Stargate Invasion GD folder.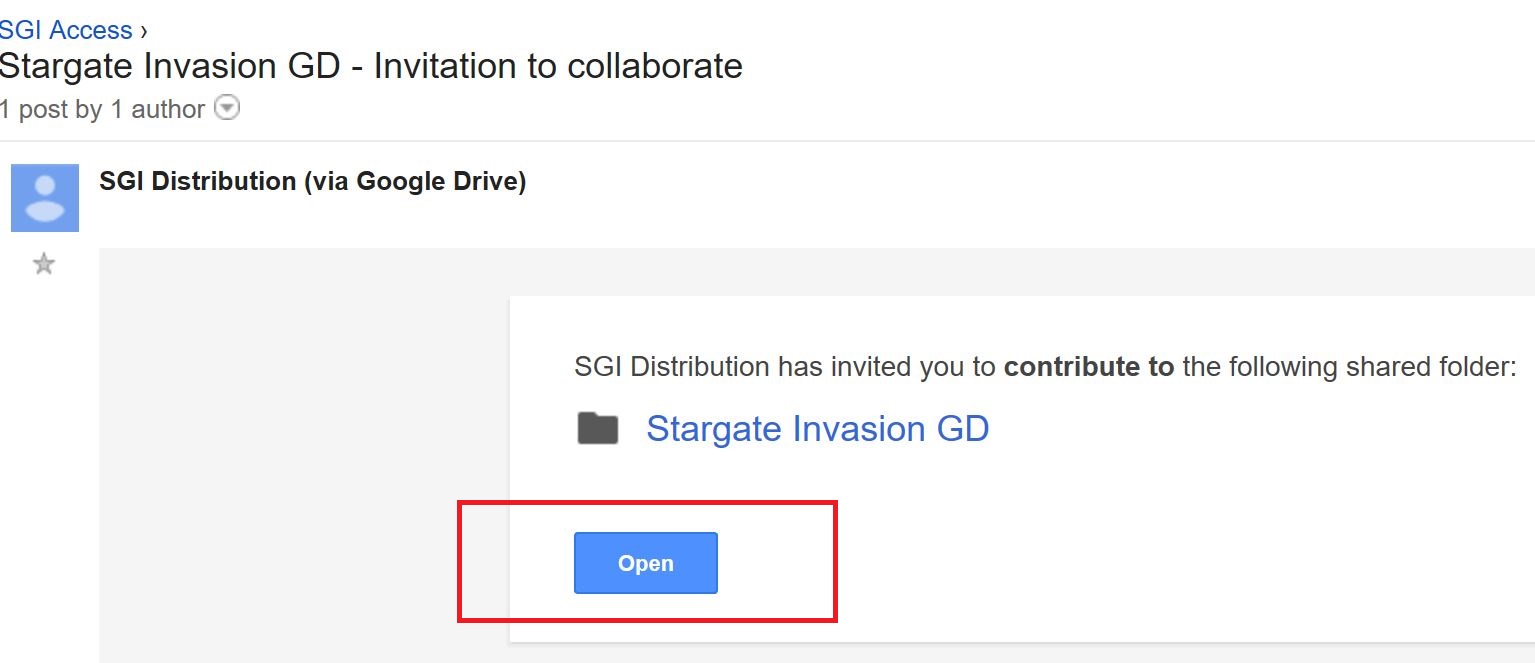 Open the folder and then click on the arrow next to the folder name (entire mod folder, not the components! so Stargate Invasion GD) at the top to open the options and choose to Add to My Drive. That will also place it in your Shared With Me section.
I've highlighted the options arrow in the image below:

Synchronizing with the GD desktop App (Optional)
1. Add the Stargate Invasion GD mod folder to your Google Drive - My Drive section on the web by drag and dropping it in there or by right clicking on the folder and selecting the add to My Drive option.
2. Start the GD desktop app and sign in with the google account which is a member of the SGI Access Google Group. (GD App video tutorial - Youtube.com )
3. In the Advanced Setup (left most button on the last page of the set-up wizard), make sure to select the Stargate Invasion GD folder as the one to sync and choose the sync location to be your SOASER mods folder (must be v1.85!)
The mods folder should have the google drive icon below indicating that google will sync there:

Since we have provided only viewing permission for the mod files you should not try to modify them, doing so will cause GD sync errors.