Greetings from the WWI: Source team! We have some good news and some bad news for you this month. Let's get the bad news out of the way first - no gameplay video this month! The team has collectively had some time and hardware difficulties that have postponed it. As for the good news, we have some more information on our upcoming public release, as well as a little bit of media. Check out this reskin that deceiver has made for our Commonwealth player model!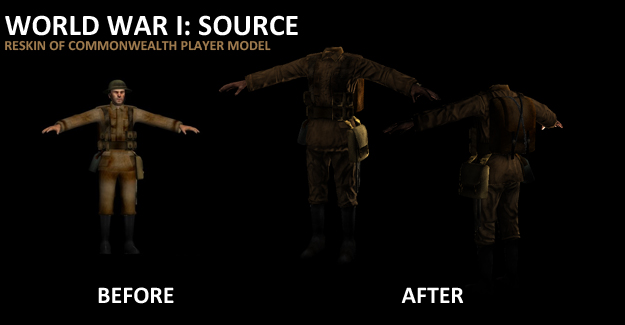 Lately progress has still been slow, since we have a small team with real-life responsibilities, but things are coming along and we are getting to the point where a public release is relatively imminent. Some of the work being done is like the reskin you see above - content updates, map optimization, etc. The rest is mostly concerned with tweaking balance and fixing our remaining outstanding bugs and issues.
We are considering releasing a public alpha (rather than our previous plans for a more polished beta) in the near future, although it would be unfair of me to try to put a timeframe on it. Your opinion on this matter interests us - would you prefer to play an alpha with solid, well-developed gameplay sooner, or would you rather wait a few extra months for a more polished (content-wise) beta release? Respond here or on our forum to let us know what you think.
That's all for this month, soldiers! See you next time, and start polishing your bayonets, 'cause it won't be too long now before you need them!