We are changing!
Art Style Changes
After taking many things into account we decided to make some VERY IMPORTANT changes to the game, that we feel that will benefit the game in the long run!
We want to make sure that everyone understands why we are changing some things, so this month's post is going to be intense, please bear with us!
The more we tested, the more we realized that our art style was still not quite there!
So we decided to scrap what we had and try to go for even a more polished look!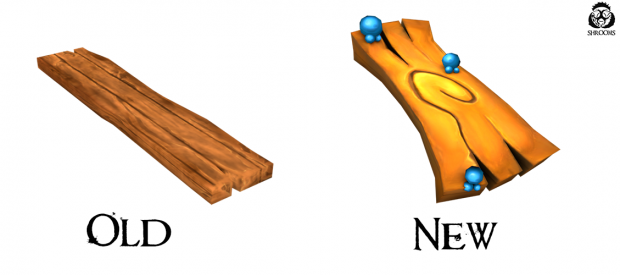 Has you can see, we decided to try a much more stylized approach on the forms, take advantage of the colors to give life and make even a simple plank much more interesting, even when on its own.
Another treat we're going to explore is the inclusion of the fungi that populate the world, on otherwise bland assets, like that plank.
The main reason for this, is giving the feeling that everything exists in the same world, and that if you see a piece of art anywhere, hopefully you can quickly say "Hey, it's from that Shrooms game!"
Of course the transition to another art style was not a straight line and it involved a lot of research work to ensure we would be able to recreate the right mood in each of the biomes.
We wanted to make sure our changes were solid, so we acted like we were just starting so, REFERENCES TIME!

This is just a sample of the references
and thought process before we get into any kind of concept at all! We
knew what kind of moods we wanted, but visual support is always essential, especially when working in a team! We have to make sure
everyone is on the same page before we move further!

After getting all the references, a general silhouette job for the plant life was done, just to establish and explore the basic forms we wanted for each biome! For example, the blue biome has more elegant and alien forms, while the red zone has a very sharp and aggressive feeling to it!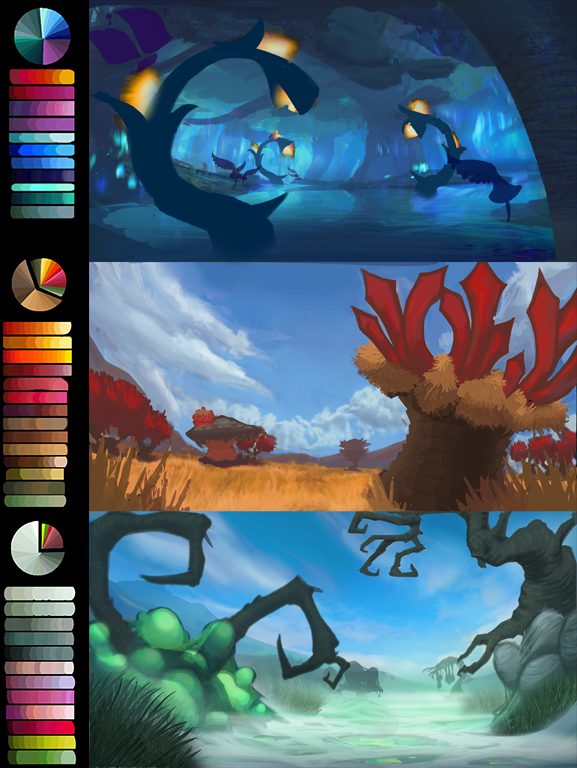 After establishing the forms, a color pallet was elaborated so we could quickly knock up some mood concepts for each biome! The detail on these concepts was kept on a bare minimum essentially because we did not have much time, but mainly because we just needed to get a grip of the right mood for each of the biomes!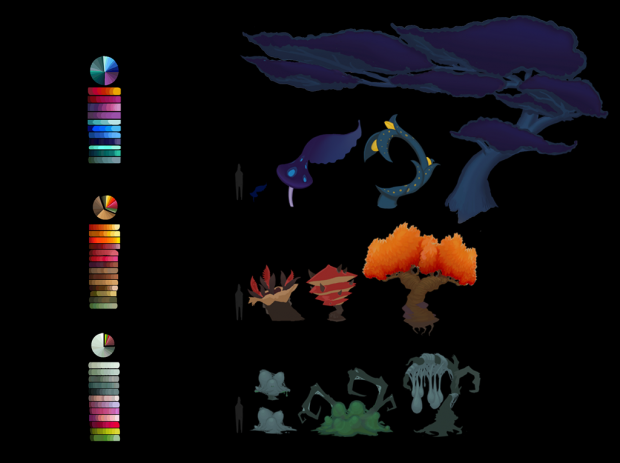 Finally, and using what we already had established, we took the chance to explore a couple of elements of each biome and put them up to scale so we would have a comparing point.
Gameplay Changes
From the begining we were very exited with the gameplay possibilities that a constantly changing world would bring, so we designed the game to live around that and even though we always knew that it would not be easy to make it work, we risked it anyway!
The more we explored and tested the idea, the more complications came crawling out of the wood work!
One can only have so many dynamic objects and other techy whatnot happening in real time, before the computer starts smoking!
We started looking for places were we could cut stuff, in order to still make it work and meet our deadlines, because in the end, it all comes down to how much time we have to do something...
Eventually, we had to admit that with the time we had left, it would be unrealistic to think that all the necessary foundations to support a world that is being constantly "transformed" in real time could not be created.
This was a BIG downer for us, but we ARE determined to make the most out of Shrooms!
So we thought, "Well, we wanted the world to change itself, so why not let the world change YOU?".
We almost instantly loved the idea and started building an entire new gameplay around it!
In the end, we just traded a dynamic feature for another. A much easier-to-implement feature!
Eventually we ended up with the concept of "Mutations"!
Simply put, when you play Shrooms, you will have to eat, drink and do a ton of other stuff to survive, and during many of these actions you will come in contact with many different types of Fungi! The more you interact with a certain type of fungi, the more it will infect you in a certain way! For example, if you eat too many Blue Shrooms, the next day you wake up, you may have a pair of Gills around your neck that will now make you breathe underwater, but at the same time, you won't be able to breathe outside of it!
By mixing different kinds of mutations, you can create your perfect Shrooms survivor to suit your play style, but beware because other players will be able to kill you for your awesome mutations! (Same for the gear and all your stuff of course!)
Since we took out such a big part of the development load, we decided to invest that space in the multi player experience!
Since we had the world providing the main occupation, we felt like that game could survive on single player if needed, but this time, we want to foster the interaction between players and have planned some cool features that will motivate you to play with your friends in a camp or hunt down other players if you're more of a lone wolf !
Here's some of the features we have planned:
Cooperative crafting – Hammer down hot metal, while your friend pumps the below to keep the forge hot!
Role-filling mutations – Get that mutation that will help you hunt for food while your friend manages the crops back home!
DNA stealing – Hunt down other players for that mutation that you really like!
Conclusion
There is still much to be done, but we feel that these changes are going to pave a brighter future for Shrooms and all it's soon-to-be players!
Even though it was hard to admit "defeat" at the hand of the self-changing world, we feel that we gained an opportunity to explore some truly interesting multi player mechanics that can't be found on any other survival game!
Like always, this is just the tip of the iceberg and we are getting ready to enter our Greenlight stage for approval, so we are counting with everyones help!
Don't forget to leave your thoughts on the comments below or any other place that we might see!
Thank you for your interest in our little adventure!