Recap
As you may or may not have noticed, there was no news post last week. Don't worry, it's not because I wasn't working on the game. In reality, the work I was doing was such a large amount that I've held off until this week where I had more to show you.
If you've been following the game from the early days, you my have noticed that the game has gone from 2D to 2D with faked parallax, to 2D with real parallax, and now what you'll see in a minute. I get a lot of messages about making the game in 3D, which I've honestly thought about. Opening gameplay up into the 3rd dimension allows for a lot of things: pulling alongside a ship to broadside it, larger areas to explore, more interesting land formations and so on.
So last week I started playing around with it to see if I could make a nice looking water shader. After all, if the game didn't have one they why bother with 3D? That brings us to here (these are pretty big gifs, so apologies to those with slower net):
After that I spent awhile trying out different texturing styles for meshes (I still am too).
What's the second most visible thing in the game after the ocean? The player model, of course. So that's what I started next. Here was the first texture I did for it.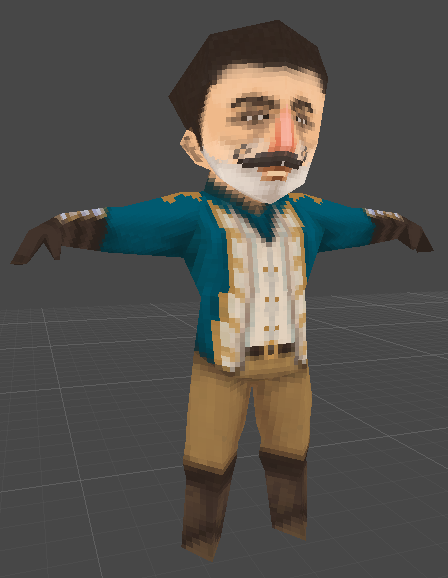 Got some comments about the eyes being too creepy (which I agree with in hindsight), so I redid them afterwards.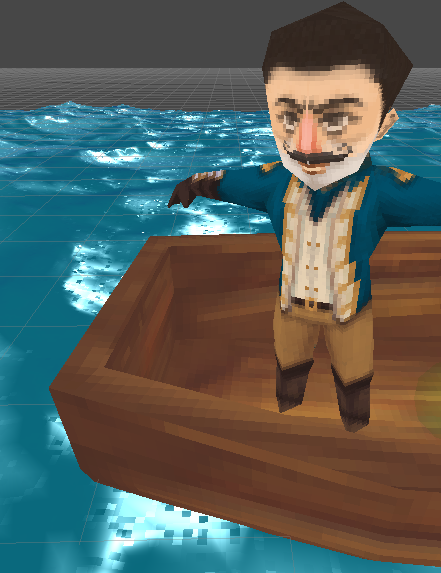 From there I set about rigging the character and all of that, as you can see here: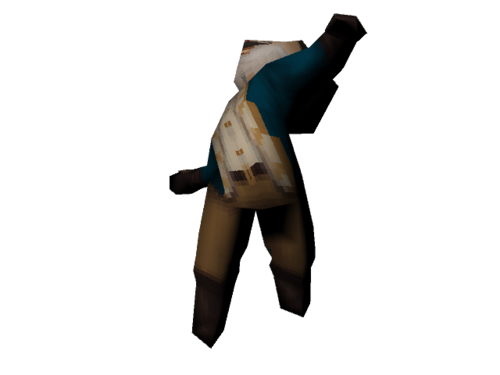 And finally here's a gif of the player standing on the water as waves roll by.
Looking Ahead
This week I'll be seeing if the gameplay in a 3D world is fun enough to warrant the transition to it. Last week was spent on mostly visual things to make sure I could make the game look nice enough, so this week it's all substance stuff.
There's no new build out this week in light of all these testing scenarios. Next week might have a build, though whether it's of 2D or 3D will be determined by how this week goes.
What do you all think? Do you like the way the 3D world looks? Are you excited at the thought of what the open world would allow? Do you prefer the 2D world over this one? Let me know what you all think.