Lots of behind the scenes work this week, but it all culminated into some neat stuff. Let's recap:
Since you can jump off the boat, get knocked off by an explosion and so on, I need to make a way for the player to get back on the boat. Eventually you might have a big enough ship to house a crew and you could order them to lower a ladder or rope, but what about when you're just starting and you don't have those things? So I made a system where when you're not on your boat a ladder lowers into the water. When you get back on your boat, it raises. Here's some shots of it in process of being made.
I'm not really sure if it should be a ladder or anchor. I was thinking about making the anchor be something that you have to purchase and having different types, so I'm not sure yet.
I also did a lot of work on the camera to allow for transitions between on foot and on the boat. Then there's the turning that I just finished putting in too.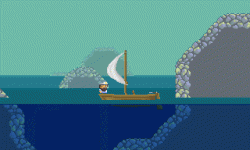 The mast will be affected by wind speed and direction eventually so I have it rotate independently of the hull. In this example the wind would be blowing left pretty strongly. Moving left would then give you more speed than moving right would.
This week I'll be working on the ability to move between layers and fixing all the bugs that will probably surface. Then probably start toying with wind speed and direction.
Let me know what you think! Suggestions, comments and so on are always welcome.