Hey folks! It's finally here! This is by the the biggest update to this mod and a huuuge upgrade to its predecessor, 2.0. A lot of work has gone into this so I hope you enjoy - if you do please make sure to leave a review! :)
First things first, this version is not standalone and requires files from your Red Alert 2 directory in order to function. Please follow this link here for installation instructions and troubleshooting.
With that out of the way let's jump straight in:
---
Welcome to Rise of the East v2.1
Single & Multiplayer Release

---
What's New
The changelog is huge, so I'll just leave the link to its journey here which includes changes leading up to release. (beta & revision changes etc). I'll cover the major changes and additions in this article:
YR Remastered Campaign
Save and Load Games
Full Client Support + File Updater
ReShade Support + Client Integration
Balance Overhaul + Release = Tournament
Custom Map Editor
Worthy mentions:
Lots of new maps + some exclusives
Exclusive artwork made just for Rise of the East!
New Units and Support Powers
Permanent Upgrades
Weather Effects
Remastered Campaign & Save/Load Function
That's right! As we move into the future and start creating Rise of the East's very own campaign and story line, the original Yuri's Revenge campaign has been remastered and enabled. Featuring new graphics, weather, terrain, units and AI difficulty updates as well as some China and GLA easter eggs.
Cooperative multiplayer campaigns have also been enabled and can be played single player if you don't feel like playing with friends.... or strangers. One big update is the ability to choose Coop AI difficulty in the lobby, rather than picking different game modes.
To top it off, 2.1 brings back the Save and Load function for both, single player campaign and skirmish!
CNCNet Client Update
The client has been completely revamped with a new look and a ton of new features thanks to Kerbiter's fork of the client. To name a few we now have:
Client/Game File Updater
Map Editor & Statistics
ReShade Integration
Cooperative Lobby Options
Player Ping Indicators
Ingame Font Language Options:

English/Latin
English/Cyrillic
The client will now search for and install updates just like the YR client does! Never download an update manually again :) unless you really want to of course then you know where to find them.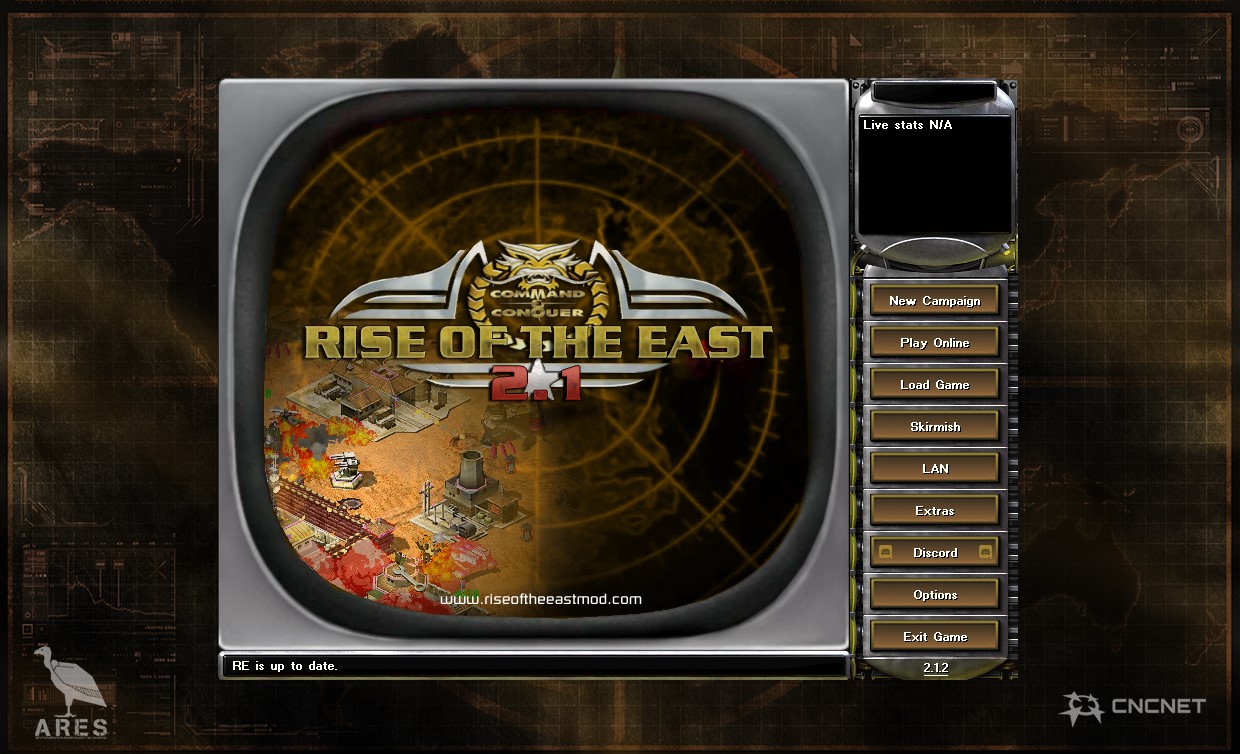 ReShade & Font Options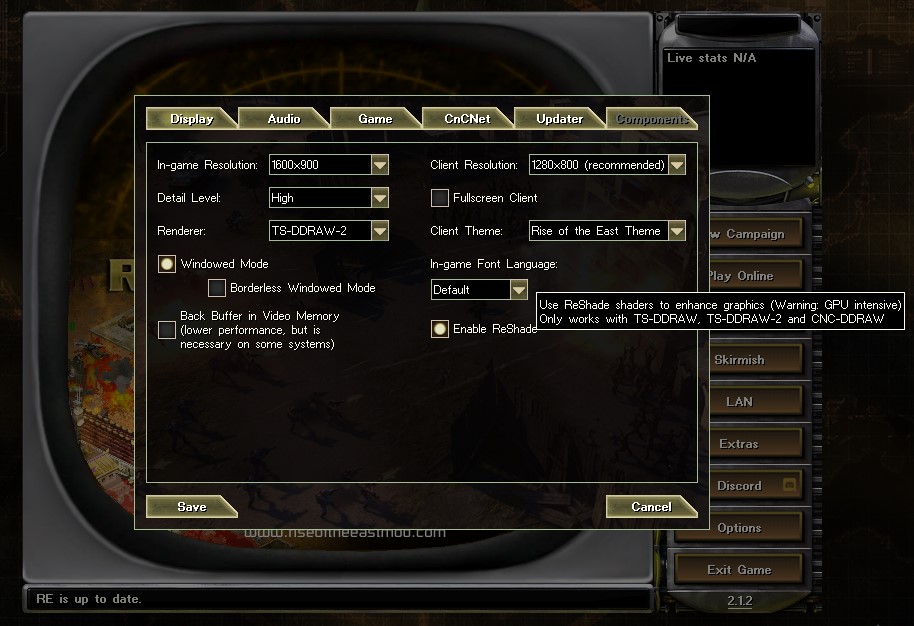 Ping/Network indicators for online games & Cooperative AI difficulty dropdown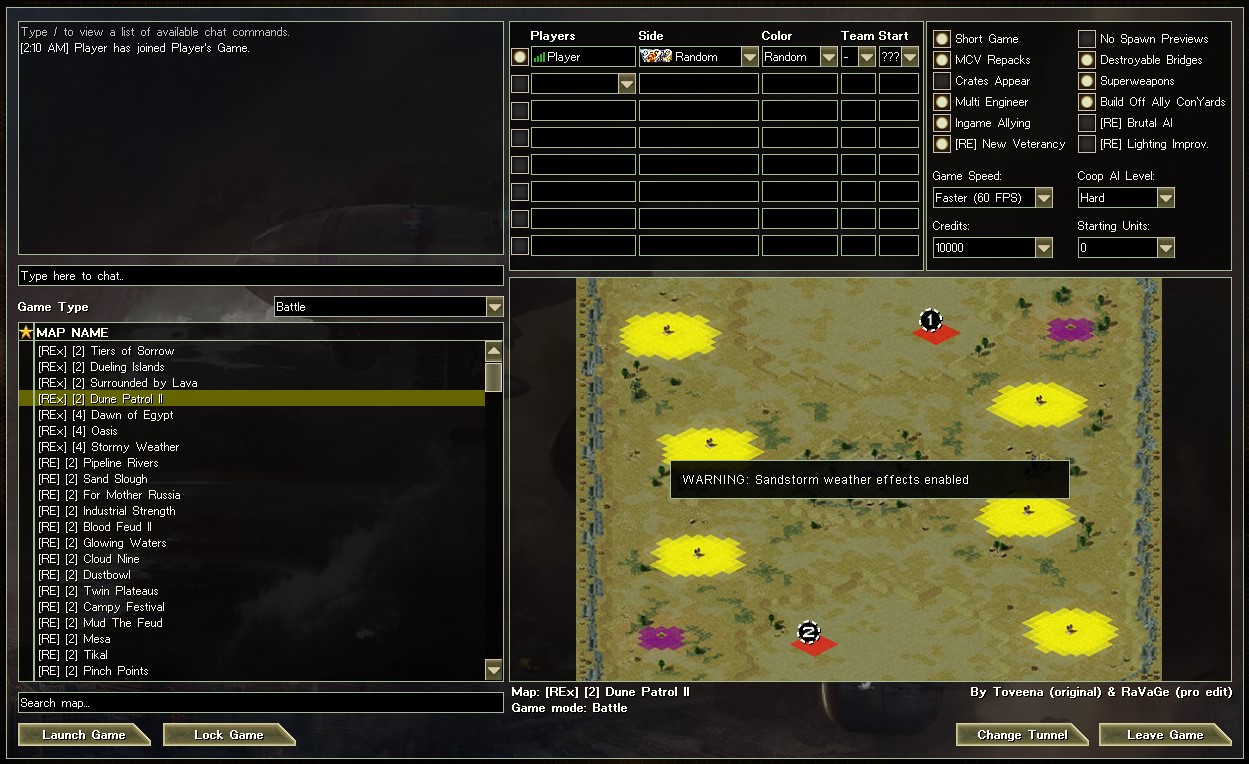 I've also included the Map Editor with this update because it's custom to the mod itself, adding Asia to the countries list etc.
There are additional steps to take to get the map editor working with the new terrain so be sure to check out the Q&A at the end of the help page here.
Weather Effects
As promised, 2.1 comes with a few weather effects to play with. Currently they are locked to specific maps but if feedback is positive enough I'll add them as a dropdown option on the client, applicable to any map.
Rain
Snow
Sandstorms
Balance Overhaul & First Tournament
After almost 3 months of balancing, we believe it's at a good enough place to host the first mod tournament. Stay tuned for details in the future but here's what you'll see:
1v1 Tournament
16 players maximum
$200 USD prize pool

$125 - 1st place
$50 - 2nd place
$25 - 3rd place
The biggest change in the overhaul was the implementation of a medium Rock, Paper, Scissors approach - where most units will excel at their specific role while some will have dual roles but be less effective. This was implemented to promote the use of all units and unit types, and to add diversity in the battlefield.
To compliment the changes above, a separate Tier structure has been added to all factions. We felt that teching up was way too quick and wanted to prevent T3 spam early on. As such, to make higher tiers appealing, most T2/T3 units have special abilities and/or upgrades.
T2/T3 units also take less damage from T1 units, just to give them a bit of an edge but not enough to make T1 redundant.
These are the new T2 structures

ReShade
As mentioned in previous articles and teased countless times in the images page, most of you know that ReShade profiles are available with the mod and can now be enabled via the client Options - meaning you no longer have to fiddle around with downloading, moving or deleting files manually.
Here's a reminder of how RotE's ReShade (right) looks compared to vanilla.
Permanent Upgrades
Revisiting this part of the last article as it is a key aspect of gameplay in 2.1. This release brings permanent upgrades to the table, ranging from unique unit upgrades to global buffs to unit classes. Permanent means that even if the building is destroyed, the upgrade will remain.
Here's some of the upgrades you can expect:

Nuclear Tanks
Exclusive to Iraq
Upgrades Scorpion Tanks and Demolition Trucks with more speed and a nuclear death weapon
Costs $2000, 1.5 minute research time

Spectrum Shields
Exclusive to Germany
Upgrades majority of their laser/prism roster with a +20% HP shield buff
Costs $2000, 1 minute research time

Chaingun Upgrade
Buffs all gatling weapons with +25% attack speed bonus
Also affects North Korean Minigunners
Costs $1500, 1 minute research time

Stealth Suits
Exclusive to Specter
Grants Militants with permanent invisibility and +10% HP bonus
Costs $800, 45 second research time

Power Trip
Upgrades Tesla Troopers and Tesla Defenders' weapons to sometimes electrocute enemy infantry
Effect trigger rate is 15%
Costs $1500, 1.5 minute research time
See how the upgrade system works here:
What Else?
For those not bothered going through the changelog, 2.1 also adds:
Unit Remakes
Unit Abilities
Custom unit voices
More, more!
Unit Descriptions & Guide
The website is still work in progress so unit descriptions are not available except for Allied Structures, but it will have useful info such as the snip below: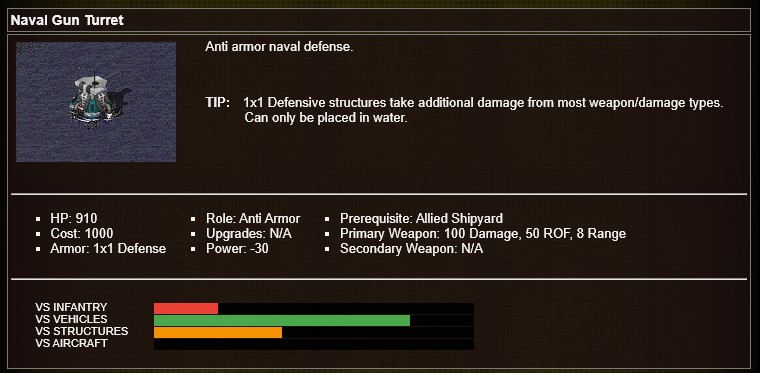 Unit Abilities
Another big aspect of 2.1 is T2/T3 unit abilities. I won't spoil all of them here so I will just describe a couple in detail:

Railgunner
Special Ability: Reversal
This high powered railgun sometimes interferes with enemy systems and weapons, causing effects to be reversed. E.g. damage will heal and heals will damage.
Effect trigger rate is 15%
Does not affect buildings

Brute
Special Ability: Charge
The Brute charges at his enemies to close the gap, gaining +50% speed for 5 seconds
Cooldown is 40 seconds
What's Next for RotE?
Over the next few patches I will focus on more graphic improvements, bug fixes and balance changes. Most will be just improvements on existing graphics such as new flags, fixed building colours/corrections and other improvements, etc:
Here we have the new Scarab Cell, Psicorps and China flags

The next major update will see GLA enabled for multiplayer with 2 subfactions; Scarab Cell and Scorpion Cell. We'll also have our first single player GLA Challenge map where players will face Dr. Thrax.
Scarab Cell is the core GLA faction, not prioritising any specific weapons but they do favour scavenged, bulky units such as the Marauder Tank and the Battle Bus.
Scorpion Cell, led by Dr. Thrax deploys heavy use of toxin weaponry. Most units have one or more toxin/chemical modification.
It will also feature all new East Asian buildings designed in 3D and from scratch, taking the mod to the next level, GLA will later receive the same treatment meaning we will move away from converted C&C Generals assets and into exclusive RotE assets.
Sneak Peek of new Asian Structures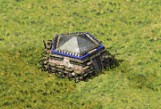 To recap, here's a glimpse of what's to come in the future:
Brand new, exclusive visuals and artwork
Complete GLA implementation
Single player campaign & Challenge maps
Rise of the East lore/story write up and much more
Thanks for tuning in to this wall of text and I hope you enjoy the release. Make sure to leave a review if you enjoyed the mod :)
Cheers!