These are the SpellBook powers for Rohan. As you can see, the tiers are 1, 3, 7 and 10, because I wanted to bring back some of the BfME1 feeling.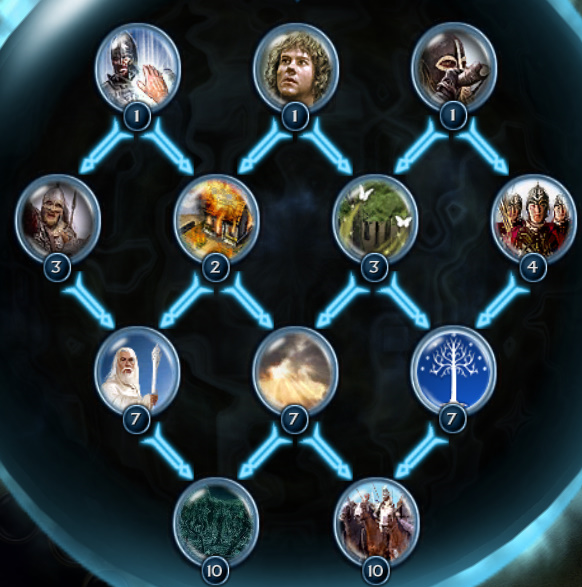 From left to right:
Tier 1:
"Heal": Your normal healing power.
"Esquire of Rohan": Merry swears his alleigence to Theoden, and becomes the Esquire of Rohan. Merry gains 1000 health.
"Forth Eorlingas!": Forth Eorlingas was a battle-cry of the Rohirrim. Targeted allied units gain +50% Damage and +50% Armor.
Tier 2:
"Rohirric Charge": Summones a group of Rohirrim to charge on selected area.
"Protect Your Homes!": The peasants of Rohan stand up and fight against their attackers. Increased Peasants Production Speed for a short duration.
"The Woods of Ghân-buri-Ghân": Ghân-buri-Ghân was the chief of the Druedain living in the Druadan Forest. While the Rohirrim was going towards Minas Tirith, he warned them to not go in a certain path, because they will be ambushed there. Creates a forest in selected area, in which all ally units gain +50% Damage, +50% Armor and become immune to fear and terror.
"Old Allegiance": Summones Haldir and a Horde of Elven Warriors.
Tier 3:
"First Light of the Fifth Day": In the Battle on Helm's Deep, when all hope was lost, Gandalf the White came to the aid of the Rohirrim. Summones Gandalf the White.
"Cloud Break": The normal Cloud Break.
"Oath of Cirion": The Oath of Cirion, was the alliance sworn between the nations of Rohan and Gondor,which stated that whenever help was needed, the two kingdoms would aid each other. Summones 4 Hordes of Gondor Soldiers, and 2 Hordes of Gondor Archers.
Tier 4:
"Last March of the Ents": While the attack on Helm's Deep happened, the Ents, lead by TreeBeard, attacked on Isengard. Summones TreeBeard followed by 6 Ents.
"Ride of the Rohirrim": The Ride of the Rohirrim was the largest charge ever made by Rohan, only the Ride of Eorl could compete with that ride. The Ride of the Rohirrim saved Gondor from defeat, and it was a great scene in the movie. Summones 100 fully upgraded Rohirrim.
Other SpellBooks:
Gondor got a tier 1 power that replaces the "Reuild', which called "Guardien of the Citadel". similar to the "Esquire of Rohan". Unlocks his "Defender of the White Tree" power. Cost 1 power point.
Elves got a tier 2 power, that replaces Tom Bombadil, which called "The Grace of the Valar". Gives Glorfindel 700 Health, and his powers recharge 25% faster. Cost 4 power point.
Mordor got 2 new powers: Tier 1 that replaces tainted lands - "Call the Horde" Increased production rate of Orcs for a short duration. cost 2 power points. They also got a tier 2 that replaces "Barricade" - "Horror of Cirith-Ungol" Summones a non-contolable Shelob. 3 Power Points.
To get more updates and stuff, you can join the mod's Discord server - Discord.gg