I took a short break from game development and focused attention on promotion for the game. I was getting a little burnt out – I took on a part time gig stocking shelves at the neighborhood convenience store (Murry Mart) Design work began to die down for me about 8 months ago out of nowhere, and as a result I began focusing on the game. In order for me to keep on working on it I figured (although sucking considering I haven't had to work for someone in 10 yrs.) It would afford me the ability to pay my essentials and work on the game full time. Plus it got me out of my desk chair and doing something a bit physical, which feels nice. There are times where I don't want to go in cause I'm used to being able to work on whatever for however long. So that's a drag. That said, sometimes I get home and open the game up and just stare... lol - So I directed attention on promotion.
I have a decent foot print for devlogs and personal postings, but not much in terms of an actual website for Robot 505. I held off on this cause I wasn't sure if the game would warrant having it's own website, plus I wasn't sure in the beginning if anyone would play it. - I have made this mistake prior when prototyping ideas and thinking I'm on to something way too early without any real feedback or direction. Launching a site only to scrap it months later...
I chose to use wordpress for the sites CMS, cause it's wordpress! and I know it really well. I searched around for a theme that was pixel oriented and simple to manage. To my surprise I found LayersWP – which is by far one of the sweetest themes I have ever used. The possibilities of layout and function are limitless. And it's FREE & responsive to boot!
With a little bit of time spent on familiarizing myself with the theme I was able to come up with something that represents the game really well. I still have a few things to add and work on.
I also spent some time on a press kit for the hopeful articles on the game ;)
I need to remake a bunch of current game play animated gifs.
I always forget about holiday weekends and shit like that, so memorial day is no different. I am thankful though, cause I was originally planning to drop an update to the demo this past weekend but – held off to work on other things. So the timing worked out great cause I doubt people are in playing games this weekend. One of the other things aside from promotion I have been working on is a mini boss in the form of a Quantum CPU.. I had sketched a quick idea when designing the second level.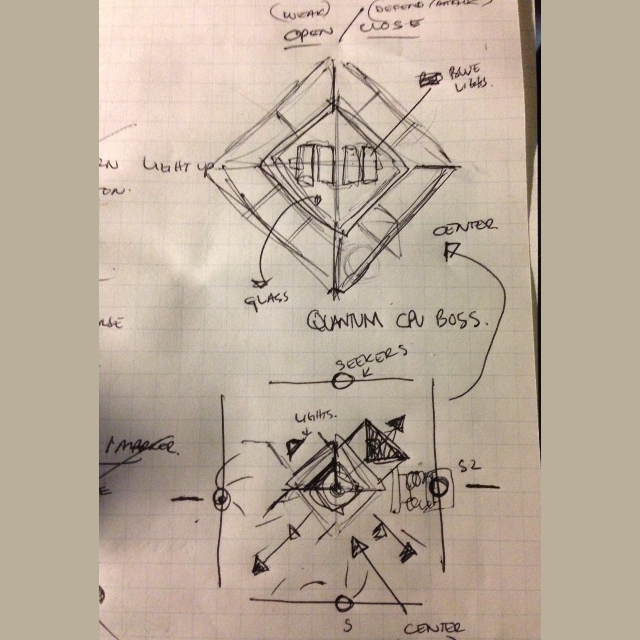 Current Progress of Quantum CPU - Mini Boss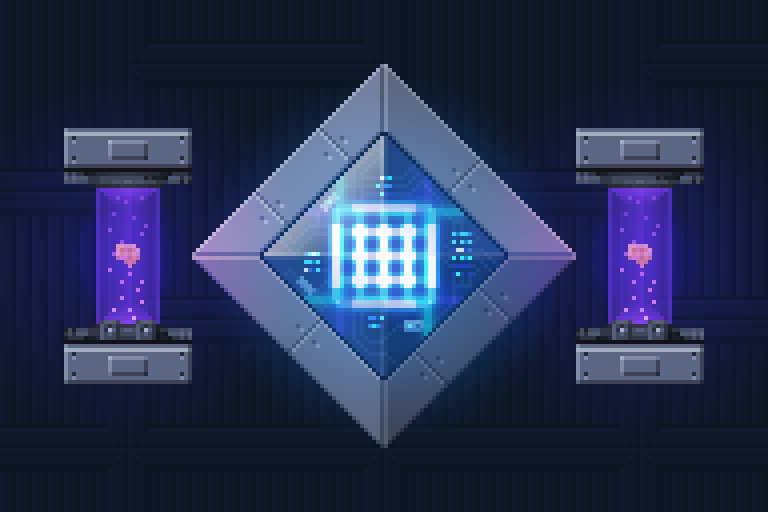 I still have a few things on it to work on along with animating it. Plus I'm not 100% sure on it's function – but I have a couple ideas.
Some things to expect on the next update:
Working crushers!
Less frequency of elevator music.
Duration of stun lessened – from flying patrolers.
Adjustment to 1st level – was discussing the beginning sequence with a developer I follow on twitter about the time it takes to actually start playing. The first elevator posses an issue to new players. Something I didn't even realize I was doing. - Inadvertently forcing new players to wait for play action. The simplest solution is to move the beginning spawn point after the first elevator.
A Second Level!
A Mini Boss! (The Quantum CPU)
Some other art and animation tweaks and additions. Trying to add more to the atmosphere and feeling of the game.
That's about it for the moment – Stay tuned for more on Robot 505. And thanks to those supporting and submitting feedback!