Hello and welcome back to another update of Forgotten Hope. Today we are bringing you the download link for the pre-release torrent files and the dedicated server files as well. Also in today's update are a couple of renders of some last minute equipment for both the Germans and the Americans. Finally, we will be listing some of the highlights included in the patch, as the raw changelog for 2.25.
---
First up, we have the passworded torrent file. You will not be able to extract the necessary files until Friday, January 8th when the password is released. In order to download this file, you will need to use a bittorrent client. We recommend one such as uTorrent.
The following file contains the client files needed to properly play Forgotten Hope version 2.25. If you have an unmodified version of 2.2, then you will need to only download the 2.25 patch (814MB). However, if you have don't have FH2 installed at all, or if you have a modified installation, you will have to download the 2.2 full installer from the downloads page as well (2.7GB). If you do not wish to download the torrent file, a regular .exe file will be available for download on Friday.
---
We also have the server files for those who wish to host their own dedicated FH2 server. If you do not plan to do this, you do not need to download these files.
---
Up next we have a brand new handweapon for the German soldiers serving in Normandy. Not only was the shovel an effective tool for digging foxholes and trenches, it was often used in extreme cases of close-quaters, hand-to-hand combat. The German shovel was made by Zero.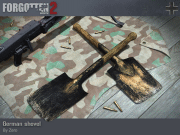 On to the next render, we have another highly requested piece of American equipment. The GMC 6x6 truck. The 'Deuce and a Half' as it was often called, is an Allied cargo truck, that saw action all across World War II. It came in many forms, with the simplest form having an open or closed cab. Players will be able to find this truck in 2.25 in both the cargo and ammunition carrier versions. The GMC truck was modeled by Mange, skinned by Rad, ported to FH2 by Toddel, and the wheels upgraded by Remdul.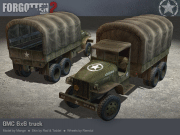 Lastly, we would like to recap on some of major updates that you can expect to see in 2.25.
Four new maps
New Zealand Army
New American fighter planes
British Crusader Mk. III AA tank
American 105mm Howitzer
British Bedford QL Truck
Panzergrau re-skins
Finally, we have the full changelog for those who wish to see all of the changes that have been done over the past few months:
---
We will release the password for the pre-release torrent file on Friday at 18:00 UTC. If you have any questions about the torrent, the installer or Forgotten Hope 2.25 in general, you can join us on our IRC channel, Teamspeak 2 channel (IP: 80.190.246.166:20019) or our public forums and will we do our best to help you out.