Hello!
Welcome to our first "Road to Beta"-post. As we've said in the last post, we intend to keep you updated, and this time, we meant it ;)
As we get closer to Beta, our focus has shifted from new features to bugfixing. In these posts, we'll tell you about some of the changes we've made!
- Enemy Healthbars -
Until now, whenever you attacked an enemy, a number would display the amount of damage you've dealt. Back in the day, we were pretty excited about that!
However, playtesting has revealed that these numbers did very little in practice: As players don't know the internal numbers, knowing you dealt 23 points of damage did not exactly tell you how much closer you were to defeating the enemy. And while it was fun to see those numbers increase with every level-up, the overall effect of those numbers was lackluster to say the least.
We have now opted to use healthbars for enemies instead. When you hit an enemy, a healthbar will appear that instantly shows you how close you are to defeating it. It's color coded, so even in intense battles, a quick glance will tell you everything you need to know!

Numbers are still there, however: They will now appear whenever enemies deal damage to you. Since your own health is displayed as a number, this number has a lot more context, and immediatly translates to "large=danger, small=harmless". While we're at it, notice that there's now an animation for when you're taking damage. A nice improvement!
- Tutorial improvements -
Since recording the video we showed you last time, we have performed some playtesting sessions on the tutorial, to see what works and what doesn't. We have already changed a few things to make it flow a little better, and to give you the best possible first impression!
- Tons more equipment -
We finally generated TONS of more equipment for you to find! In the process, we also tweaked the generation algorithm, resulting in a bit more fair, constant progress as you find that gear! In the shot below, we've experimented with just a handful of graphics and types of equipment. There's more now, and we hope you'll like it!
- Balancing -
We're tweaking all kinds of values to give you the best game possible! This includes enemy strength and defenses, prices of tiles and the level you can buy them at, as well as orb parameters. This is not too interesting to write about right now, as you cannot compare the changes to your own play experience, but rest assured that things are happening and improving!
- Achievements -
We implemented achievements a while ago, but awarding these achievements is something that is always kind of tricky. Checking for achievement conditions everytime something on the homepage or client is done is somewhat resource-consuming so we had to consult with our IT expert, the Connectibot, to find a solution. Let's all hope it does not break during beta testing ;).
Check out a video!
Finally, we're bringing back an old "Dungeon Deities IndieDB"-tradition! Check out this gameplay video of one of the Dungeons we've added!
As always, let us know what you think!
Music by James Flamestar.
Additional Music:
"Unwritten Return"
Kevin MacLeod (incompetech.com)
Licensed under Creative Commons: By Attribution 3.0
Creativecommons.org

Thank you for following the development of Dungeon Deities!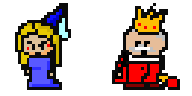 Keep in touch with us and be among the first to know when registration for the Beta opens. Just follow us on Twitter, visit us on Facebook or directly hit our homepage and forums!