United States of America, 2038

"Hi! I'm Steve Dawson and on today's episode of Future Warfare, I'll be giving you an exclusive look at some of the most cutting edge combat robots of the United States military. Now, as a former Force Recon Marine, I'm telling you here and now that wars will always be decided by the boots on the ground. But even in my time with the Corps back during the Global War on Terror, my fellow leathernecks and I fought alongside some very sophisticated unmanned weapon systems. We stormed the coast of Kazakhstan with an entire swarm of Predator UAVs providing live intel from above, the Rottweiler Sentry Drone covered our backs during the intense house-to-house fighting in Mogadishu and the Cypher Battle Drone kept our Humvees chugging all the way to Tehran. Today, about two decades later, the newer versions of these drones have become a mainstay component of any US military operation and I'm here at Fort Eustis, Virginia to see what's in store for the next time the United States of America go on a world tour - Let's check it out!"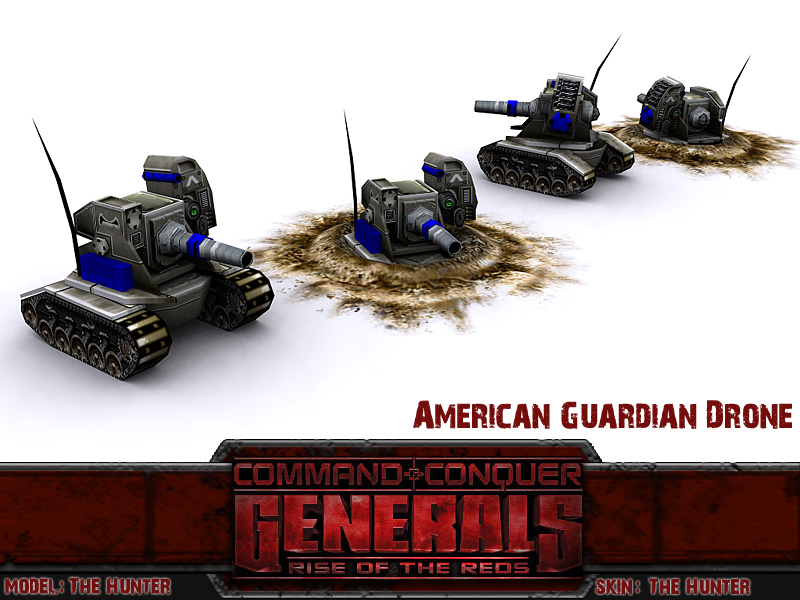 "Back in the Corps, we always had two major rules that we were to follow at all times. First: Do not -ever- leave your fellow Marine behind in a fight. Second: If you can't drop an enemy dead with your gun - use MORE gun! The second rule must have been one of the few things that the R&D eggheads have actually learned from our previous engagement with the GLA, so they created this little guy right here: The Guardian Drone. This amazing box o' fun on treads is basically a remote controlled mini tank - I bet you would have loved to find one of these under the tree on Christmas. Armed with a short 40mm cannon, the Guardian packs enough punch to blast holes through light vehicles and it is both small and agile enough to support our grunts in close quarters. Its treads are built to be very sturdy to compensate for the recoil of the weapon, which also allows the drone to bury itself into a hull-down position for added protection. The Guardian stands as a fine example of our new doctrine: First you send in the robots to secure a foothold and then you get boots on the ground to seal the deal. Rumour has it that the Chinese are currently developing a new type of light tank for the exact same purpose. I hate to break it to the guys in Beijing, but...manned tankettes have been out of fashion since World War II. I guess they missed the memo."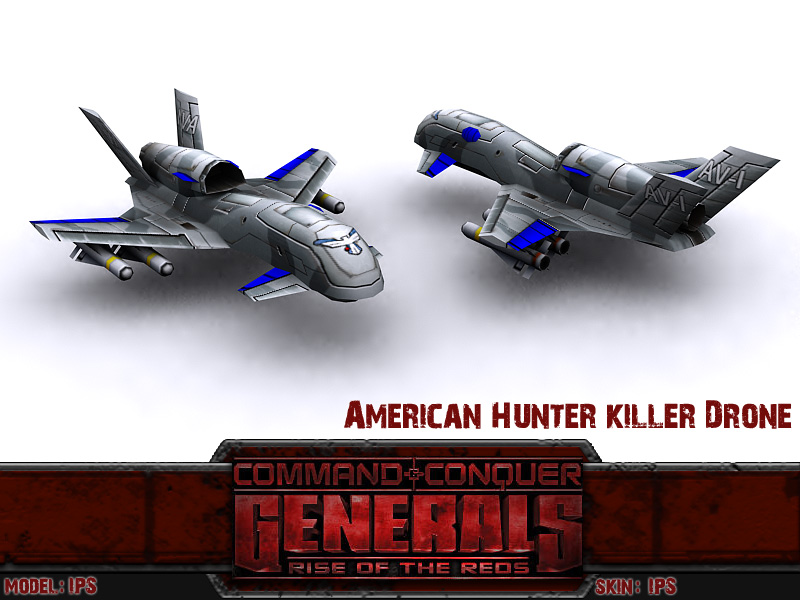 This, my friends, is one of today's highlights: What you're looking at here is the AQ-360 Hunter Killer UCAV, the first -fully- autonomous military aircraft in the world. The state-of-the-art computer system that resides inside this machine is brought to us by some of our most renowned AI researchers and it's right over at Langley AFB where the artificial mind is merged with a lean and mean, all-American airframe made of lightweight but highly durable polymer materials. I know that some of you are thinking right now, but rest assured: There's always a way to pull the plug in case they ever try to go SkyNet on us and the AI itself is still way less intelligent than your average Army PFC. The HK can hold up to four Maverick air-to-ground missiles which makes it an exceptional tank-killer and ideal for close air support missions that are deemed too dangerous to risk the lives of our combat pilots. All of you Chair Force fighter and bomber jocks out there don't need to worry though; your jobs are safe! The Hunter Killer is purely designed to take on ground vehicles, so all that sweet dog-fighting and bomb-dropping is still up to you guys."
"That was pretty neat for a start, wasn't it? Well, let me tell you, there's more where this came from: Tune back in after the break and I'll show you something truly revolutionary. Here's a hint: It walks!"