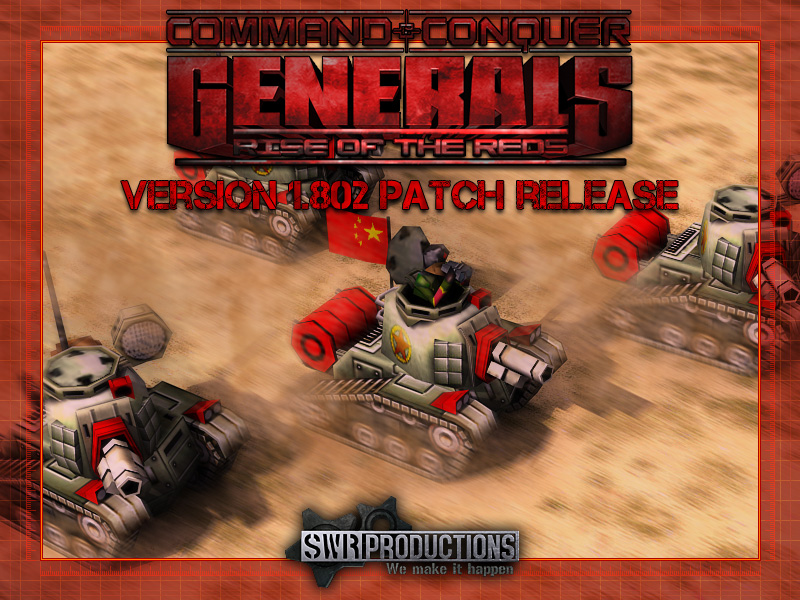 Greetings, ROTR fans.
After the release of our much anticipated Version 1.8, many of you have provided their feedback and reported bugs.
In order to gather these helpful information in a more organised manner and allow you, our fans and followers, to contribute your own efforts to the project, we have opened the Public Beta Testing Forum which gave you access to our latest internal trial versions. This helped us to eliminate a great number of bugs, tweak the game and make a few other neat little additions. We'd like to use this opportunity to thank everyone who provided us with their input, for today we are presenting you the result of the most recent testing session: The official Rise of the Reds Patch 1.802.

And while you wait for the download to complete, you can check out our change log here:
CODE
-------General tweaks, adjustments and bug fixes---------
-AI controlled opponents and allies will no longer build superweapons unless someone else does so first
-AI now keeps far less units in its base that it did before
-No superweapons function restored has been restored to its original form (limit superweapons)
-Futher optimized the ECA generals powers and some other tweaks in the game to increase stability
-Dushka Nest can now properly damage aircraft after the AP Bullets upgrade
-MTP4A will now properly repair friendly units after beeing recovered from a wreckage
-Hopper Tank variants with flags will no longer show an oddly shaped horde bonus star underneath them
-Bomb Trucks properly disguise themselves as Pandurs now
-Manticore rockets can now properly be shot down by American point defence lasers
-Bulldog rockets can now properly be shot down by American point defence lasers
-Black Market arms dealers now properly become stealthed within a GPS Scrambler radius
-Game is a lot less prone to crashing than it was before
-Industrial Plant that produces an Arms Supplier will no longer disable one of the occupied Arms Suppliers from generating money
-ECA Bulldog turrets will no longer be placed within structures by AI controlled opponents
-------Chinese faction tweaks and adjustments---------
-Twinfang range reduced by 12%
-Twinfang damage reduced by 12%
-Twinfang now gains horde bonus
-ECM Tank now gains horde bonus (Has no effect on the unit itself but helps stacking with other units)
-Nuke Cannon now gains horde bonus (Has no effect on the unit itself but helps stacking with other units)
-Overlord now gains horde bonus (Has no effect on the unit itself but helps stacking with other units)
-Troop Crawler now gains horde bonus (Has no effect on the unit itself but helps stacking with other units)
-Troop Crawler Speaker Tower upgrade removed; it is now available by default
-Troop Crawler cost increased from 700 to 1200
-Troop Crawler production time increased from 9 seconds to 12 seconds
-Troop Crawler Recon Kit costs increased from 200 to 400
-Chinese Supply Trucks can now transport up to 6 infantry
-Inferno Cannon deadzone range increased from 50 to 100
-------ECA faction tweaks and adjustments---------
-Field Promotion can now also promote infantry (including infantry in Pandurs)
-Guard Dogs can now taunt
-Frank Jaeger can now snipe infantry within garrisons using his sniper rifle
-Frank Jaeger's sabotage will no longer make the effected building unsellable when shut down by this ability
-Medic health increased by 50%
-Fortification can now upgraded into a Reinforced Fortifcation (requires Prepared Defences)
-Fortification can now upgraded into an Ammunition Stockpile (requires Prepared Defences)
-Fortification can now upgraded into an Engineering Outpost (requires Prepared Defences)
-Tank Trap Barricades are now entirely cost free to construct
-Tank Trap Barricades build time decreased from 5 to 4 seconds
-Tank Trap Barricades no longer require Prepared Defences
-Gun Turret damage decreased by 20%
-Gun Turrret max health decreased from 1300 to 1200
-Sky Shield now has 2 turrets instead of 3 (damage has been increased accordingly to match the 3 guns from before)
-Sky Shield now requires power to operate
-------Russian faction tweaks and adjustments---------
-Igla Trooper cost decreased from 200 to 175
-Igla Trooper now uses machine pistol on ground targets
-Igla Trooper can no longer use launcher against ground targets
-Igla Trooper must now manually switch between ground or air attacks (air attack is default)
-------American faction tweaks and adjustments---------
-Combat Drops from Ospreys and Blackhawks are now performed 50% faster
-Comanche model and cameo updated
-Cobra model and cameo updated
-Cobra renamed to Viper
-Bradley turn rate decreased by 10%
-Bradley armor is now 50% less vulnerble to most bullet-based weapons
-Bradley TOW missile range decreased from 220 to 190
-Bradley TOW missile reload time decreased from 10 seconds to 5 seconds
-Bradley can now manually switch between TOW missiles and the main cannon
-------GLA faction tweaks and adjustments---------
-BM-21 Grad deadzone range increased from 80 to 150