-----
Hello once again SWR fans! We're back with another media update for you to feast your eyes on. We also have to announce that due to technical difficulties part 2 of our video feed had to be redone but it's not really a problem since we should have it ready by this week or the next. So don't worry. Now onto the renders:
American Sentry Drone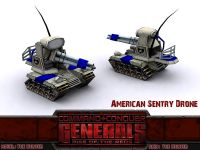 The Sentry Drone comes from a long line of failed prototypes. Billions of dollars were pumped into the development of the perfect scout. The first prototypes produced used to be as expensive as a tank and used to break down often. The second line were cheaper, however they had to be remote controlled by somebody within a hundred miles. The third and final version was cheaper, was capable of accomplishing its mission even without supervision and could operate for over a week without maintenance. Decades have passed, the model we see today is the newest used by US ground operations with electronics and armor more up to date with today's available technology.
The Nuke Cannon of the new generation is a terrifying opponent. It is now armed with a new ordinance and is capable of a much superior firing range and its destructiveness has increased many times over however it is no longer possesses neutron weaponry since the Budapest Convention of 2027. A bright white light, a shockwave and you are history.
-----
That's all we have for you tonight. We hope you enjoyed the update. As always you can check out our forum or website for exclusive updates on our project as well as converse with the community there. This is the SWR Team signing off!