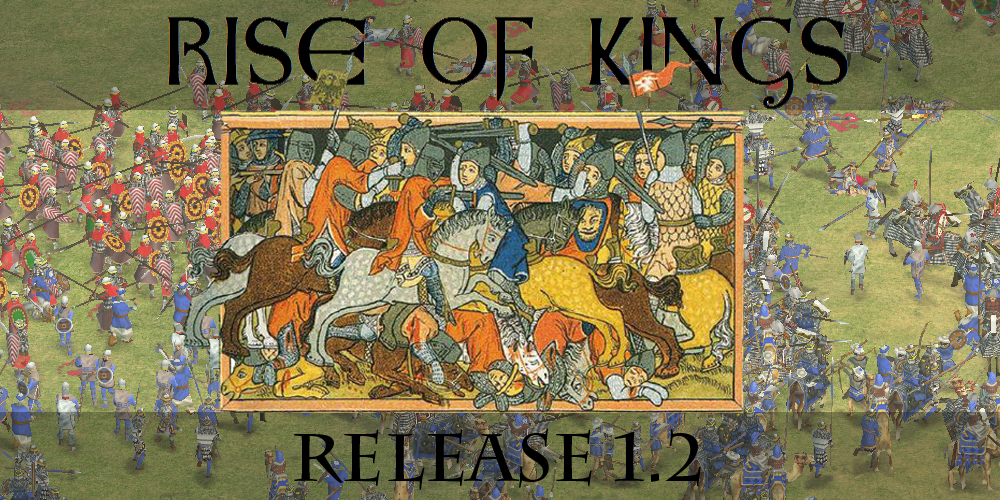 We are proud to announce that version 1.2 of Rise of Kings has been released! Thanks to Beelim's hard work over the past year, all 24 factions have been completed and most features have now been implemented.
With this release, Beelim has decided to stop working on Rise of Kings, so LT_Monty and Super7700 will be responsible for future releases. As Rise of Kings is mostly complete, this work will mostly be limited to bug-fixing, balancing and implementing the final few features.
Set across three ages that cover the medieval era: The Dark Age (Classical Age), The Castle Age (Medieval Age), and the Imperial Age (Gunpowder Age).

24 completed factions, ranging from the Holy Roman Empire to Armenia to Mongolia

A large number of new units, with many new models and animations.

A range of mercenaries can be recruited at the Outpost building.

The powerful Noble's Court can research special technologies and train elite warriors.

Regional units are shared by multiple nations such as the Muslim Ghazis, Asian conscripts, Germanic feudal retinue and the Scandinavian longships.

The castle can train gunpowder units like arquebusiers and bombards.

Technology's importance is increased. For instance, some naval units can only be built if a nation researches a certain government type.

A full set of medieval wonders such as the Tower of London and the Hagia Sophia.

Population limit increased to 400

Most units are missing help descriptions.

Units have not been properly balanced yet.

Wonders do not spawn any units upon completion despite what their description says.
We are working to resolve these issues, and any other bugs, for future releases.
Also, please give us your feedback, so that we can make Rise of Kings an enjoyable and bug-free experience. We hope you enjoy this mod!