Hello and welcome back to another update of Forgotten Hope. Today, we have two tanks that have been re-outfitted and re-painted for use in the snowy conditions of the Ardenne.
Up first we have the M4A3 Sherman, painted in the whitewash camouflage scheme that was common amongst US Army vehicles during the Battle of the Bulge.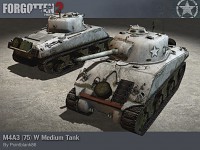 By the time the Battle of the Bulge had started, the M4A3 was the main Sherman variant currently in use by the US Army. For obvious reasons, tanks could not be brought back to the factories to be re-painted. Instead they were painted in the field in a camouflage pattern called whitewash. Rather than be an even, pure white coat of paint, the tanks were painted unevenly. Combined with paint that chipped easily, this created a camouflage effect that actually worked better in snowy conditions, and thus allowed the M4A3 to serve with distinction throughout the entirety of the Battle of the Bulge. The M4A3 Sherman was made by Pointblank86.
Up next we have the mighty German Panther G medium tank, re-painted to be used in the Battle of the Bulge.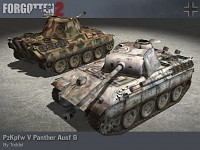 Although the Panther G already saw action in Normandy, it was not the same tank that was used in Belgium. Although it looked relatively the same, the tank received a new gun mask, air filter, and muffler. As well as a new paint scheme. A status report the day before the offensive started reported that a record high of 471 Panthers assigned to the West front. Out of that, 336, or 71% were operational. Once again, the Panther demonstrated its ability to knock out enemy tanks at long range in open combat. However, it was still prone to heavy losses in close-quarters fighting. One famous incident involving the Panther was Operation Greif, where they were disguised to look like M10 tanks. These Panthers were easily discovered and destroyed however. The Panther G was made by Toddel.
Finally, we have a quick announcement.
On Saturday, November 27th, the FH2 team will be hosting its 11th FH Game Night. Come and enjoy a night of relaxed FH2 fun with fellow gamers, betatesters, and developers. Stay tuned to our public forums for more information.
That's all for this week, but be sure to come back next time for another update. Until then, feel free to visit our IRC channel and our public forums.