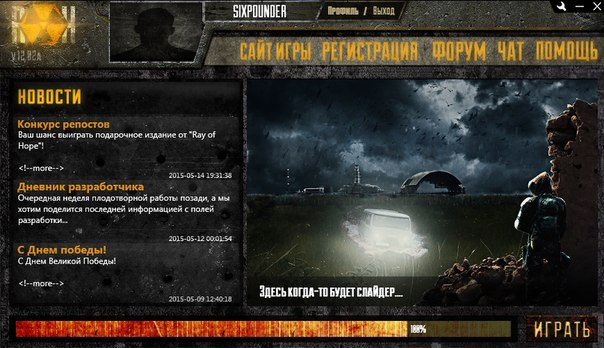 Good day to you, fellow stalkers! Finally, here's the Results of week #15!
May, the final month of spring, is slowly coming to an end. We at INFINITE ART, have not
forgotten our obligation to the fans and are working very hard on our project. Every member, all developers and
project moderators are eager to announce the release to the general public as soon as possible, and just between us - they're not doing a bad job.
But, as always, let's talk about everything in due time.
- At this very moment, all attention is switched to launching the alpha-test of the game. The map of the Zone, consisting of 6 locations, as long
as various underground laboratories and hallways has finally been compiled. What's left is to "upload" it to the server.
- The launcher of the game is finally complete. Through it, one can launch the game, find out the news, install the latest patches and, of course - launch the game itself.
As can be seen in the screenshot, the launcher will be asking for authorization on our website.- As always, we've left the juiciest part for dessert.
INFINITE ART wants to say thanks to all its loyal fans and as sort of a gift, here's the map presentation of our upcoming, long-awaited project - RAY OF HOPE!