Welcome to Morrowind Rebirth, the ultimate Morrowind experience! Morrowind Rebirth is a huge mod that will transform Vvardenfell into something very special, a world full with detail & life. This is the first part of Morrowind Rebirth, that will offer a big overhaul to the Ascadian Isles, parts of Bitter Coast & parts of West Gash. More areas will see a transformation in the months to come! The following cities have been reworked: Caldera, Balmora, Suran, Dren Plantation, Pelagiad, Ebonheart & Seyda Neen. More cities & landscape edits will follow in future updates. I've listed the changes down below:
* Smoother landscapes & fixes for a huge number of landscape seams. (In the mentioned areas)
* Shops & some special places will close nighttime between 8 pm – 8 am.
* A large number of new NPC's and evenually new creatures.
* New music, splashscreens and & new main menu.
* Fixes a large number of floaters and glitches.
* New weapons, misc items & clutter.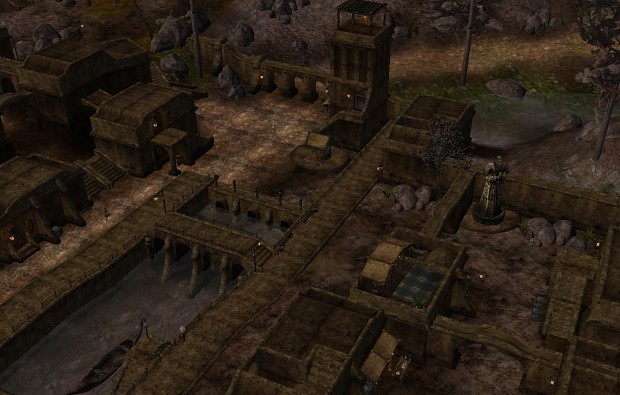 Mods Included:
Vurt's West Gash Trees, Vurt's Ascadian Isles Trees(ground textures excluded)
/ Bull Netch & some of Vurt's Bitter Coast Trees combined with Vality7 big trees.
New Comberry Bush by Rhymer.
Why BETA?
Well I'm not really satisfied with the current version. There's still some interiors
that needs to be completed + other small things I'm not really happy with.
Anyhow I've made a promise to the moddb community so why not release it
in it's current state. It's fully playable & should be pretty bugfree

Notes
* It does NOT include any graphical enhancers besides Vurt's new trees'. I want to keep that open for people, to let em' choose for themselves. However I can post the mods I'm using if anyone's interested.
* This mod is recommended to be used without mods editing the Ascadian Isles,
Bitter Coast and West Gash. Texture replacers excluded.
* I recommend using Morrowind Code Patch along with Morrowind Rebirth. Some
of Vurt's Trees use bumpmaps, which won't look good without it.
Link: Tesnexus....le.php?id=19510
* This mod will require a high end computer to run smoothly. You have been warned.
* Full creditlist and further info can be found in the readme.
Get it Morrowind Rebirth @ Moddb.com