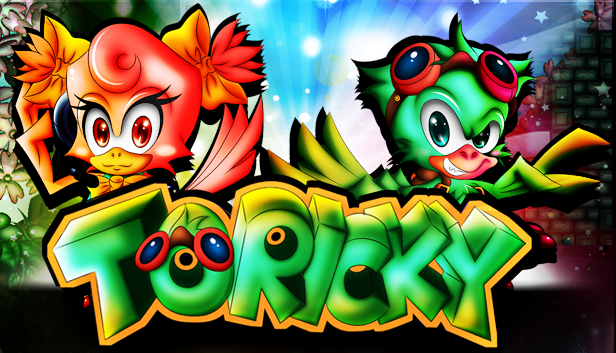 Toricky and Momo are two exploring birds, who are always looking for new adventures.

They embark on a new quest to a legendary palace where mysterious jewels called "Crystar" are enshrined.
The palace, which should be busy with people, seemed deserted.

What could have happened? Where could everybody have gone?

To find the answer to this mystery, you'll have to use Toricky's amazing flying abilities to make your way across
many zones filled with dangerous traps, and ferocious enemies!
EXPLORATION:
Storming a giant fortress surrounded by psychedelic mushrooms, or diving into heavenly waters infested with wacky piranha,
this quest is going to be a challenge. Fortunately, Toricky's fast flying will let you explore each corner of the
Crystar Palace's immense zones.
BATTLES:
Even if you want to be a peaceful adventurer, the nasty pirates who have overrun this region don't share your same view.
As a bird you don't have any weapons, but with Toricky's super strength, the world will become your weapon!
Even a pebble could be a lethal weapon in the hands of Toricky!
REFLECTION:
Many puzzles will block Toricky's path. You'll have to use your wits and the environment around you to solve them.
BOSSES:Various bosses will stand in your way. Fighting against a giant robot ten times taller than you? That's a piece of cake for our protagonist!
Watch the enemy's movements carefully, find his weaknesses, and strike!
MYSTERY:
Toricky does not only meet hostile creatures during his journey.
He may also find the beautiful princess whose mystical powers rule over the Crystar Palace. If you can find her, she will be a great help to you on your journey.
FEATURES:
- An Old School designed platformer, illustrated with beautiful Manga visuals.
- Interactive environments with a unique gameplay mechanic based around flight
- 30+ hours of gameplay for the completionist
- Non-linear gameplay with 7 Great Zones divided into various Areas
- 56 Crystar to save, each with their own Time Attack Challenge
- 12 gigantic, screen-filling bosses, each require a unique strategy to defeat
- Over 400 lines of dialogue fully voiced in Japanese
- Featuring beautiful musical arrangements by Hiroki Kikuta & Dale North
- In-game text localized into 13 languages (Japanese, English, French, Italian, Russian, Spanish, Czech, Portugeze-Brazil, Korean, and Simplified Chinese at launch - German, Dutch, and Romanian post-launch)
- 66 Steam Achievements to unlock, Steam Trading Cards to collect and Badges to craft
Toricky is now available on Steam for $14.99: Store.steampowered.com
The Toricky Original Soundtrack (OST), featuring 12 audio tracks by renowned composers, Hiroki Kikuta and Dale North is also available on Steam for $6.99 : Store.steampowered.com
Please visit the store page for more info.
Thank you for all of your support.
Atelier Melon-Kissa & OtakuMaker.com Studio