To really enjoy the world of Morrowind and Morrowind Rebirth, get these:
Morrowind Code Patch
On The Rocks!
Planetelderscrolls.gamespy.com
General changes
So for this version I've been browsing the net for what people found to be the biggest flaws of Morrowind, here's what I found and "corrected" + a few other tweaks.
* Hlaalu, Telvanni and Redoran sharpshooters are now equipped with the traditional bonemold longbow and bonemold arrows.
* I've been renaming the potions for this version. They never stacked they way I wanted (same case with many others), it's now way easier to find that specific potion in the heat of battle! (This idea is pretty much the same as BTB had in his BTB's game improvements, for those who know)
- Common potions: Potion of/Name/Quality,
Example:(Potion of Light:Bargain)
- Restore/Fortify Potions: "Restore|Fortify/Name/Quality,
Example:(Restore Fatigue:Bargain, Fortify Health:Bargain)
- Resistance Potions: Name/Quality,
Example:(Fire Resistance:Bargain)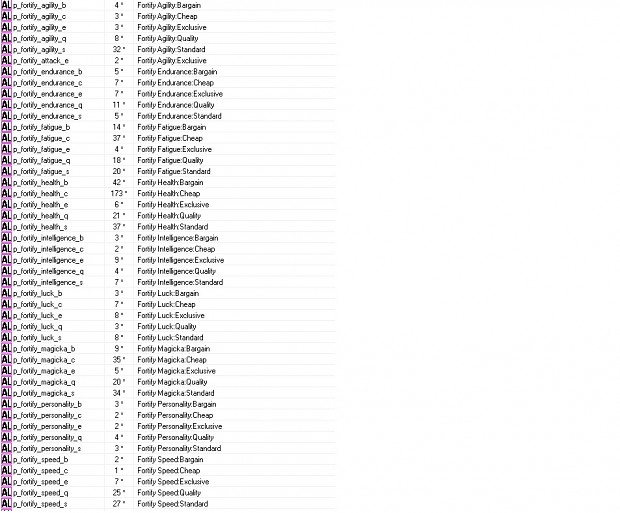 * Elemental shields (magic) are supposed to deal damage to creatures that hit you in melee combat, now they do.
* Summons costs have been reworked to make some sense in regards of they cost vs "what you get" On another note you will no longer be able to aquire high level gear through summons, they do still carry a few minor items/ingredients though.
* Running will now drain 0.5 points less each second while running.
* Players runspeed will also be a bit faster at lvl 1.(I'm still thinking of tweaking the MAXspeed too, so that players won't be able to run around like sonic at really high levels, it does look a bit odd.
* Enchanted items recharge 50 % slower.
* NPC's magica-pool will be a big larger so they actually will be able to throw the high level spells in their spell-list.
* Reworked the base costs for almost all the spells. I think Wakim (wakims' game improvements, if someone recalls that mod) came the closest to what spells should cost based on how powerful they were. It's quite similar to his list, with a twist of my own, especially charmeleon, invisibility & bound weapons/armor is much more costly. BTB should also get some credit, as I also had his changes in mind when I made this. (Still very WIP, as I'd like some feedback after in-game testing)
* Loads of small issues fixed, both for the mod and the game itself.
Equipment changes
* Volendrung had the same stats as a regular Dwemer warhammer, now it's a bit more expensive (3000 instead of 600) and offer a small boost to damage (10 + chop/slash and durability.(from wakim)
* Ebony/Daedric Towershields are now both heavier (5 ibs) and have a slightly higer AR (+5) then their regualar counterparts.(from wakim)
* Dwemer Armor/Weapons* are now more powerful (40 AR instead of 20),expensive* and have a higher durability, just like it was supposed to be. (Sure they're old and all that, but according to the uesp wiki: Dwemer armor are highly sought after for their resistance to corrosion, unmatched craftsmanship and their ability to keep an edge). Besides there weren't any type of mid-level armor between the "Duke's Guard Silver Cuirass" (20 AR) and the "Ebony Cuirass" (60 AR), which to me seemed kinda strange, now there is!
* Goblin clubs, swords and shields have been reduced in value, this was highly unbalanced in vanilla, making it too easy to earn lots of gold. The diffrent pieces of goblin armor/weapons have also had a slight tweak in weight to match (since I assume they're made of fairly the same type of material)
* Adamantium armor pieces are now more durable and the prices have been reworked to match the armor piece (for example the Adamatium helmet have AR 70, while boots have 40. Still the boots are a 1000 gold pieces more expensive, not very likely right? Anyhow, not a huge change.
Landscaping, Cites & new locations
Work in progress, things can and will change!
* Reworked the area around Caldera Mine, not it actually looks like a real mine. (WIP)
* Balmora Sewers (still VERY WIP) + a major overhaul for Balmora (way better than my old one)
* I've rebuilt the (secret) cult-hideout in Seyda Neen from scratch. (No I won't tell you how to find it!)
* Further improvements for the landscapes across Vvardenfell by removing seams, fixing jagged landscape, relocating trees & correcting floating/missaligned statics.
* Fixed a huge amount of floaters in interiors like caves, shrines, dwemer ruins & others.
New weapons & armor
* Face Of Kagrenac & Daedric Face of Wisdom + matching armor sets spread across Vvardenfell
* Wooden Crossbow (might have to exclude this due to a mesh-error? not sure if it works right in-game)
* Black Glass, including one regular shield, one towershield and a fullhelmet.
* Voidguard (Artifact)
* Dwemer Bolts
New Music
* 4 new explorer tracks by ComposerGuy (A Tale's End, Lightflooded Fields & Beyond The Hills) & Sharkattack (The Lone Guar), enjoy!
New creatures
* Riekling variations (Shaman, 2 types of Warriors, Nightstalker & Berserker)
* Armored Dwemer ghost
Graphical
* Vality's Bitter Coast trees' have been replaced by Vurt's Bitter Coast Trees II
* Vurt's Leafy West Gash II v0.1a have been replaced by Vurt's Leafy West Gash II v1.1a
Feedback & suggestions are always welcome!
Btw: Don't foget to vote for me in the moddb awards! ;)