Well, if anyone has been keeping up with the updates on youtube, I've been teasing that the mod would be released "early" 2018. The most keen-eyed, might've seen that I was a bit more specific in one video.

But then again, I wanted to make it more "Official".

The mod will be releasing this month. I will not give out the specific date yet, but expect it late this month.
But this isn't all about just teasing with vague information. Here, for those who are following this mod in moddb, for the first time ever, I present to you, the list of champions in QCDE.

In total, there's 13 champions for you to choose from:
Ranger

(Medium)

Doomslayer

(Medium)

Corvus

(Medium)

Bitterman

(Medium)

Galen

(Medium)

Kane

(Light)

Caleb

(Light)

Menelkir

(Light)

Nyx

(Light)

Terminator

(Heavy)

Zedek

(Heavy)

Inquisitor

(Heavy)

Sorgaul (Heavy)
Some of these have been fully revealed, others weren't (yet). Also, as you can see, there's 3 different types, "Medium", "Light" and "Heavy". This corresponds to certain attributes per type, and most importantly, it determines the size of the hitbox.

Zandronum/GZdoom being our lovely engines for such an old game, doesn't know jack about "pixel perfect hitboxes" (like QC does, with impossible to hit Anarkis). Instead, each type has a very defined hitbox size.

But here, have a look at it yourself: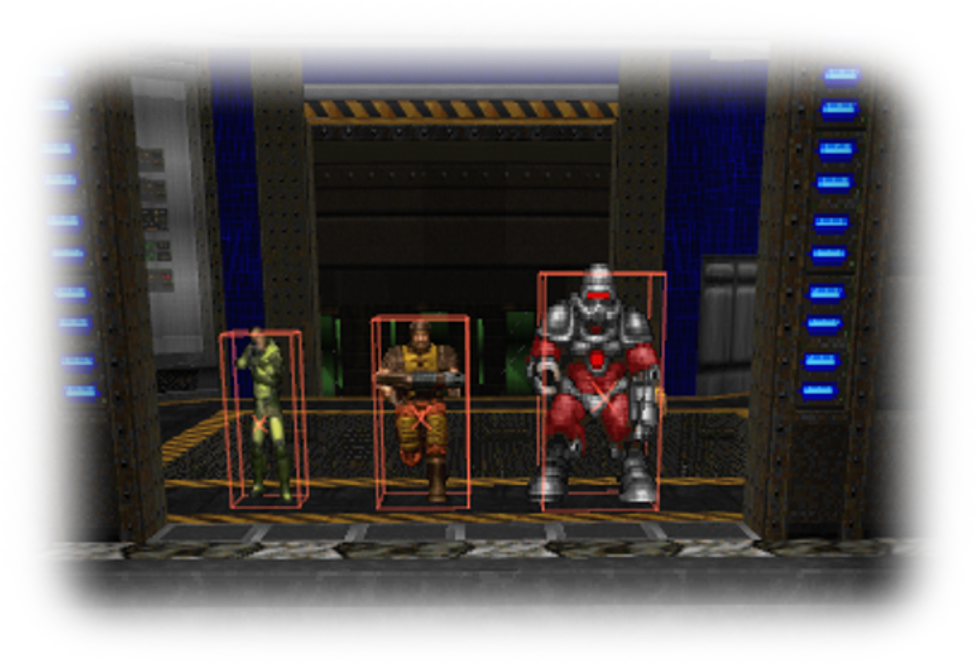 From left to right: Kane (Light), Ranger (Medium), Terminator (Heavy).

So, being a Heavy means a huge stack, yes, but you're so damn easy to hit. While the Light ones have a very mediocre stack, yet thanks to a smaller hitbox, your enemies will have to be more precise.

That's it for now. More info coming later on. Maybe even the release date!



-DBT