General
Changes that effect the games system e.g. tiberium changes, or changes that effect more than one side. Can include balance changes.
GDI and Nod Harvesters now spawn instantly from a newly placed refinery.

It now matches the Scrin's Harvester spawn.

All expansion vehicles speed increased to 60 (was 50).

A Kane's Wrath change.

All expansion vehicles armour vs 'GUN' damage increased to 75% (was 100%).

Number is percentage of damage taken, lower is better. This is a Kane's Wrath change.

Changed the way that the AI uses the 'Seed tiberium' type powers.

Only a slight improvement!

Mutant Marauders weapon range increased to 275 (was 200), squad range finder adjusted so the squad can use the extra range.

This merely moves the Mutant Marauders weapon range to match the Rifleman! yes they were that bad that the Rifleman out ranged them easily!
Crates
Intro
The most important thing with the crates is that they now have some sort of probability, which simply means that better crates should show up less, and also the more dangerous negative crates will also show up less.
Removed Visceroid spawn crate.

It was rubbish!

Removed Steel Talon Mammoth spawn crate.

I never got it to work has I would have liked.

Re-added the Negative Nuke crate!

This is the instant Nuke blast, the worst crate you can get! Very rare

.
New offensive units: Blackhand Blackhand(!) with purifying flame upgrade and 'VETERAN' rank, Steel Talons Repair APC, Steel Talons Wolverine, and Zocom Zone Shatterer.
New single use support powers: Napalm strike, Rift, Ion cannon, and Nuclear missile! Please note that you can hold a maximum of one of each single use power in addition to your regular structure based Super weapons. Collecting for example 2 single use Ion cannon crates will still leave you with only 1 single use Ion cannon.
Has in previous C&C, the single use powers require time to charge up, and once you use them, they are deleted from you side bar.
Please note that all players will be able to see the timer has normal if you pick up one of the major single use super weapons (but not the Napalm strike). Please also note that there is no visible structure that you can target if an enemy has a single use weapon. The only way to prevent it being fired is to completely destroy them! It goes without saying that these are rare.
Mostly fixes and other general changes that do not qualify has balance changes, which will be done in a separate list.
New reinforcement power: Ravager Pods.

Spawns 3 squads of Ravagers.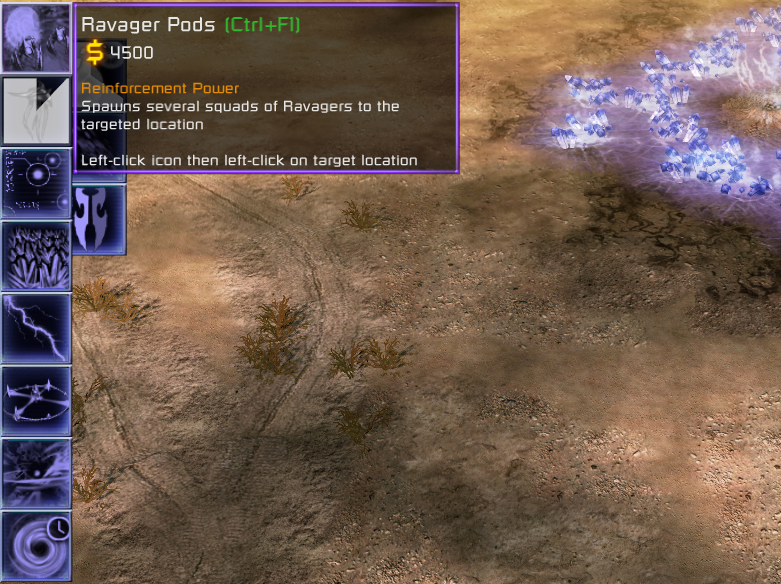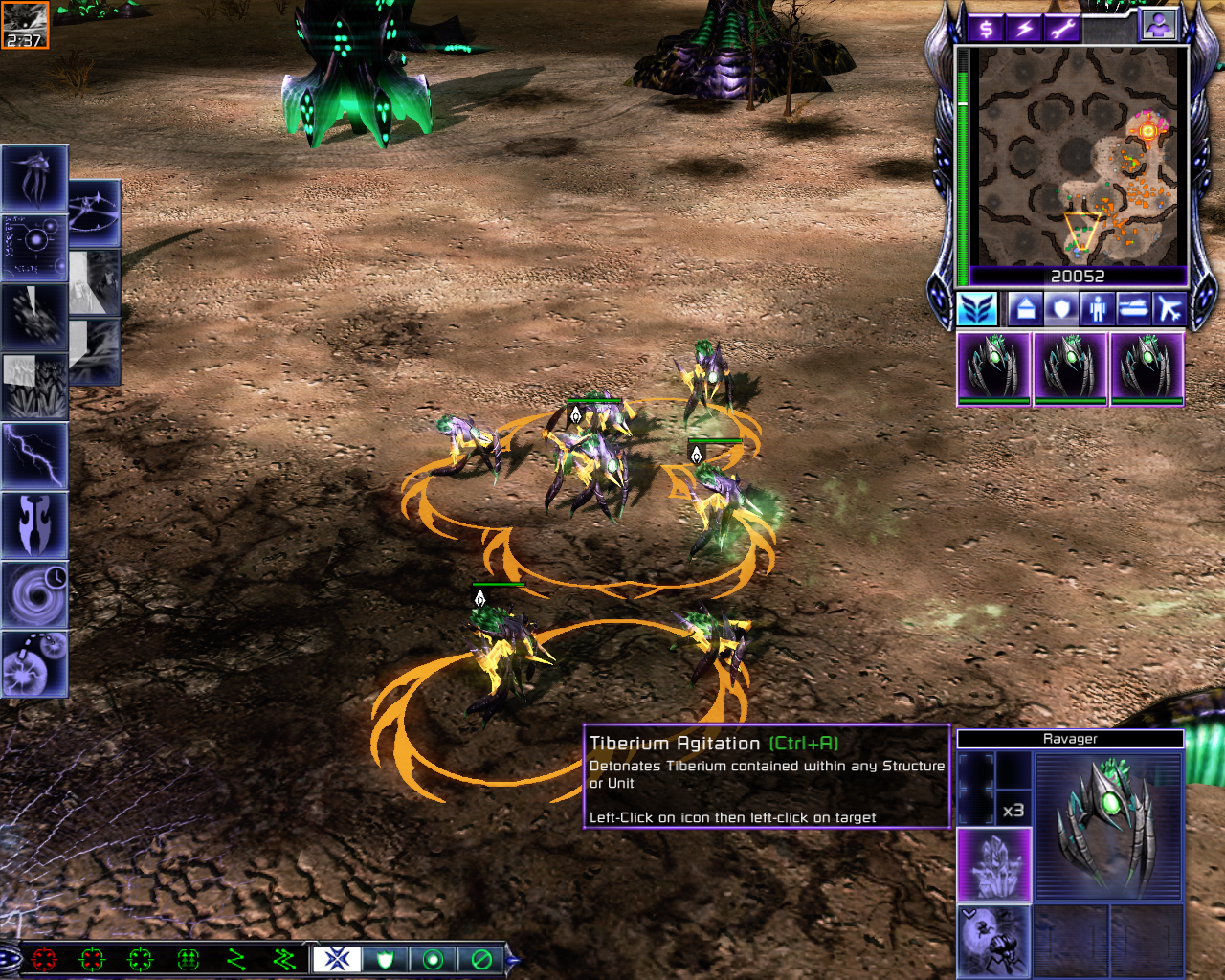 Removed Mastermind.

Has been replaced.

New unit: Prodigy.

From Kane's Wrath.

New structure: Warp Chasm.

From Kane's Wrath.

New unit: Eradicator Hexapod.

From Kane's Wrath.

Added more FX to the really damaged Scrin Ship.
Added more FX on Scrin lightening hits for 'ULTRA_HIGH' users.
Added the RA3 Tesla death for humanoid infantry that die to a Scrin lightening hit.
Optimised Scrin ship textures to be more efficient with DXT usage.
Reduced resolution of Scrin ship diffuse and specular textures.
Added a blue 'HEROIC' stream weapon for the Corrupter.

Visual FX change only.
Legend
Blue = My comments