Rebel Strike Force project resurrected
Most of you probably thought this mod was dead, in fact that wasn't far from the truth. However, now I've got some more time and have regained my interests in this mod, things are progressing fast. As for the other developers, they lost their interest or don't have the time anymore, so I am back on my own again. But I don't mind, although I could use an extra modeller/animator/skinner as that isn't really my expertise. (if you are interested send me a pm) Also I want to call out to those with great mapping skills and an interest in this mod to make some great objective maps for this mod. When you are mapping and want some special mechanics that aren't supplied by default (like remote controlled striders), you can discuss with me whether such a feature could be coded.
In the rest of this update I will talk a bit more about the core mechanics of this mod and explain them in detail. Do know that this mod is still under heavy development, so anything can change.
Load-out system
As you might have seen already on some of the new screenshots I posted a week earlier, the class system is a bit more advanced now and features a load-out system. On the load-out screen you can customize your currently selected class and check out the class stats. In the future I will add extra weapon attachments and weapons, which can then be chosen in the load-out screen. The first beta will most likely not have these extra attachments and weapons, as I want to finish the basics first.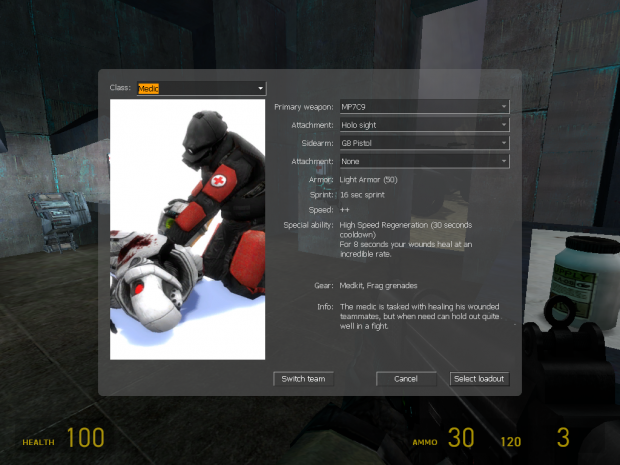 New classes
Rebel Strike Force now has a total of 8 classes. I'll give a short summary of each class and also give some details about his load-out. The current classes are: (names are not final)
-
Sniper
; Uses a crossbow (rebels) or an ASR9 Sniper Rifle (combine) to take out enemies from a distance, his cloaking device enables him to move about undetected. He can also deploy a scanner which will try to find enemies and when found marks them, marked enemies will be outlined and visible trough walls when nearby.
-
Spec-Ops
; The Spec-Ops main task is infiltration, he can use his teleport ability to get to places no other class can. This is often required for "Objective" maps. He uses an MP7C9 (SMG) as main weapon.
-
Assault
; This is the main offense class, he has a CK5 Assault Rifle with a grenade launcher and specializes in medium range combat.
-
Vanguard
; The vanguard class is built to break trough enemy defense lines. By using his kinetic barrier ability he can absorb enormous amounts of damage for a short period of time to get to his enemies and take them out with his powerful shotgun. He can also deploy manhacks to distract his foes.
-
Demolition
; Sometimes things just need to be blown up, thats where the demolition class comes in to play. His RPG can fire heat seeking rockets which will target enemy troops or deployables.
-
Technician
; The technician put his trust in his deployables rather than his own offensive abilities. His gravity gun allows him to deploy turrets, mines and other deployables and shut down power cores. He can also hack enemy turrets, manhacks or rollermines and carries a rollermine and ammo resupply packs with him. His ability allows him to drain enemy shields and boost his own and his teammates. His only firearm is an .357 Magnum.
-
Medic
; On the battlefield soldiers are bound to get wounded, as this has some nasty effects on their combat abilities the medic is here to get them up and running in no time. With his medkits he can heal any wound and when in danger himself he can use his high speed regeneration ability to heal himself and his teammates. He uses an MP7C9 (SMG) as main weapon.
-
Sentinel
; When something needs to be defended the sentinel is there, no other class can hold a line as well as he can. He has powerful shields and can use his ability to use suit power instead of ammo to lay down long bursts of suppressive fire. The AR2 is his main weapon.
Citadel defense map
The first beta will feature 1 map to focus on the core game mechanics. This map features a large outdoor valley with 2 combine stations, a mortar launch platform and a defense grid. These stations are built in the outer defense perimeter of a citadel station. The rebels have already captured one base and must now push forward to ensure the combine can't move from the the citadel. Naturally the combine must prevent this. The Portal storm map will be released later as it needs to be reworked.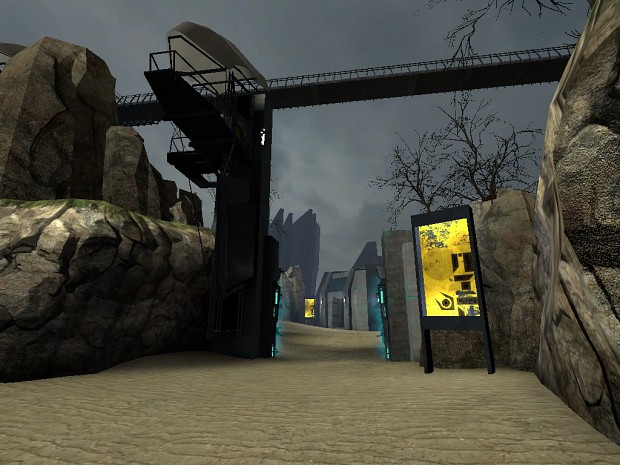 Special Abilities
I've already talked about some of the abilities each class has, here I'm listing all the abilities and explain them in detail. All of the abilities use suit energy to power them and drain all the power in one go (you can't turn it off). (note that the abilities are still under development and can change at any time, also all abilities are yet to be balanced).
Sniper ability: Cloak
; will make you completely invisible when standing still and almost invisible when moving. Firing a weapon or receiving damage will turn off the cloak. Duration: 25 seconds. Reuse delay: 30 seconds.
Spec-Ops ability: Teleport
; activating this ability will teleport the player to his teleporter beacon. This beacon is part of his load-out and can be thrown like a grenade. Duration: 1 second. Reuse delay; 30 seconds.
Assault ability: Empower
; charges your bullets with suit power, making them do more damage. Duration: 8 seconds. Reuse delay: 30 seconds.
Vanguard ability: Kinetic Barrier
; absorbs 99% of all kinetic damage and 10% of all explosion damage dealt to the player. Duration: 4 seconds. Reuse delay: 30 seconds.
Demolition ability: Pulsed explosives
; explosives have twice the blast radius. Duration: 8 seconds. Reuse delay: 30 seconds.
Technician ability: Shield drain
; drains enemy shields and boosts his and his teammates shield. Duration: 8 seconds. Reuse delay: 30 seconds.
Medic ability: High Speed Regeneration
; regenerates hp at an incredible rate. Duration: 8 seconds. Reuse delay: 30 seconds.
Sentinal ability: Cryo Charge
; makes sustained fire possible by cooling the AR2 and feeding suit energy into the AR2 to use as ammo. Movement speed is reduced when active. Duration: 8 seconds. Reuse delay: 30 seconds.
Gameplay enhancements
Rebel Strike Force implements a lot of changes compared to the standard hl2 deathwatch gameplay to create more depth, I'll try to summarize them here, although I'm sure I'll miss some.
-Dynamic speed; Being wounded, reloading a weapon or using iron sights will make you move slower. Also being hit makes you move slower for a short moment.
-Iron sights; One of the things that annoyed me was the inability to look down your iron sight. So now you can. It will adjust your accuracy and FOV (depending on the weapon), I'm also experimenting with adjusting the firemode to single fire on automatic weapons.
-Bleeding system; When severely wounded you lose health over time to simulate blood loss. This is an optional setting.
-Useable mounted guns.
-Ticket system; Each team has x number of tickets, every time a player is killed his team ticket count will be decremented. Zero tickets means game over for that team.
-Damage fall-off based on the distance a bullet has to travel. (each weapon has it's own range)
-Rebalanced weapons.
-Auto taunt.
-Realistic falling damage.
-Doployable manhacks, turrets, rollermines, hopmines.
-Throwable medkits and ammoboxes.
Dynamic Spawning
Especially in "Objective" maps the normal hl2dm spawn system just doesn't make sense, that's why I am trying to make it a bit more spectacular. In the Citadel Defense map for example, combine players will be brought to the battlefield per combine dropship, rebels will use a special teleporter to teleport their forces on the battlefields. This way I have implemented a delayed spawn system without a stupid onscreen timer.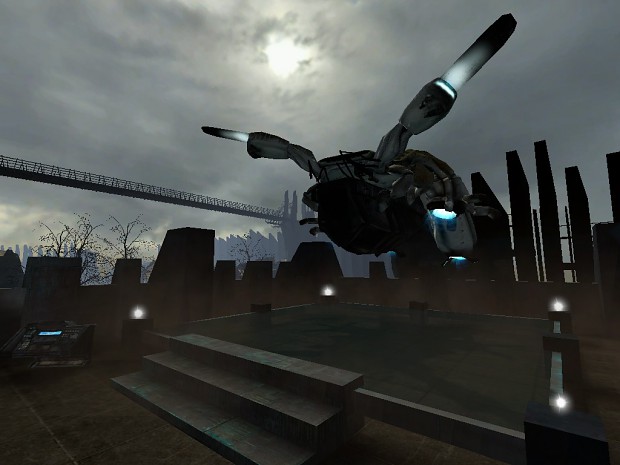 Community
To finish this update I'll talk about one last thing. Because I would like to see more community involvement, Rebel Stike Force will get it's own website and forum. The address will be rebelstrikeforce.com, when the website is online I'll post an update here on ModDB. So stay tuned!