Big Update! New Track, Undo/Redo Buttons, Camera Controls, Boat Physics, Controller support and More!

RC Simulation 2.0 is a fun radio controlled vehicle simulation. Developed to give users the thrill of today's High Tech Radio Controlled Cars, Boats, Planes and Quadcopters on any of the user created track/maps/venues. Fly some quadcopters armed with paintball guns, Pilot an RC Jet Liner or go on a RC Rubicon with your Rock Crawler. The possibilities are endless with RC Simulation 2.0!
Update January 28, 2017

New Default Track, New Track Editor UNDO & REDO buttons, Track Editor Camera controls, Full controller support, New Boat physics, Menu updates, New First Person View and Explore cameras and much more!

I am still working on a new "tutorial level" in game and some youtube tutorials to help new users get up to speed with the new track editor controls and custom controller support but I did not want to wait any longer on releasing these new features.

As always. THANK YOU VERY MUCH for your support of RC SIM 2.0 and I look forward to the next update.... I have some surprises in store for everyone. ;)

devotid.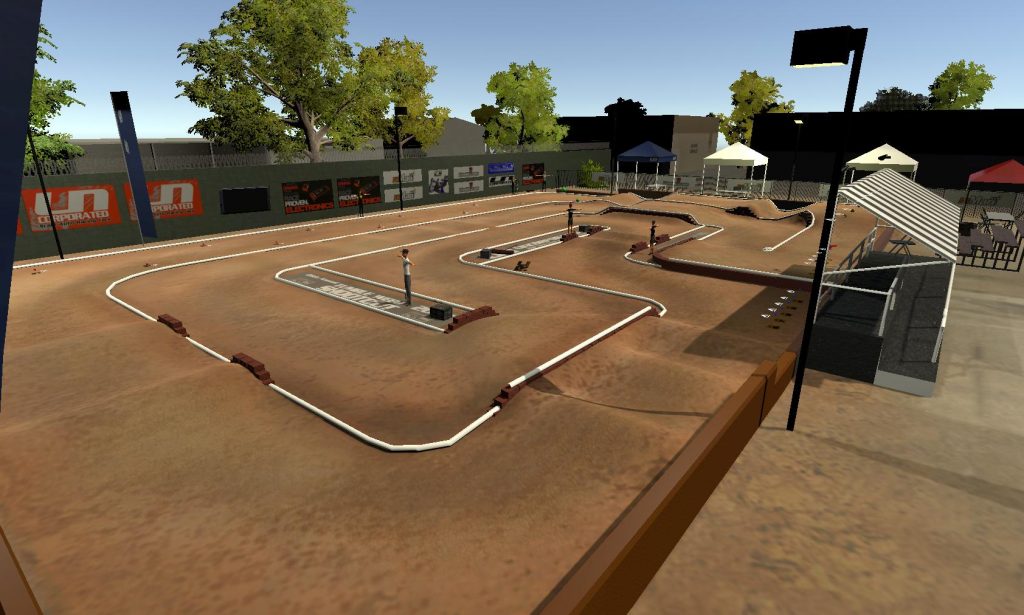 New Default Track:
- Cactus Outdoor Race Track. Outdoor Hard Clay track in Arizona, USA. Originally from RC Sim 1.0 and redone for RC Sim 2.0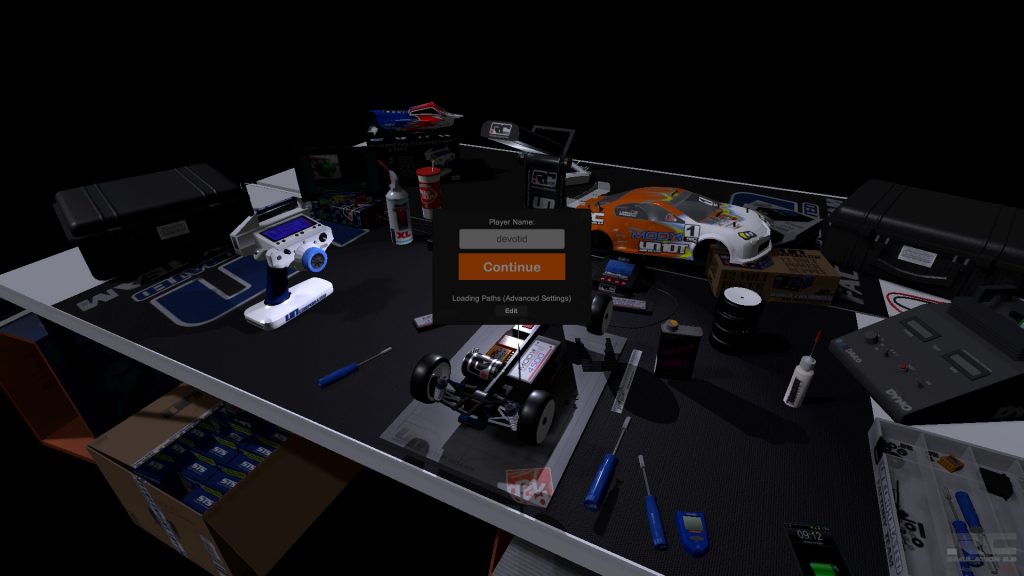 Menu Updates:
- Added the ability to control much more of the menus with joysticks so you can sit on the couch and play. ;) You will still need a mouse and keyboard for some of the track editor stuff but I dont think to many people are trying to edit a track with a joystick controller yet.

- Added a new simple opening "table scene" when you are starting the game. It just fills the background of the main menu before you pick a car or track.

- Added a updated tool that will save the quality settings from game to game. This was not working before. X|
Track Editor Updates:
- Added a UNDO and REDO button in the Track Editor! No more Smashing the screen when you make a small mistake. :)

- Added a Camera Axis "GIZMO" in the track editor screen to switch viewing angles. You can click on any axis on it and go to Top View, Side View...etc. This can be useful for overhead painting and viewing things when lining them up in rows or straight lines.

- Rebuilt the Track Editors camera controller to be simpler to move around. You can now Right click and "move" the camera to look around. You can hold Alt to rotate the camera around an object or point in space. You can press the middle mouse button to Pan around. (Hold shift to 10x Pan speed). The center Mouse wheel is still zoom.

- Rebuilt the "Focus on object" feature to better center the camera and update the zoom as well. "F"Key by default. You can also zoom on the terrain when you dont have an in scene object selected by hitting the F Key. This is another way to jump around quickly in the scene.

- Added a "Find Object" button. Whatever object you have selected in the track editor menu it will find each instance of that and cycle through them. This will help you find objects in the map much easier. It can also be used for finding tough to see objects.

- Added a button in the Extra Tools menu that will Show or Hide the surrounding terrain so you can adjust the track to work better with the generic surrounding terrain.

- Fixed some small bugs that would move the camera around or turn on the layout Grid when typing in the Save Custom Track Menu.

- Added the Names, Traction Levels, Rolling Friction and the Static Friction to the Texture Images in the Track editor. This will make it easier to tell what textures do what and make it easier to choose the right texture for the job.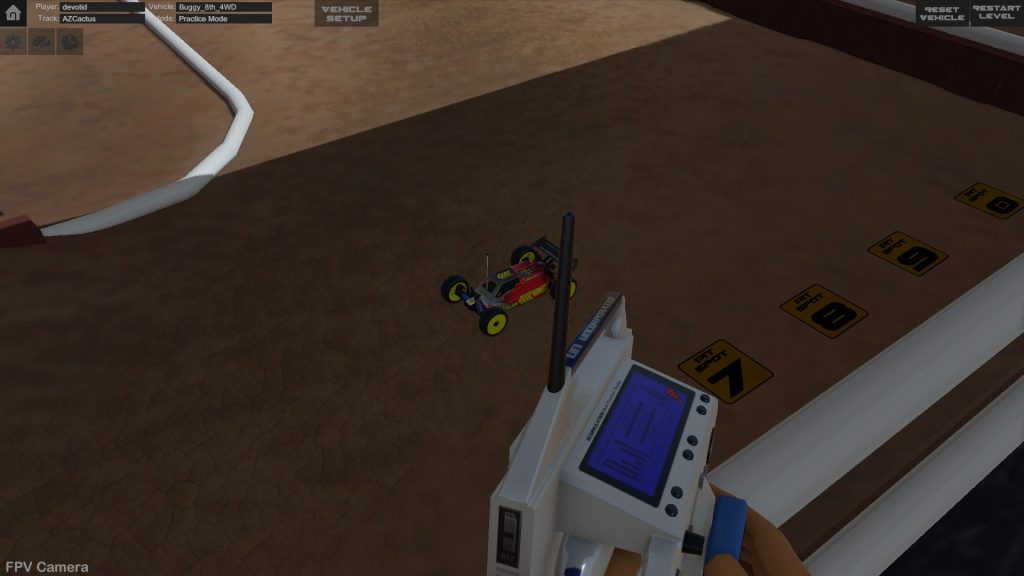 Camera Control Updates:
- Rebuilt the First Person View and Explore Cameras to make exploring and walking around much easier with a "Dual analog" joystick (Ex: XBOX360 Controller). It is now possible to walk and look around with a joystick. You can still use the mouse and keyboard if you like. The game will auto detect if you are using a joystick or the mouse and auto adapt the settings. You can invert any axis in the input settings menu if you prefer the non inverted look Y Axis.

- You can now adjust the Field of View on the FPV and Explore Cam by hitting the Bracket [] Keys. It is clamped from 10 Degrees to 100 Degrees. You can see the number in the Camera Menu when it is open.

- Added a "Previous" and "Next" camera button on the controller and keyboard mapping. As a default you can use the Start and the Select key to cycle through the available cameras on the Joystick. You can also asign these to any key or axis as well if you have a custom setup.

- You can now move the "Rotate Camera" (F5) with the right stick of your controller as default. This is nice for crawling and moving the camera as you drive. Before this update you had to reach over and use the mouse. As with any action... you can assign it to any key or button you would like. You can still move it with the mouse as well. This will make crawling and looking around the vehicle a little easier as you dont have to let go of the joystick to adjust the viewing angle.

- Ingame Camera Controller will now remember the specific driverstand camera that you are using and will go back to it when you load the track again. Before it would default to spot 1 each time.

- Added a small gui/notification in the lower left corner of the playing scene to tell which camera mode is active. Will auto fade out after 5 seconds.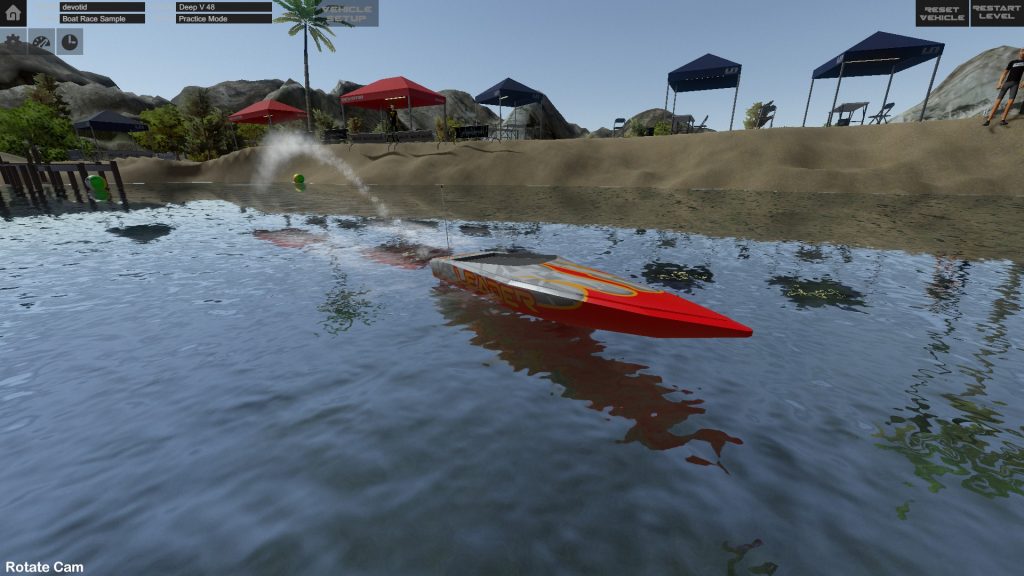 Boat Updates:
- New physics on all boats.

- Boats will now roll on their X Axis a little (left and right) from the prop thrust while turning. This will make turning much more realistic. As always I am always learning and working on the boat physics and will continue to tweak them.

- Added a new water "surface tension" model to simulate the boat coming on plane and being more agile and "planted" at higher speeds. You will notice the boat sinking a bit more now when the speeds are lower.

- Redid the water spray particle system and stopped the flickering. They should be a bit more optimized as well on more low end computers.
Official Trailer: Youtu.be
Follow us on Facebook: Facebook.com
Game Info. Rcsimulation.com
Twitter Feed: Twitter.com
Steam Store Page: Store.steampowered.com
The Humble Bundle Store Page: Humblebundle.com