Hey all! I saved up some loose ends over the last weeks, so let's do those now:
I'm making good progress on the game. Things are going slowly (my theorem 'actual programming time = expected programming time2 still holds, pheeew), but every time I stop working on the game, there are more features ready than when I begun, which feels good. Once I have the new update ready, I'll invite the next group, and probably another group once I fixed the bugs.
I chose four people to make a video or written tutorial for the gun customization, but since I let them in, I haven't heard anything from them. I wonder how they're doing... Some showed me YouTube Channels that looked pretty good, though.
I'm really happy with the fish generator so far; as I write this, it can generate 171 different fish species, not counting color variations (and 22.161.600 if you do). The images are created by the server, and than 'packed' into a short code representing the choices it has made. This code has to be short, because I don't want the server to send its fishes pixel by pixel. The client can then use this code to rebuild the fish. Here are five random fish the generator produced this morning:

I plan on doing a 'Randomly Generated Fish Monday' on Twitter from next week onwards, so make sure you follow me on Twitter if you want to see more.
And finally, a good example of how messy and chaotic my development world is. While developing, you need to one thing over and over to see if it works. To work on fishing, I need to travel to a nearby lake, and I use scooters to get there. However, I only travel from spawn to the lake, never the other way around ;).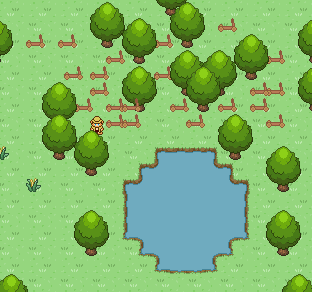 If you want more development, see [twitter] or [facebook].