Hello everyone,
This is a really exciting week for us at Ogardonix Studios.
This is a very exciting and one of the coolest parts for this year. We are very proud to announce that we are developing Ralin – Dwarf Wars also for the Nintendo Wii U platform. We are checking right know all the possibilities that we have with the Nintendo package and we are working on special features for the Wii U game.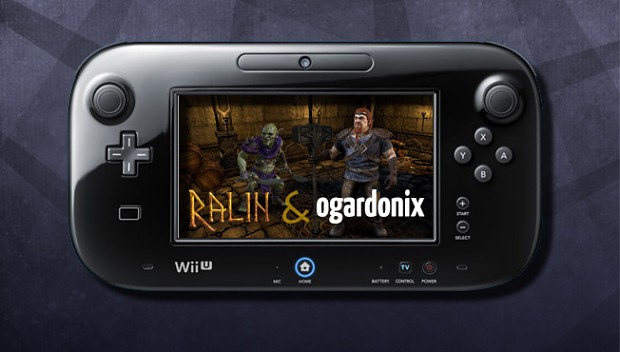 We already worked on the Gamepad support and we have a couple of cool ideas to implement for the Wii U Remote. But at the moment we can not say more about those features but if you want you can just ask questions in the comments below or just ask in our forum.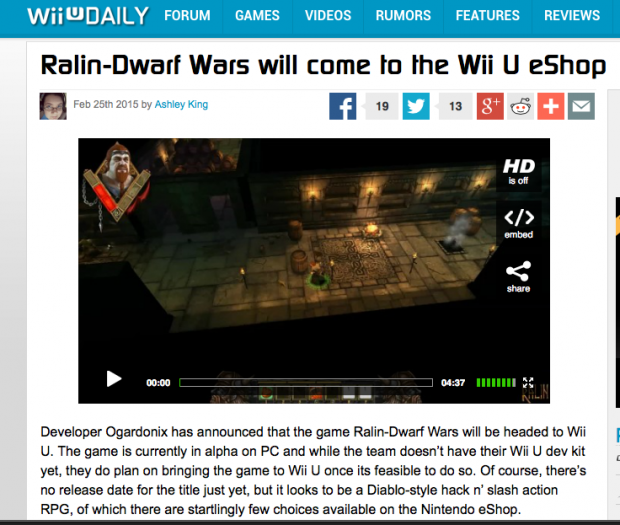 In our Forum, we posted all the articles about us that we found online about us. We are very Happy about all this Feedback and that the people are as excited as we are about Ralin - Dwarf Wars.
Come and visit our Homepage and discover all the awesome Games we are working on and all the visuals that our Ogardonix Team already conceived. www.ogardonix.com

For the rest we are still working hard on our Ogardonix Homepage and we are really proud it is finally online. The special thing that we want to do to support our Gaming Community are services that we want to provide.

CONCEPT ART FOR YOUR GAME
To show it to potential investors or just to the team or your fans? Our Team includes Concept Artists that are professionel and have long years of experience in Game Design. We are able to provide completely different styles, tailored to the ideas in your head.
PROGRAMMATION FOR YOUR GAME
You're an artist and don't know how to fix the code for your game ?
We can do this for you in C# and Unity3D. Our team includes professional developer with years of experience of coding.
WEBSITE TO SPREAD THE WORD
It's important to have a coherent visual that fits the effort you put into your game. We can provide you a bespoke website / Logo that will become the window of your game in the web.
SOCIAL MEDIA SUPPORT
We are there to help you provide content for your social medias and feed the fans with new material (Twitter / Facebook / Pinterest / Instagramm). We can update your accounts and increase your followership for a monthly fee. We can advise what to do to reach of your target audience.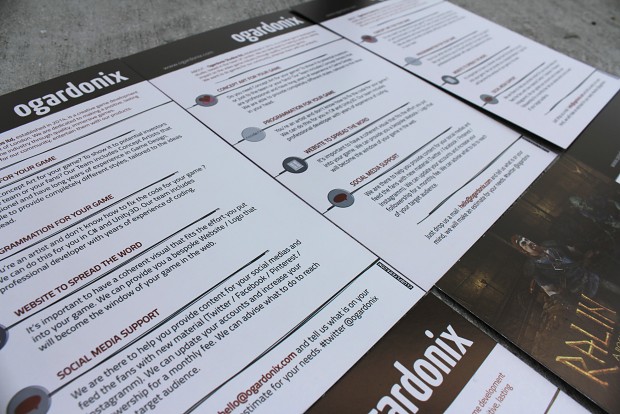 Check out our bespoke Flyers that we prepared to spread the news about Ralin and our special Services that we are providing with Ogardonix. We will spread the News at the GDC in San Fransico beginning of March to meet new People of the Game Industry and are excited to present our Games and Services.
Just drop us a mail hello@ogardonix.com and tell us what is on your mind, we will make an estimate for your needs.