Today we will only have a small piece for you, but we have prepared more for you in the future, we promise. And as you all know, we keep our promises ;) So let's get right into the game.
What would be a good role-playing game without quest rewards? And since we added a lot of role-playing game features to Dungeon Deities over the last couple of months, we won't miss a basic quest system. There is now a tavern in the browserpart of the game where you will be able to aquire quests, that guide you through the first parts of the game and which will allow you to aquire special items during the later parts.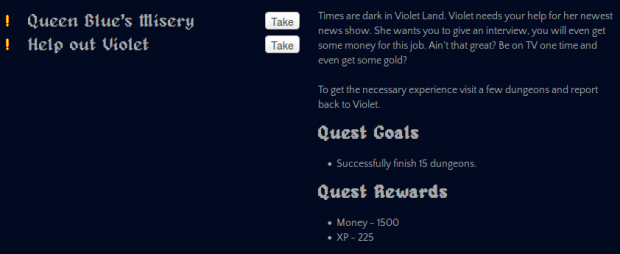 But this is not the only purpose of this system. We will also be able to tell our story through the quest system. Once you aquired a story quest, you will be able to go on a Destiny Journey in the client and fight the enemies of your kingdom.
Once you fulfilled all goals of the quest you may turn it in and get your rewards, among which there can be money, XP, pieces of gear, orbs and even diamonds which can be used to unlock some Premium features.
But there's not only the tavern to aquire quests from. You may also log into the client and visit some NPCs on the overwor... Wait! We did not tell you about that one, right? Well, then let's just wait for the next IndieDB Post, where we will introduce that part of the game.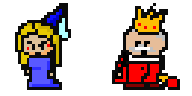 Want us to notify you once we start the next public testing session?
Subscribe to our one-time-newsletter at www.dungeondeities.com - or watch us on IndieDB or Twitter for the news!