Hey there, i've got news for what happens next to the Qore mod.

Engine switching from Darkplaces to FTE:
It doesn't matter how much i tweak it, i am never satisfied with how the gore looks and the possibilities i have with Darkplaces. it feels a little limited to compose the effects out of single effects, who all spawn at the same time. Darkplaces is the most commonly used Quake Engine next to Quakespasm but it is a little outdated and lacks stuff i want to have the possibility to play around with.
So i will use the FTEQW engine instead of Darkplaces in the future.
Why? Because it's the better one, when it comes to uhm... nearly everything. The whole shader-section of the qore.cfg would fall away because all those shader-options are present in the form of the ingame options menu in FTEQW. That means you wouldn't have to reconfigure the qore.cfg with every update. Also i could write my own option menu entries, which means there wouldn't be a qore.cfg at all. You could make all those configurations in the ingame option menu. After Spike told me the very basics of menu coding and gave me a link with his menu source code it was decided. Oh and FTE also has a much more developed particle system, which i will utilize for, guess it... right, gore, gore, gore and overall particle effects. The particle system can even play soundfiles, which is pure heavy metal!
I won't change the engine with v08 but with v09 or v1.0 . The particles and some code must be translated to FTE definitions and i think i will also update the whole particle effects of Qore with new, nicer ones.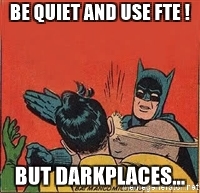 Mod progress:
Meanwhile all new enemies have heir appropriate gibskins and and bloodskins. Also, i reassigned some bloody-death animations to weapons. The Nailcannon (previous Nailcloud(stupid name)) for example can trigger the gib-stages and pushes monsters back in a fraction of the speed of the nails. It works good and looks very brutal. I too added a new weapon, the first that shoots only particles. Looks great and feels very, very badass. You can see a first working version in the video below. Kinda proud of it. Also i'm still trying to make it possible to nail enemies on walls, which is giving me a hard time. But i think in that matter i'm running on a good path. Technically it works, though aligning a nailed monster to a wall behind it is a pain, that i think i will feel for yet a few more days.
I also worked a lot on the gib physic behaviour, which resulted into more vivid frags than before. The gibs up to v07a1 moved very evenly, in a pattern that never changed. From 08 onward factors like distance to the influencing physical (or magical) force and the selected weapon will change the flightpath and direction of gibs, limbs and enemies. An example: Blowing a monster to pieces with a shotgun will send the gibs into the shot direction instead of any direction. Then, some of the gibs will stick to the wall - if there is any - and slide it down until they hit the ground. Neat! If you don't gib the monster it may also fly into the direction of your shot. This is already working very good and the frags and limbs make a much more chunky impression when they fly around. You can have a look at this not yet final version of the new gib physics in the video:
See you around.
Greetings from the cold and wet germany :-)
DaisyFlower