It's here, it's finally here!
PVKII has hit the web, picking up the shards from it's HL1 predecessor, twisting and turning them to create leaner, meaner and prettier non-historically accurate action than ever before.
Pitting nimble Pirates, powerful Knights and mighty Vikings against each other on the HL2 engine, PVKII features an innovative melee combat system, nearly 100% custom content and a complete lack of ninjas, designed to be all that its predecessor was, and more!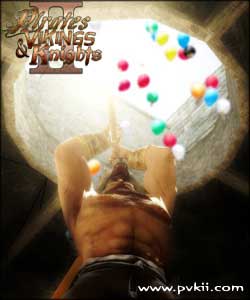 And so, here the files are for you to download!
Client Installer
BitTorrent (FASTEST! USE THIS PLEASE):
PVKII Torrent
North American Mirrors:
HubbJubbClubb.com (FTP)
PVKII.NET #06 (HTTP)
FlyingMongoose.net (HTTP)
European Mirrors:
PVKII.net #01 (HTTP)
PVKII.net #02 (HTTP)
PVKII.net #07 (FTP)
AndyVincet.co.uk (HTTP)
ESports.no (HTTP)
Steff.eu (HTTP)
Australian/Oceania Mirrors:
Internode.on.net (HTTP)
Visit Pvkii.com for more information! Pvkii.com for the Dedicated Server downloads!
Also check out the Player Guide while you wait!