We would also like to show you some materials from the Punk Wars archives, so fasten your seatbelts and get ready for the longest devblog yet!
Development process of the buildings
We designed buildings based on fundamental art concepts that were supposed to make every faction feel original and distinct from the others. These art concepts have originated from the technology used by specific factions. While designing buildings we were paying attention to various elements such as:
Height of buildings above and below the ground.
Asymmetry levels.
Dominant art themes.
Specific number - that stated how many elements should be grouped together in a given faction.
Con shape.
Main themes.

Buildings were created based on concept art. You can see some concept art examples below.

Steampunk:
Height on level 2, both above and below the ground.
Building asymmetry 3/5.
Layer asymmetry 1/5.
Dominant themes are circle and arc.
Multiple small chimneys.
Main particle is white smoke (steam, fog).
Group number of 3 elements.
Tops of towers and the ends of chimneys.
Gratings as an often appearing theme.
Lattice windows, usually divided by gratings.
There are material elements.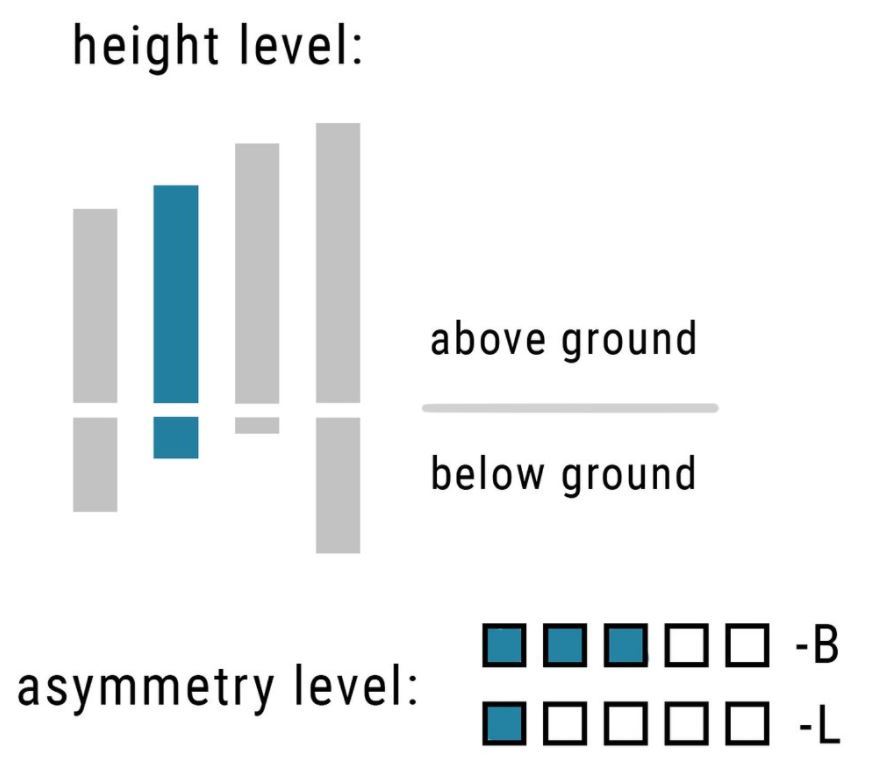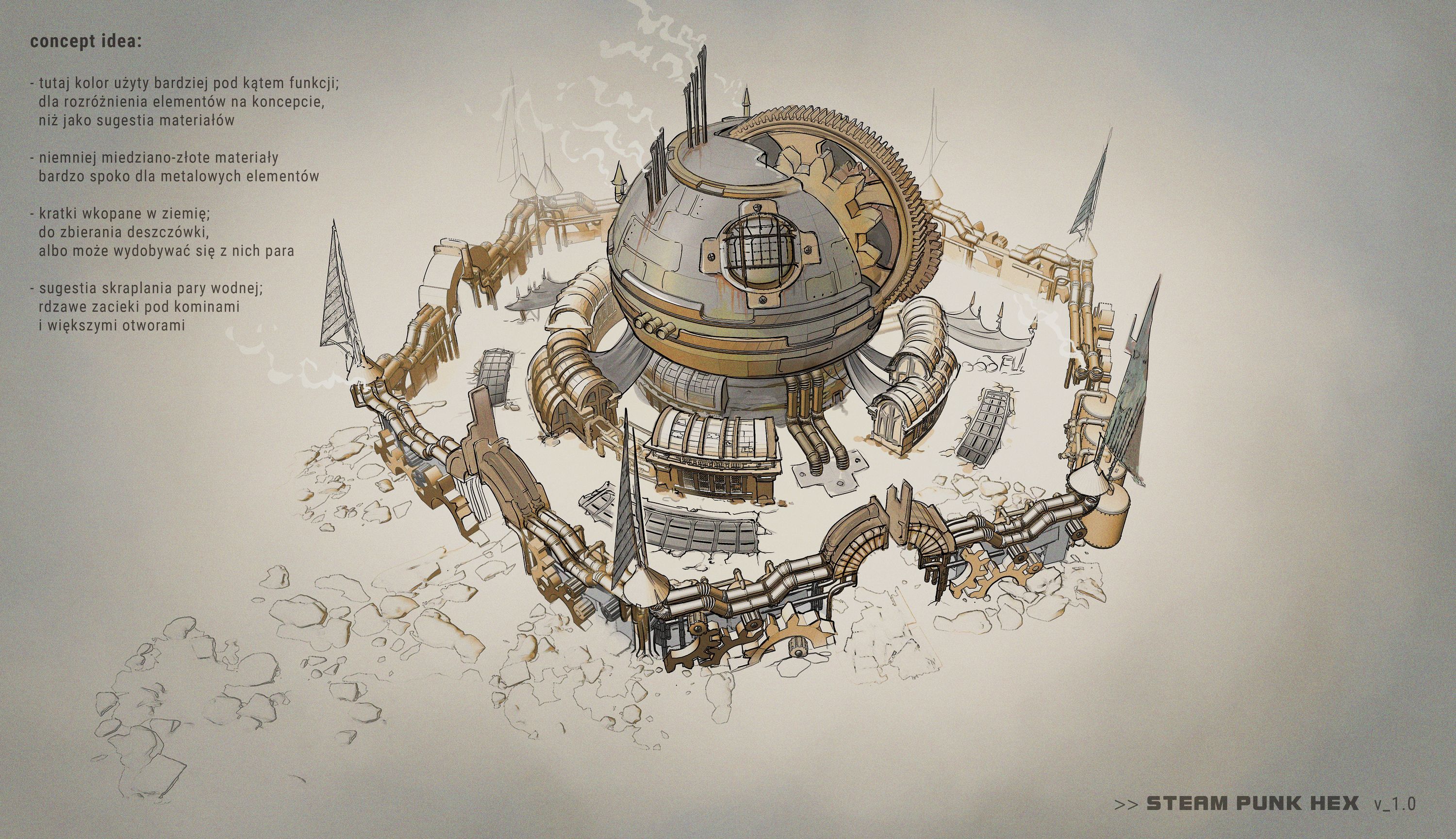 Steelpunk:
Lowest height above the ground, 3 below the ground.
Building asymmetry 5/5.
Layer asymmetry 4/5.
Wild and asymmetrical faction.
Very individualistic, most diverse buildings.
Multi-pitched, flat, single-pitched roofs.
Multiple red accents, mostly there where the leaders reside.
Residential buildings of the poor have only singular red accents.
Steel gratings, vertically divided to make it look more prison-like.
SPIKES! MANY SPIKES! Jagged and made of bent sheet metal.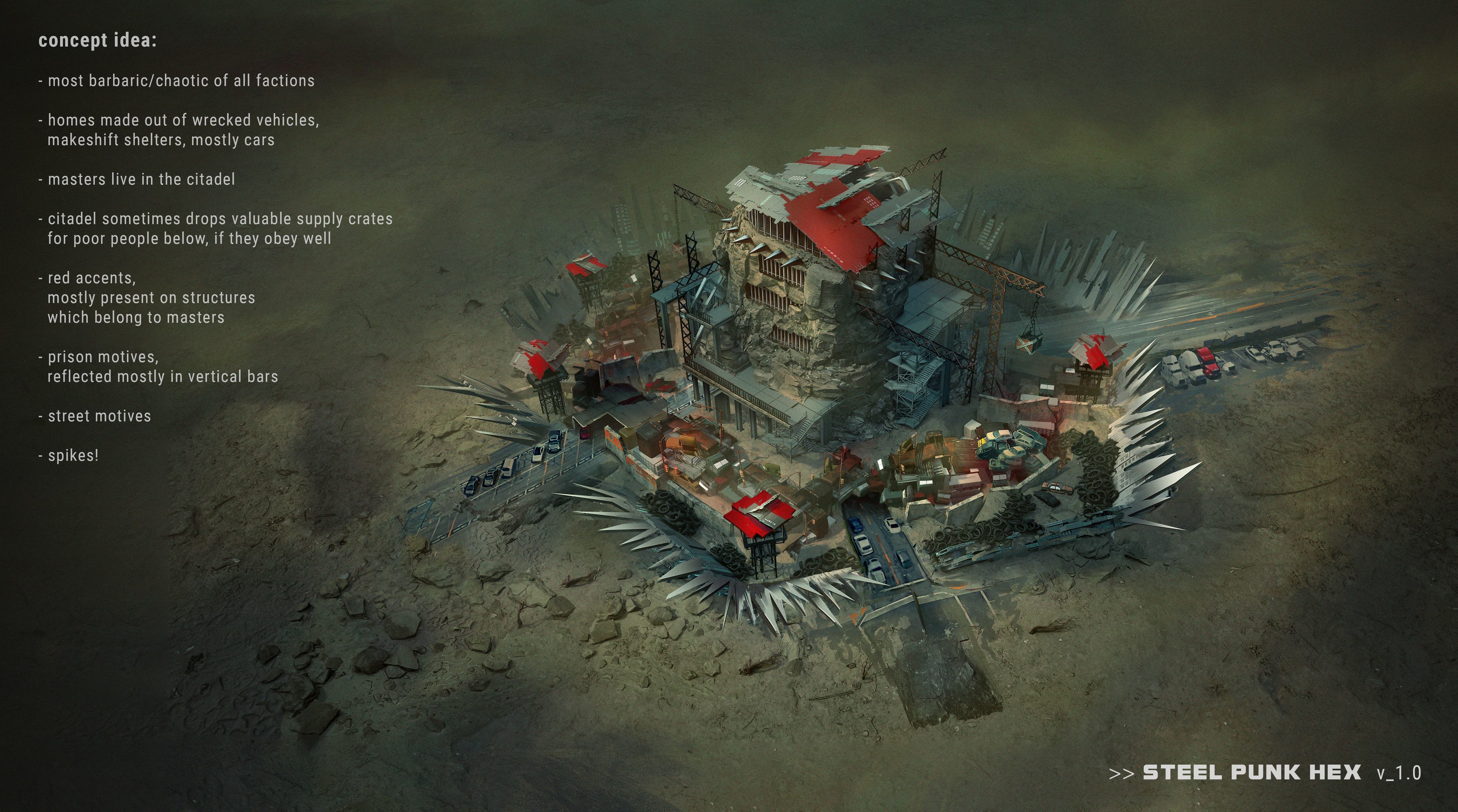 Atompunk:
Top height level (both above and below the ground).
Building asymmetry 1/5.
Layer asymmetry 5/5.
Most asymmetric hexes joined with the most symmetric shapes of buildings.
Composition dominated by triangles.
Brightest faction of all - characterized by the glow and sparkles.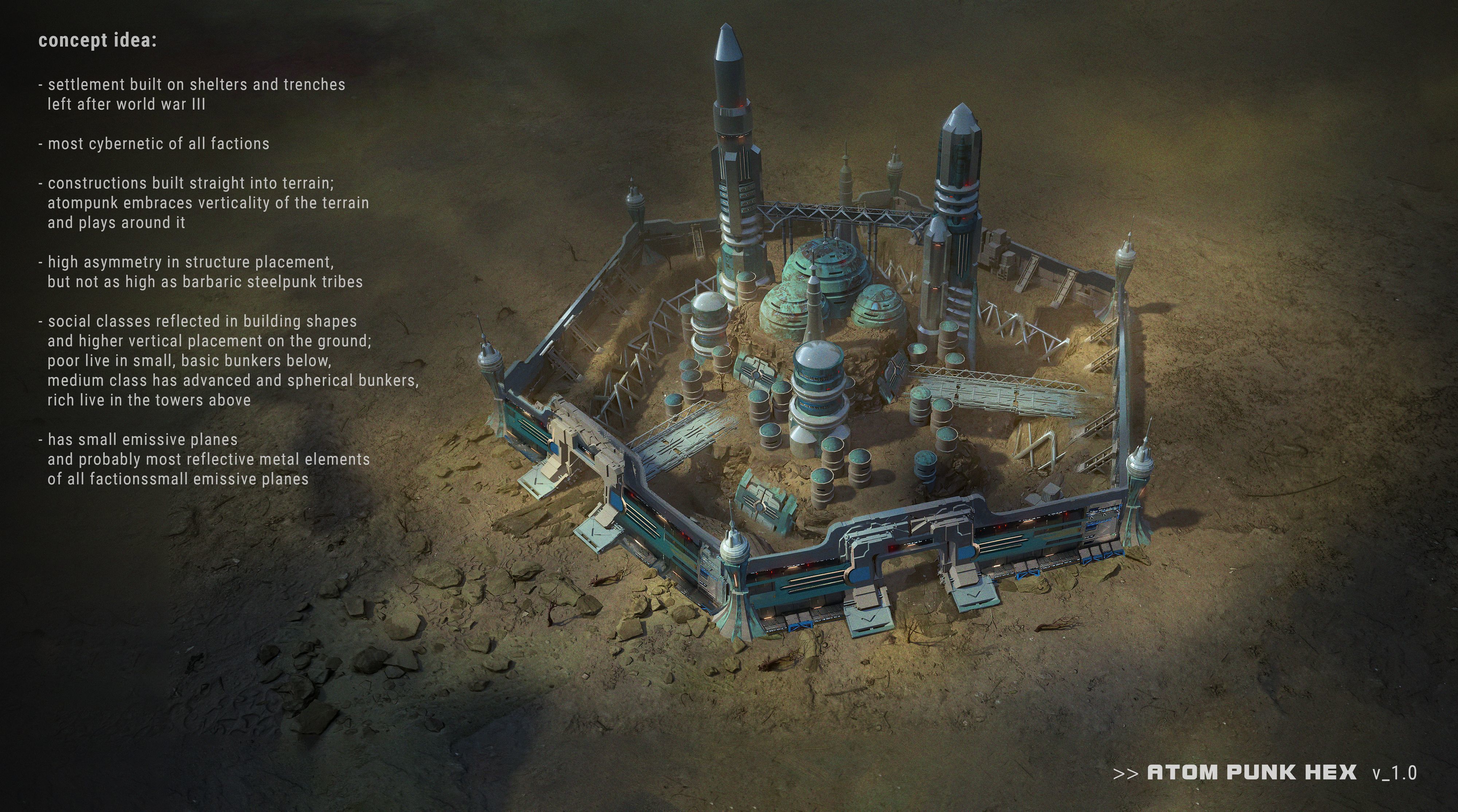 Dieselpunk:
Second highest buildings that are also lowest underground.
Building asymmetry 2/5.
Layer asymmetry 2/5.
Very asymmetric hexes and symmetric buildings.
Composition is dominated by quadratures and orthogonal systems.
Gigantic chimneys in small amounts.
Thick black smoke.
Altitude dominant situated relatively in the center of the composition.
Elements are in groups of 2 or 4.
Gable or flat roofs.
Pipes are joined with the biggest possible screws and rivets.
Right angles.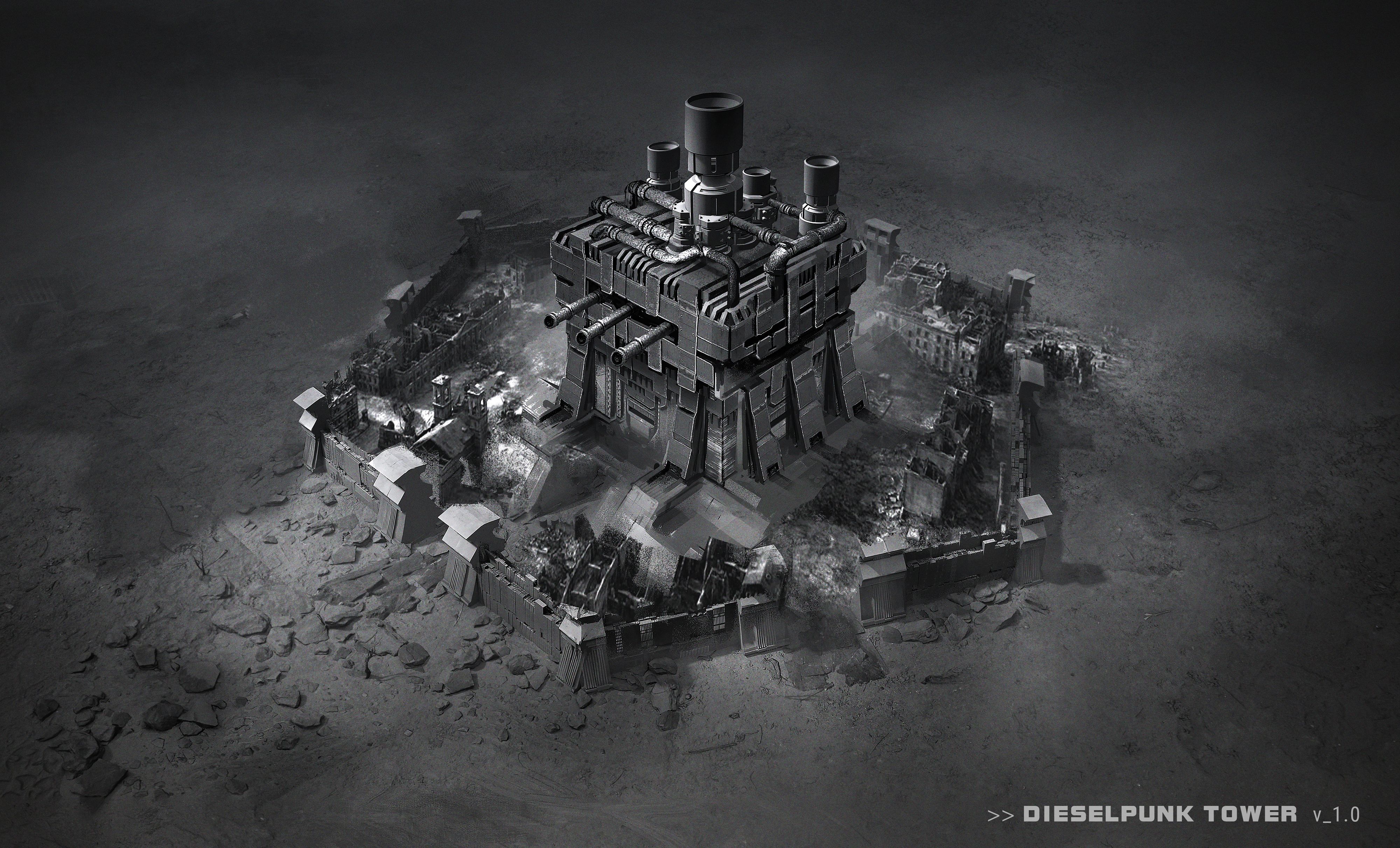 Development process of the units
First step of the unit development process is defining the role of a unit. Designers have to take all the characteristics and needs of a faction in order to do so. That is how this process looked like in the case of the Exterminator:

High speed wheeled unit, armored vehicle and a universal melee combat unit.
Example special abilities:
Pedal to the Metal - at the expense of oil, the unit gains more movement speed for X turns.
Vroom Vroom! - Vehicle uses the extreme noise of its motors in order to debilitate adjacent units. This lowers both the defence and movement speed of adjacent units.

The draft of unit's description is created on a basis of unit's purpose. In the case of Exterminator it is:

"A mix of a small and old tank with a typical vintage car. Front of the vehicle just like in a classic Ford, with an addition of heavy armor and a gun-turret. Without continuous tracks, but on three or four pairs of wheels."
A concept art is created on the basis of this description...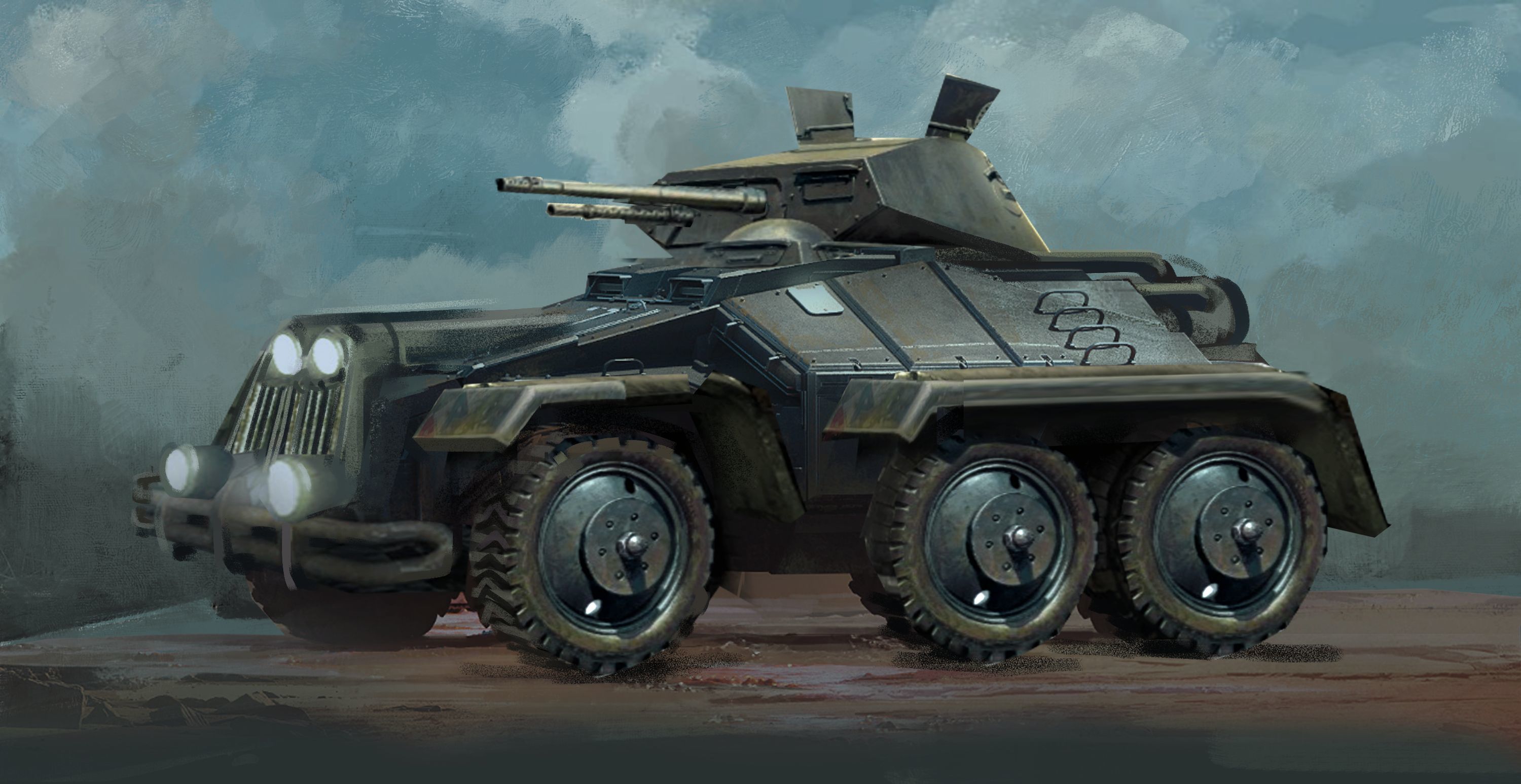 ...and then the first version of the 3D model is created on the basis of the concept art: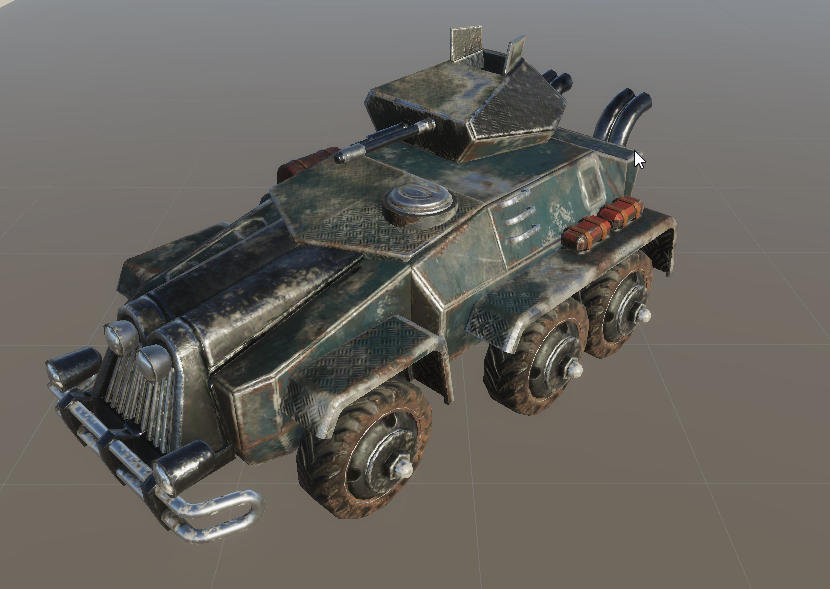 After the changes based on the proposals from the whole team are made, the final model of the Exterminator is ready: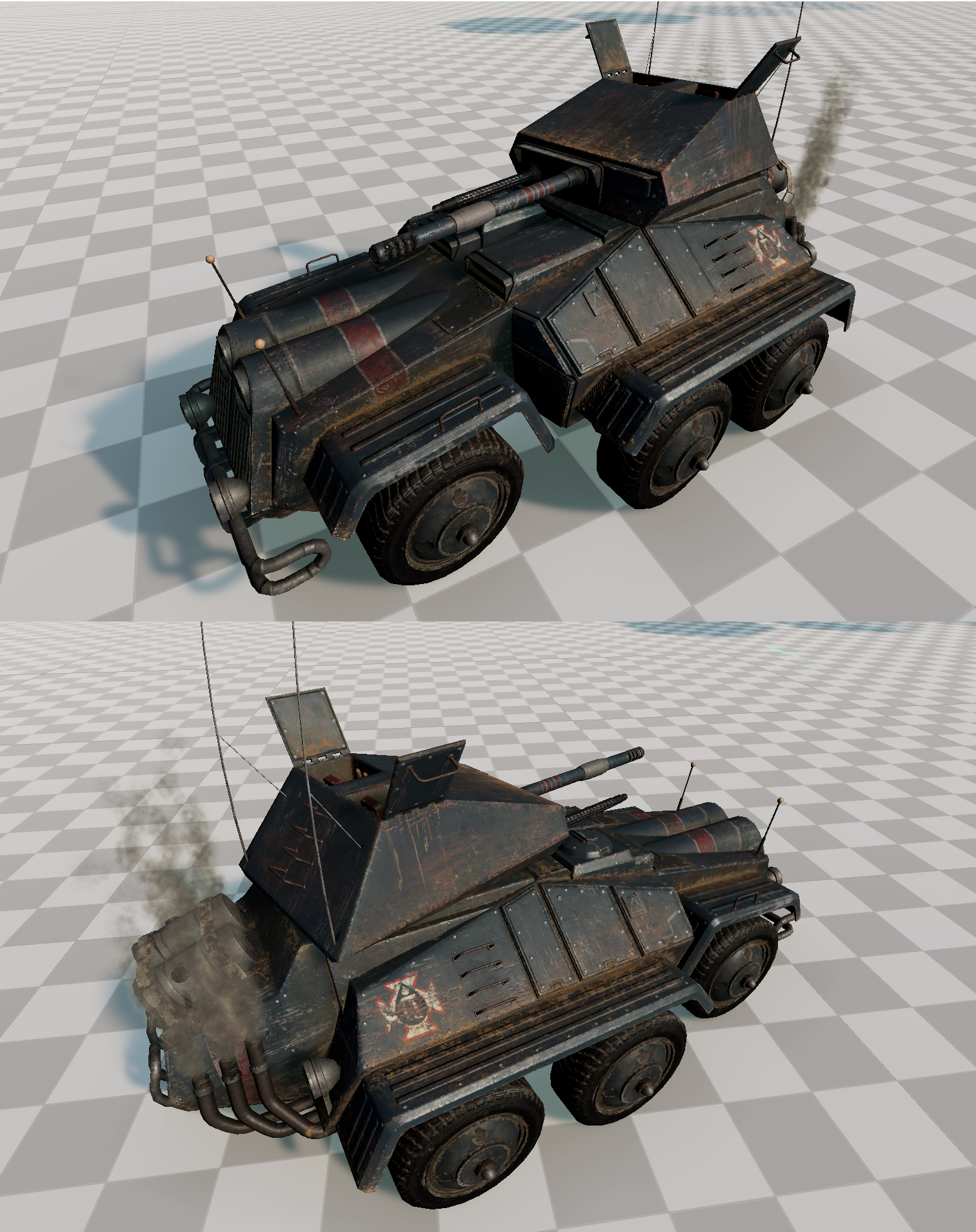 And it can make its way straight to the game! Of course with added animations, visual effects and stats:


Development of the in-game arts
Every art that can be seen in the game was hand drawn by the team of our artists. Below you can see how one of our in-game arts looked like at specific stages of the process: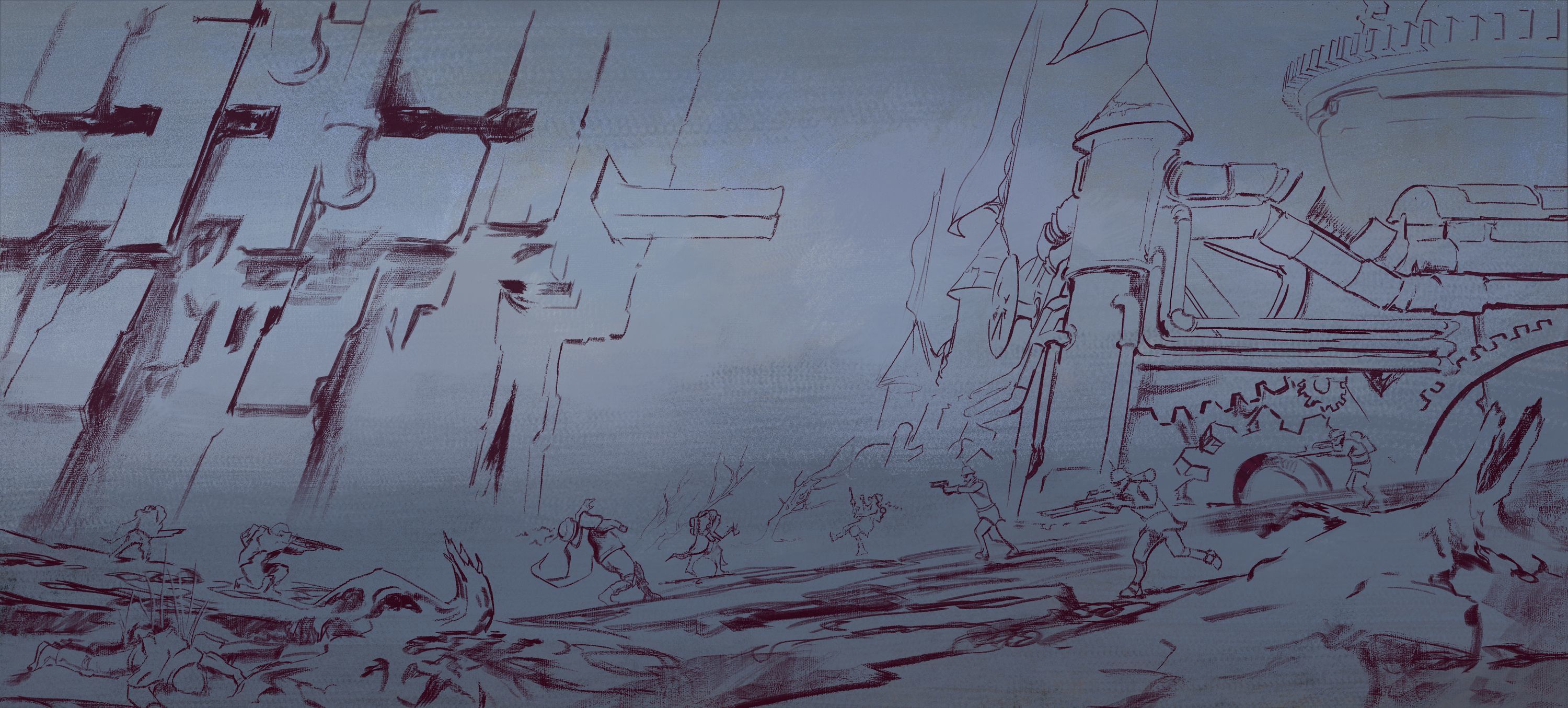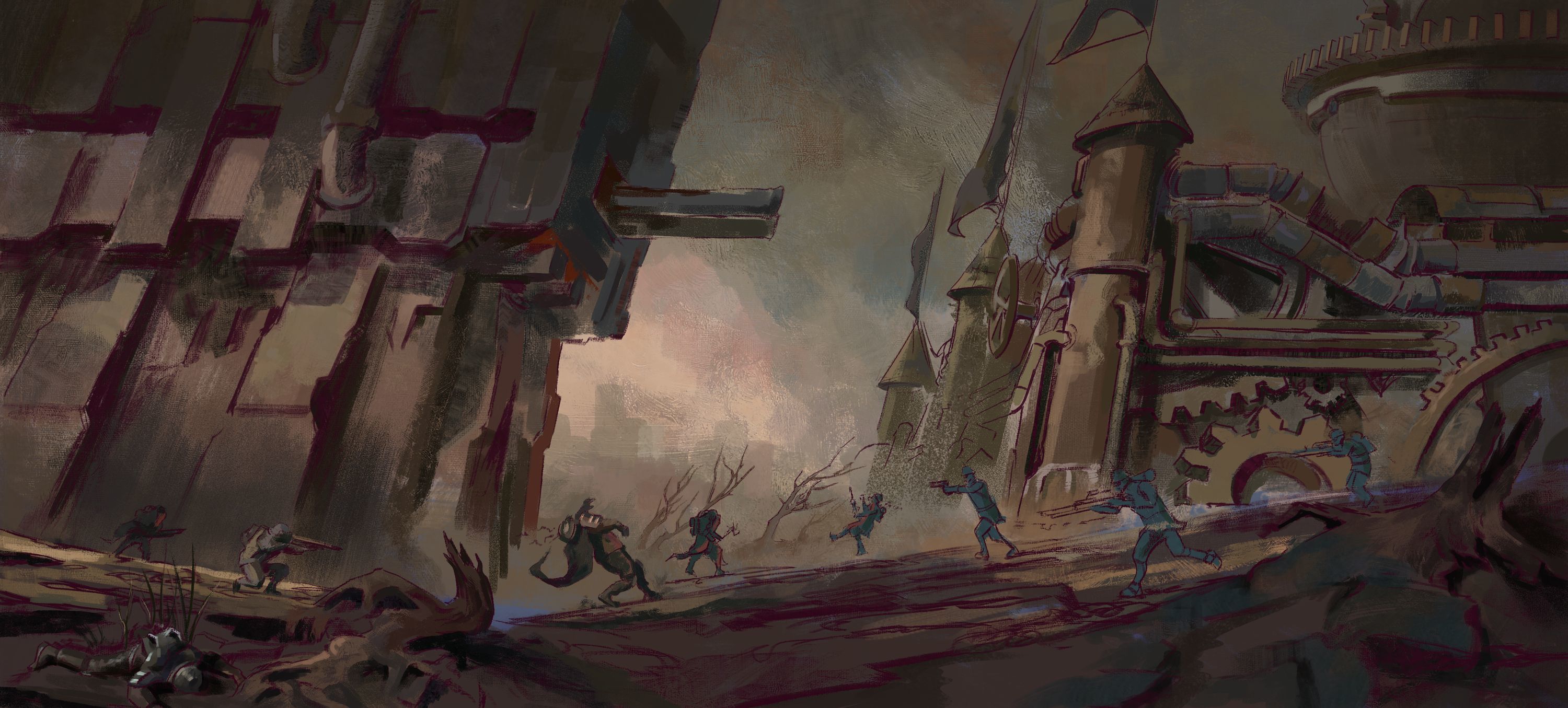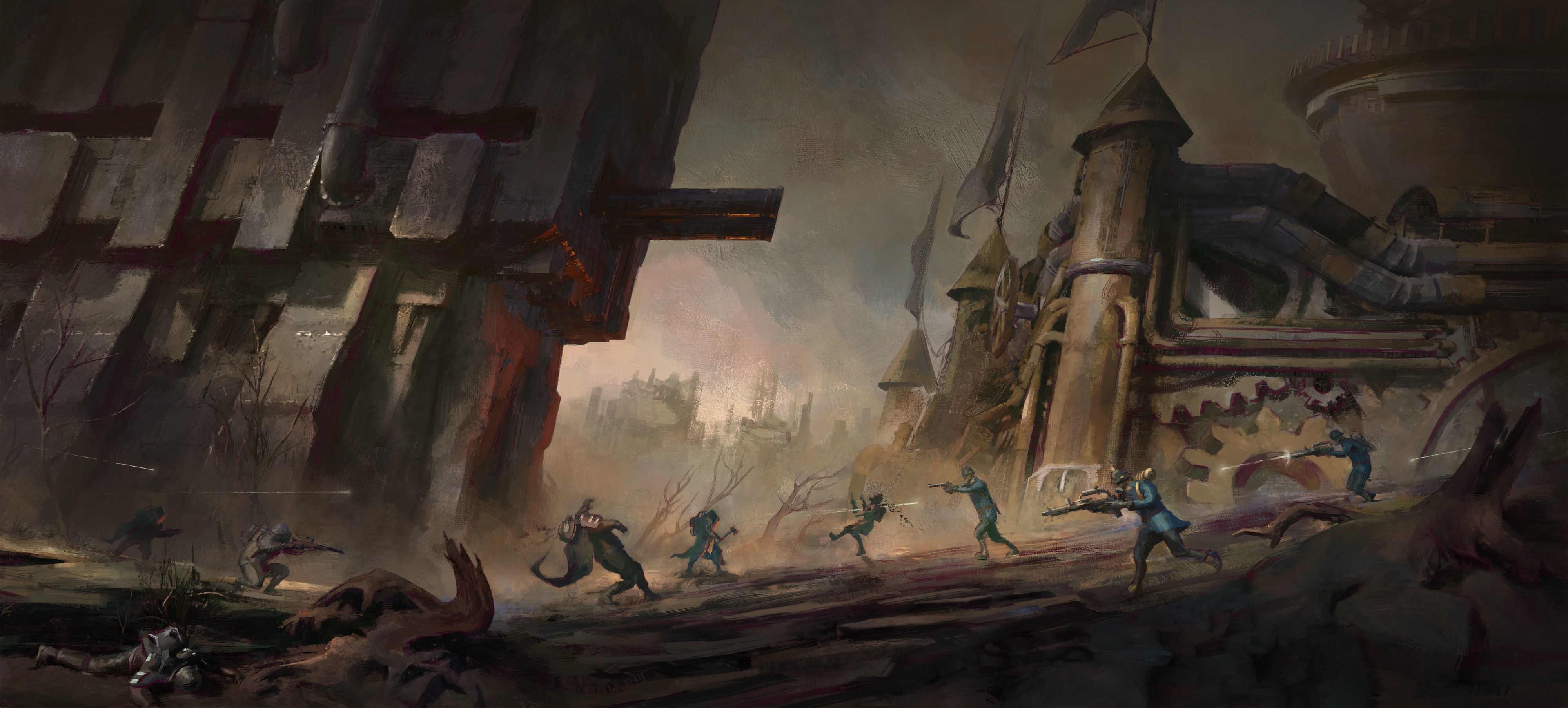 Development of the UI and other graphical elements
UI design is an extremely complex and time-consuming task. The UI Designer has to find the sweet spot, where the UI is clear, looks good and is functional. We decided that in Punk Wars every faction will have its own exclusive UI, for that very reason we had to spend much more time and resources to design the user interface properly for each faction. But at the same time we believe it was totally worth it as each faction will give you a different gameplay experience. Here you can see the first version of Steampunk's UI and event pop-up window: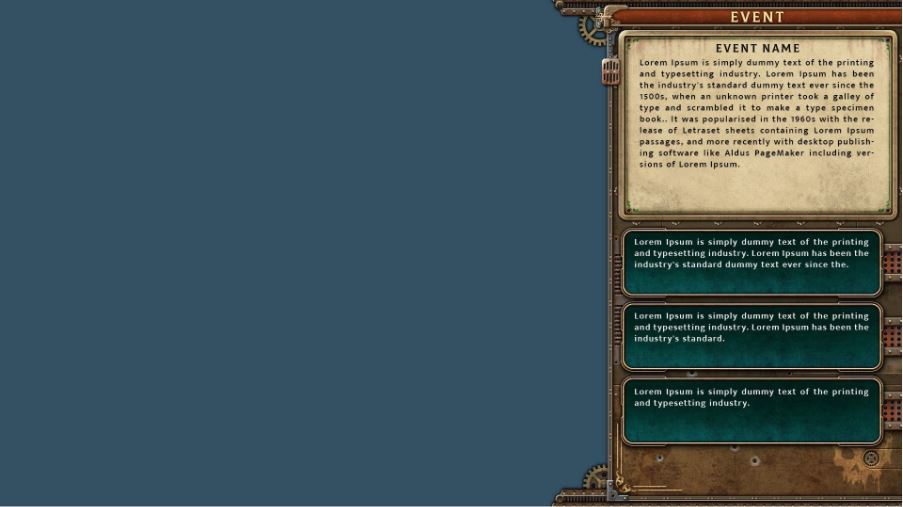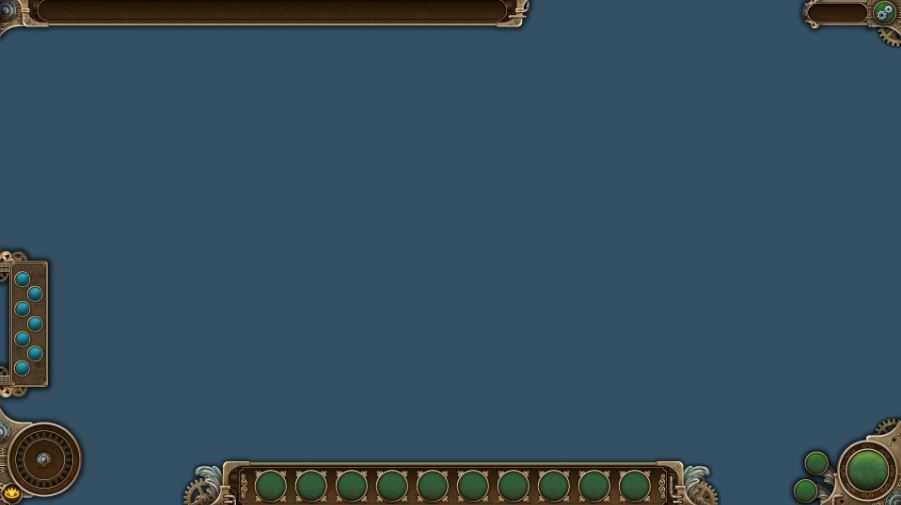 It was also very important to find the correct way to light specific hexes in order to give you important information - such as which hex is currently selected. That is how our first idea of marking action targets looked like: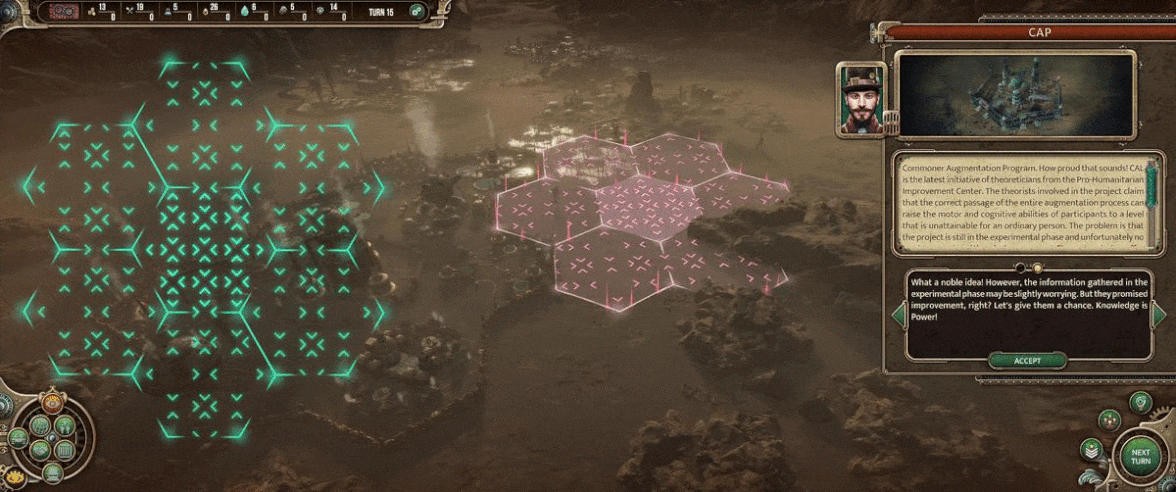 It is also vital for every game to have a good logo. That is why we had many concepts ready for Punk Wars - and here are a few of them: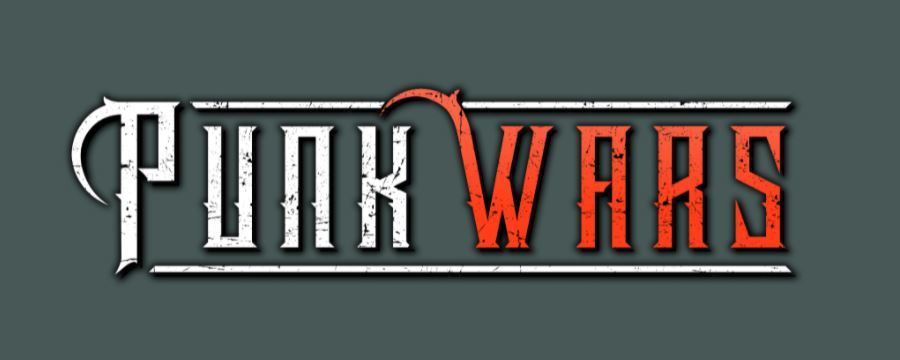 Prototype

The prototype stage is essential for every production in creative development. It is the moment when all in-game content can be represented (even if not in final version) and we can check whether there is a method to this madness. It allows to check if the ideas, art style and modelling techniques are viable and applicable in the future production process. We would like to present you some screenshots from the prototype stage of Punk Wars, so you can compare it with the final state of the game: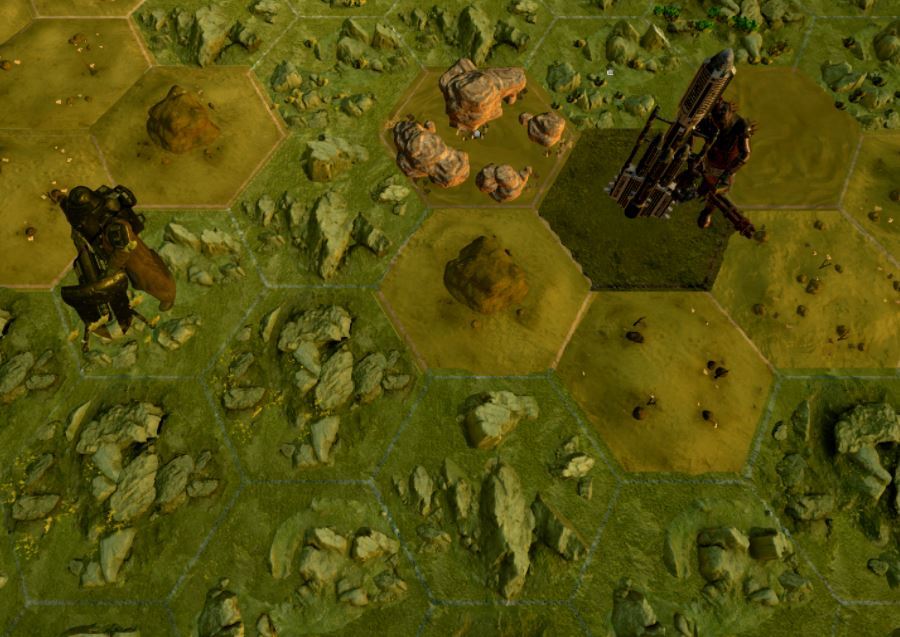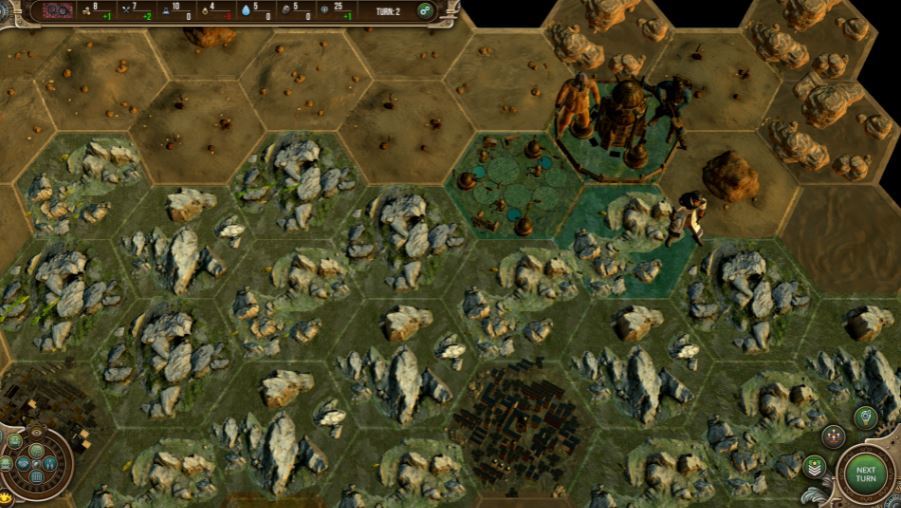 The first iterations of buildings were prepared in order to represent them in the prototype. Just look how the early concepts differ from their final versions. It only took a few months of adjustments!;)

Old: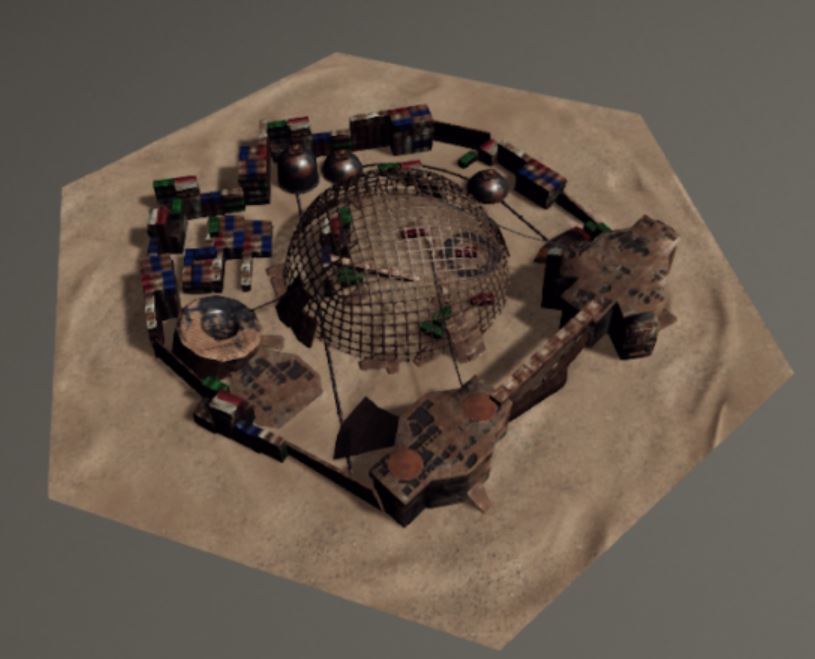 New: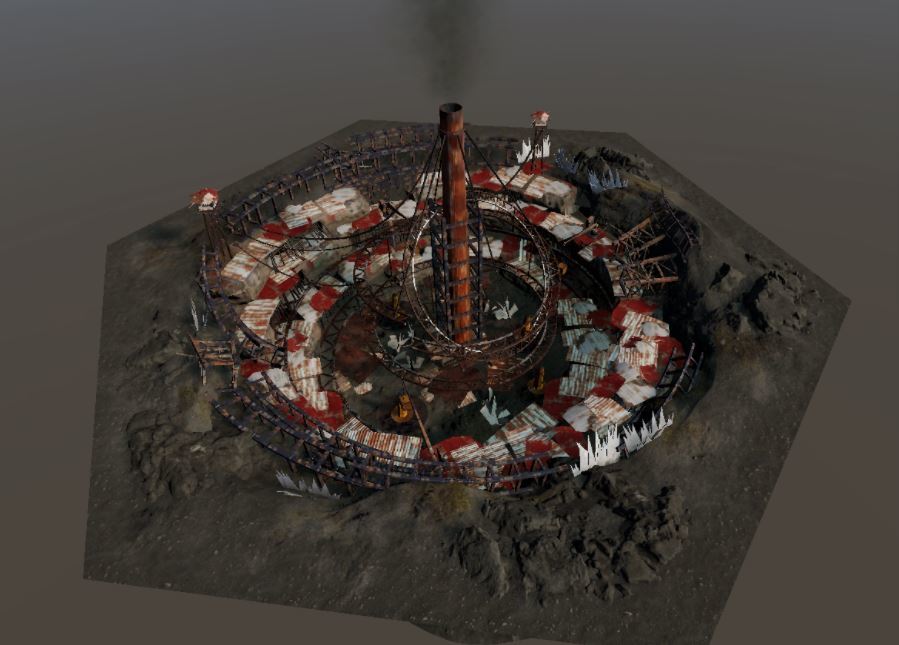 Old: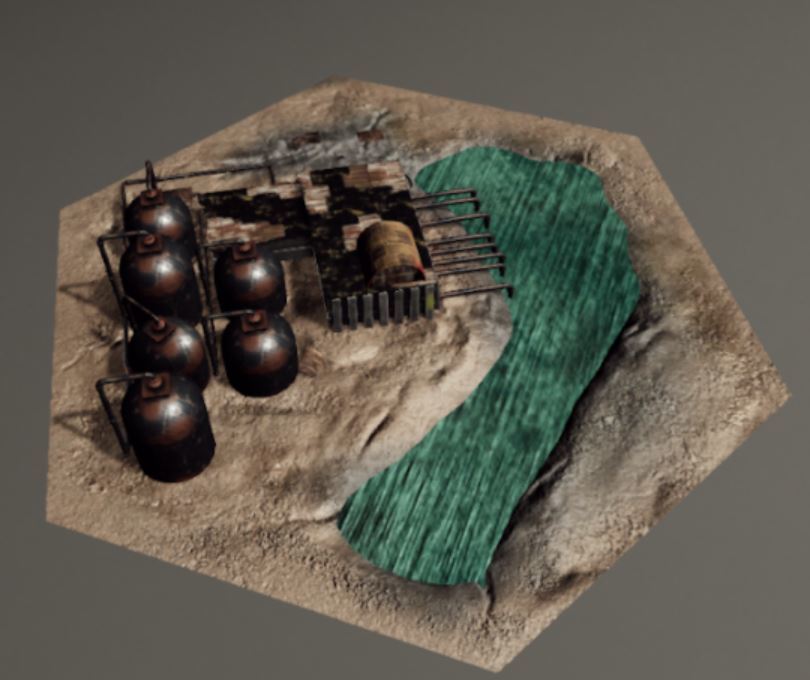 New: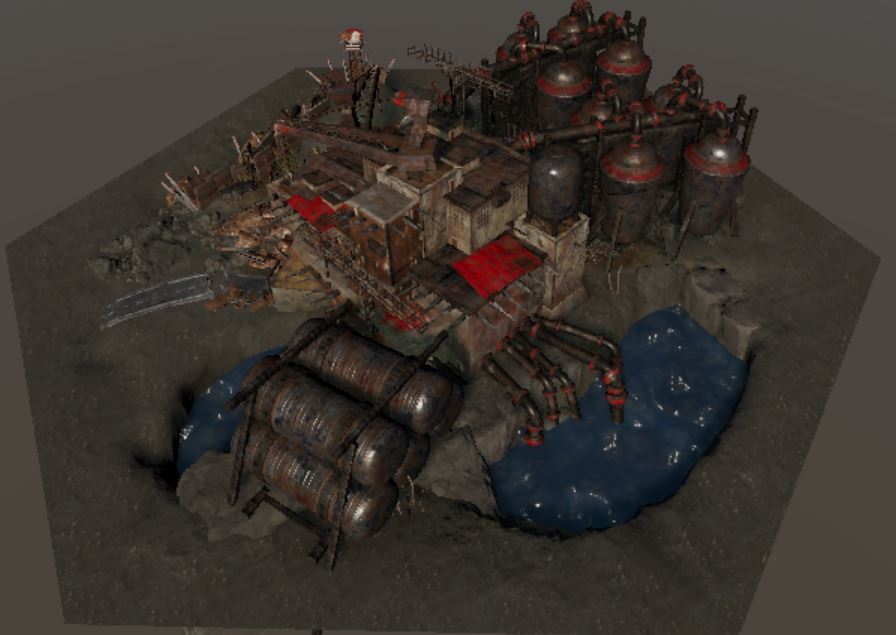 As you can see the difference is pretty obvious and it looks even better in the game where we apply proper lighting and visual effects.

We are slowly reaching the end of the development process and we would like you to see the progress we have made since we have launched the playable demo. We have a few cool ideas how to give you a strong sneak peek at the final version of the game, so stay tuned for more info on this!