Hello everyone, I wanted to write this article related to all the questions coming around related to the mod.
It's been a long journey since the release of V1.0, and people still get confused related to crashes and updates.
I would like to make a QnA and Troubleshooting article to at least cover most important questions asked.
Let's get it started, there is going to be a lot of light shed onto everything related to playing and the rest.

Q: Why the name is Project Zombie Strike 2014? You should rename it to just Project Zombie Strike
A: I get a lot of requests to change the mod name into Project Zombie Strike. This is not going to happen because that mod already exists, and it's currently being completely remade within the Project Zombie Strike Redux idea. Initially, this mod was called Project Zombie Reality 2014, with the original devs trying to make it less confusing with the said Project Reality mod. This failed, with the name change to Project Zombie Strike 2014 coming back in 2016. Same thing was applied to older mod, it being renamed to Project Zombie Strike. Let's call this 2014 variant a Sequel to previous mod, and having another name change is going to be pretty problematic, as I will have to rename basically everything in the articles, downloads and other releases too. Time wasted on such things is not necessary, as we already place a lot of attention on upcoming content with Expansions and New Versions.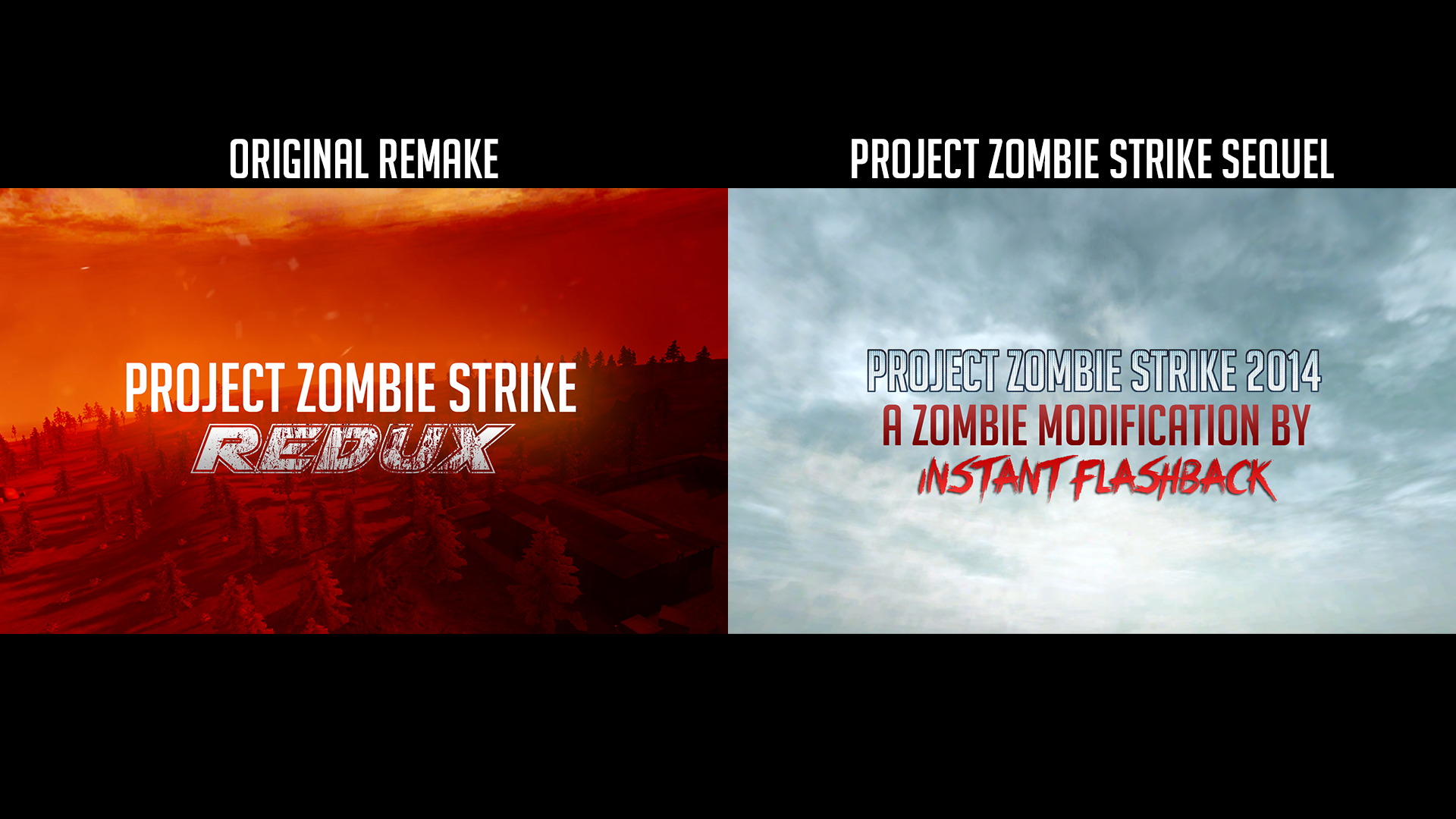 Q: What are Expansions? How to play on new maps? Do I have to download older versions for other content?
A: This situation is getting really annoying for me, mainly because of older developer team didn't really address this mess. Let's get it started, will be dividing this in some parts
Expansions are storyline progression for Zombie War 2014, similar to Battlefield 1 War Stories. Each of this pack is extending the so called universe, with different gameplay compared to default maps seen in-game. Usually these release without version mark, but are based on previous versions of mod release. The upcoming Beyond the Limits Expansion is based on V2.2 Update, with new content being added to the mod. These are basically stories related closely to the story, set during a different location and time-periods.

Now let's talk about the version and patches misunderstanding. To play the latest maps and content, it's strongly recommended to download latest version available in Download section. V2.2 contains every single Expansion Pack + new content additions and fixes for the game. There is no need to install V1.0 to play Legacy Times and download V2.2 to play Betrayal Complex content. Each new release already contains everything, with proper fixes and new content. Personally, I will discuss with some of my friends that uploaded older versions, to remove them completely from the downloads section. Keeping that clean like other modifications is my top priority, and removing obsolete builds is going to fix the version misunderstanding problems. One last mention: Please download only the latest release, older versions are outdated and contain problems and bugs that might give you a bad impression over the mod. Thank you.
Q: Can I record gameplay of new unreleased version? Can I enter the Beta-Test?
A: As of 2018, Debug builds are no longer shared to public for recording. Older developers liked the idea to share such builds for recording, but our team has no plans to do such things anymore. First impressions of the release are important, and with debug builds, people might get the idea that modification is raw, and is not worth the playing. I'm giving my best to polish the content, and it really takes a lot of time and testing to see if everything works properly, and giving something that might be broken would really hurt the expectations. Beta-testing range is currently close, as no applicants appeared on the horizon. Sorry to disappoint you, but this is an important task required a lot of time dedication. Hence the slow releases of versions under Instant Flashback mod studio.
Q: How to play this mod in Singleplayer? How to play it in Online?
A: To play it in Singleplayer, you must go to Local, Click on Create and choose "Cooperative" tab under the server settings list. The gameplay is started only in this tab, as this is the only way to play it properly. Online support is dropped for the mod for the meanwhile. I encountered a lot of problems when trying to mess with codes related to this, and it's really problematic for me to make it run properly without breaking it during the new content introduction. My team will be looking into this problem, but there is no guarantees that such things will work. If you wan't to lend us a hand on making this project run online, you are free to contact me, or the studio via Private Message.
Q: Zombies come close to you, but they don't kill you. Why so?
A: This is an old system developed by Zombie Strike, with the target to make the gameplay more balanced for Human Bots. Since these are quite unstable to this day, it assures a more realistic chance of winning the game. Due to many requests and reports of this "feature", I will be looking into changing this into a more hardcore approach. The implementations are planned after the release of Beyond the Limits expansion. My takes are that there are going to be a lot more casualties than before, rendering the gameplay harder for unexperienced players.
Q: Bot count for each mode is different. How to change them?
A: This is a feature called Balance Maker, made for the Singleplayer aspect of the mod. Different maps and expansions act in their own way, with Human VS Human, and Human VS Zombies requiring their respective balance, to make the gameplay fair. I understand that this might be strange, and players can't really change the numbers, but the established numbers are the most balanced way to play the mod without problems in other parts of the mod. Since the first Pre-Alpha, the project's priority is set exclusively on Solo aspect, hence the Online and Local functions not implemented properly with the mod.
Q: Hotel?
A: Trivago
That's the end for this update everyone. I hope some of the misunderstandings are cleaned up, and with the closer and closer release window of Beyond the Limits Expansion Pack, everything will be properly established. I will be working on the problems mentioned by everyone in the comment section, and stay tuned for the Download section being cleaned up. The old builds are going to be archived on my hard-drive, and will be deleted in the coming days.
This was Betamaxx, see you next time.