We at Deadcell Games love video games, but feel as though the kinds of games that we remember from our early years, are few and far between these days. We're talking about games that take you someplace out of this world, on an adventure. Games that will tell you a story full of imaginative characters, twists and turns, and surprises when you least expect it. While the team does have a soft spot for 2D games, for the stories we want to tell, we believe that having a 3D world to explore will be vital to achieve the immersion, & world building we are aiming for.
Making a 3D game is not an easy task, but the team is committed and has overcome every hurdle thus far. The positive feedback we have been receiving so far has been a great motivator and we are happy to share with you our new IP, for now called Project – Grand Vault.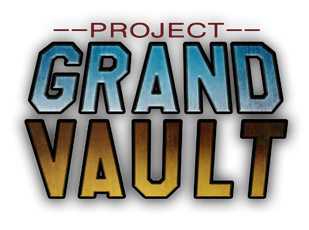 This is a world claimed by nature. Large bodies of water, mountainous cliff sides and sweeping plains cover most of the surface world. People live in small pockets of cities and towns. The population is made up between two types of species. Humans and Xenos. Xenos are similar to humans with the exception that they have supernatural abilities, and are far less common. Ancient technologies, Maalite Crystals and treasure are of the rarest commodities and are buried deep within the earth. These treasures are actively searched for and gathered by teams known as Treasure Hunters or "Hunters".
The Hunter's role is to search in deep dangerous ruins, for ancient technology. In the hopes of
making a technological breakthrough for the people who live on the surface. There has been a legend passed from one hunter to another. That a huge treasure – one so vast and so precious that it would dwarf all other spoils—since the conception of the "Grand Vault" this rumor has become the ambition of Hunters, hoping to go down in history as a legend.
Over several years, countless Treasure Hunters have gone in search for the Grand Vault, searching all sorts of ruins. Many hunters died, even more gave up, and some never returned. Eventually the
Grand Vault became nothing more than unreachable goal, a fable passed from one to another.
Characters
We wanted to create characters that will entice the imaginations of our audience and will spark the creativity of our world. From the very beginning we knew that we wanted our protagonists to be Xenos Treasure Hunters. Like the player, we wanted our characters to want to explore ruins, and fight monsters. We have gone through several iterations and revisions trying to get things balanced while staying true to the original intentions and motifs. Below you can see their progression.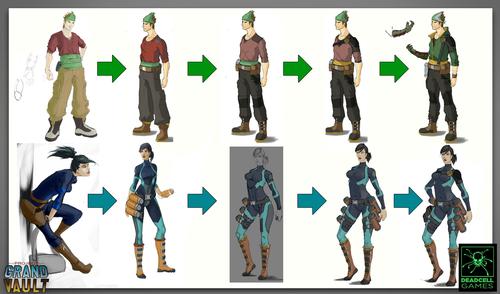 Eventually we finally developed what we feel is right. Below are the designs for Vance Velemund and Maya Magaros, the protagonists of Project – Grand Vault.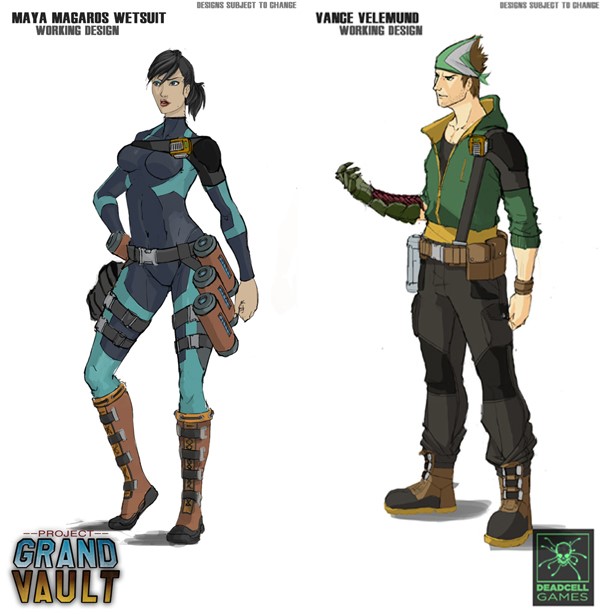 Vance is a charismatic, headstrong young man. He is someone who lives in the present without worries about the future. Like many Xenos, he was abandoned as an infant. He was found and raised by a veteran Treasure Hunter and it was this man who taught Vance the ways of a Hunter. When Vance
reached the age of 15, his foster father was killed while defending Vance and other civilians during a bandit raid. The only memento Vance possess from his foster father is his bandana. In the years that followed, Vance would venture into ruins, to make easy money. Until he encountered some Treasure Hunters during a ruin run. This encounter inspired him to join the Hunter's Guild. Maya, in contrast to Vance's unyielding character, is very organized and forward thinking. She is compassionate and has a strong sense of ethics and duty. She taught herself how to be a Treasure Hunter through study
and research. She is an expert on ruin regulations and the rules to abide by. She was raised by her grandfather, as her parents who were both Hunters never returned from a ruin hunt run, a fate that is not uncommon to the profession. She decided to become a Hunter due to her fascination with the history of the Old World. Seeing the Hunter's Guild as an invaluable resource, she registered and eventually met Vance. It was her plan to move to the region of Havenlock and build a business with Vance as Hunters.
Vance and Maya's 3D models!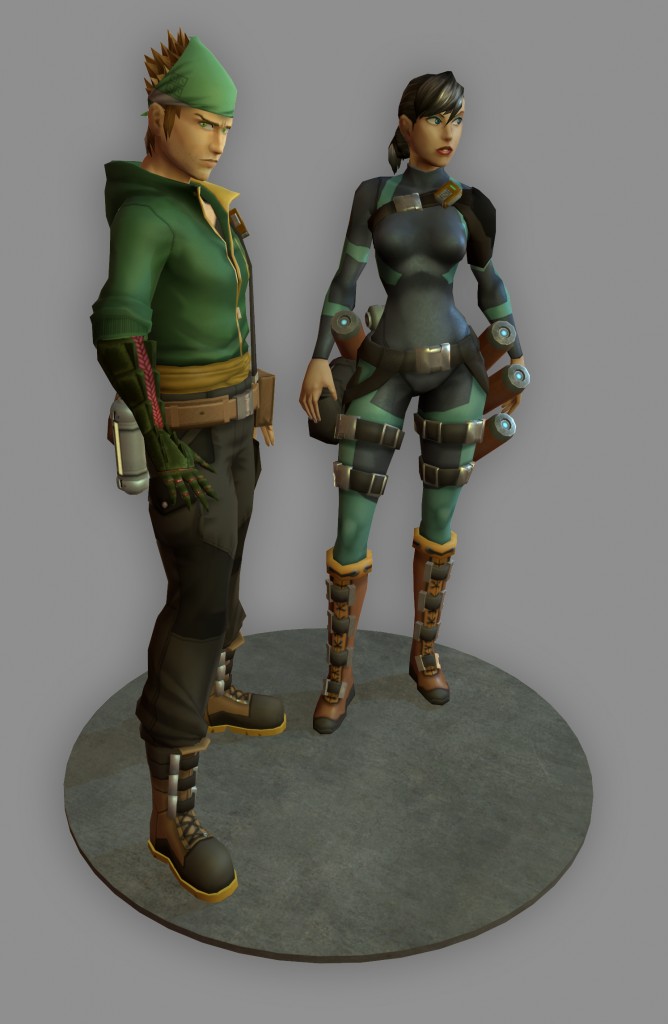 Environment Concept
There are two environment types that exist within the world of Project – Grand Vault. On the surface
exists cities and towns, full of people, who live honest lives, living a peaceful life. Deep below the surface exist the ruins of the old world. These ruins are full of rare treasures, and ancient technologies. But be warned, amidst the treasure exist dangerous life forms known as ruin creatures.
Havenlock City
Our main hub town for Project Grand Vault is Havenlock City. It is here our protagonists hope to eke out a living, and decide to open their own Treasure Hunting business. Havenlock city is full of various characters and personalities some that are interwoven into the story and some that will be used side quests and bonus objectives.
Here you can see some of the conceptual art for Havenlock City.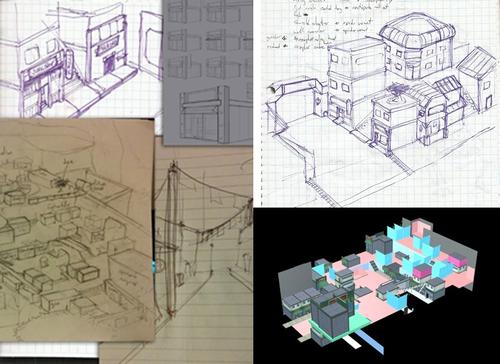 Below is a more recent shot of a street in Havenlock City, running in Unreal Engine 4. You can see that some assets are using proxy materials. Don't worry, the final build of the game wont have any of those. :)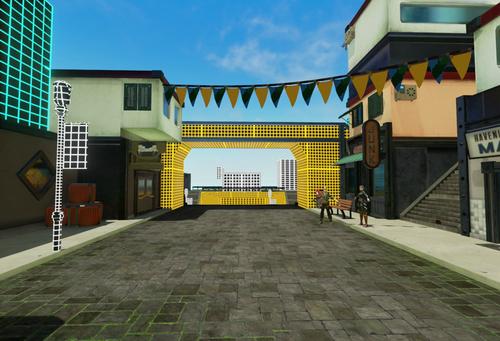 Havenlock City's Junk Shop, along with other assets.
Ruins
The ruins are where dangerous creatures lurk, because of this only Treasure Hunters are brave enough to enter. We wanted the mood of the ruins to be slightly eerie.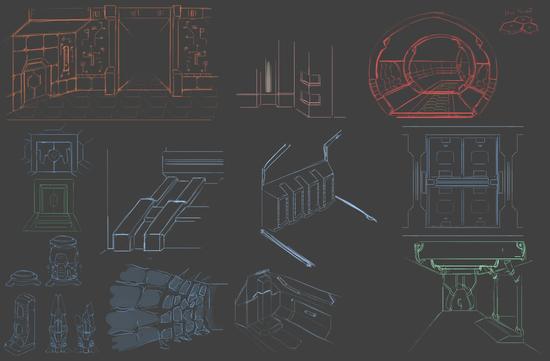 Ruin Creatures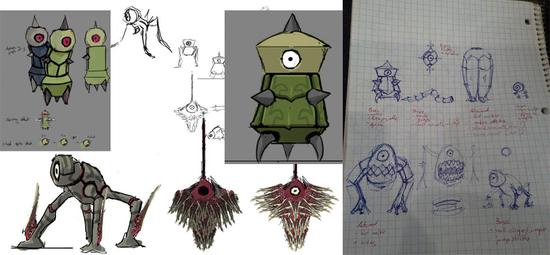 We hope after learning a little more about our vision, you are excited for the future of Project Grand Vault. Stay tuned for more updates!