Hey all, I'm Sabian - the lead developer of The Phoenix Project Software alongside RafaXIS.
Since October, we have been able to make gradual progress on the game Half-Life: Zombies Ate My Neighbours. In this article, we couldn't be more excited to show you what we're doing.
Cross Platform Support
Some time ago, we announced something a little special.
On release, Half-Life: Zombies Ate My Neighbours and its multiplayer will support not only Windows, but also macOS and Linux. At The Phoenix Project Software, we believe that no matter what operating system you use, you should still be able to experience great games and have great fun.
Try Out the Multiplayer
In mid-2019, I started working on a mod of AG called creaTive Deathmatch. It would later become a base for all our future multiplayer games called the creaTive Deathmatch Player.
In April 2020, we released its first game - Shooter Tourneys: The Official Game of Classic Shooter Tourneys. However, all plans for CST with this game have been dropped - therefore, the game has been renamed to Half-Life: Zombies Ate My Neighbours Multiplayer and you can play it right now. It includes LOADS of community-made maps, playermodels and more - so check it out! You can find it on our studio profile.
We are also seeking feedback from the multiplayer experience - so be sure to leave it here.
LEVEL DESIGN
Level Design is possibly the most important aspect of any video game. It is of course, the player's space. It needs to be fun, clear and realistic.
At TPPS, we can sometimes take a different approach to each level - should this one be fun? Should it be challenging? Should it be a straight run 'n' gun scenario? Should this entire map be a puzzle?
Working on Level Design can have you facing many, many challenges. It's why The Test is very important, but I'll get to that later.
Z1A0
z1a0 is your starting area. It's where the player comes into Zeke's POV for the first time since the '90s.
To remind the reader, the game we're working on right now is nothing like the first two demos we released. The game has had an entire overhaul, and we're improving day-by-day.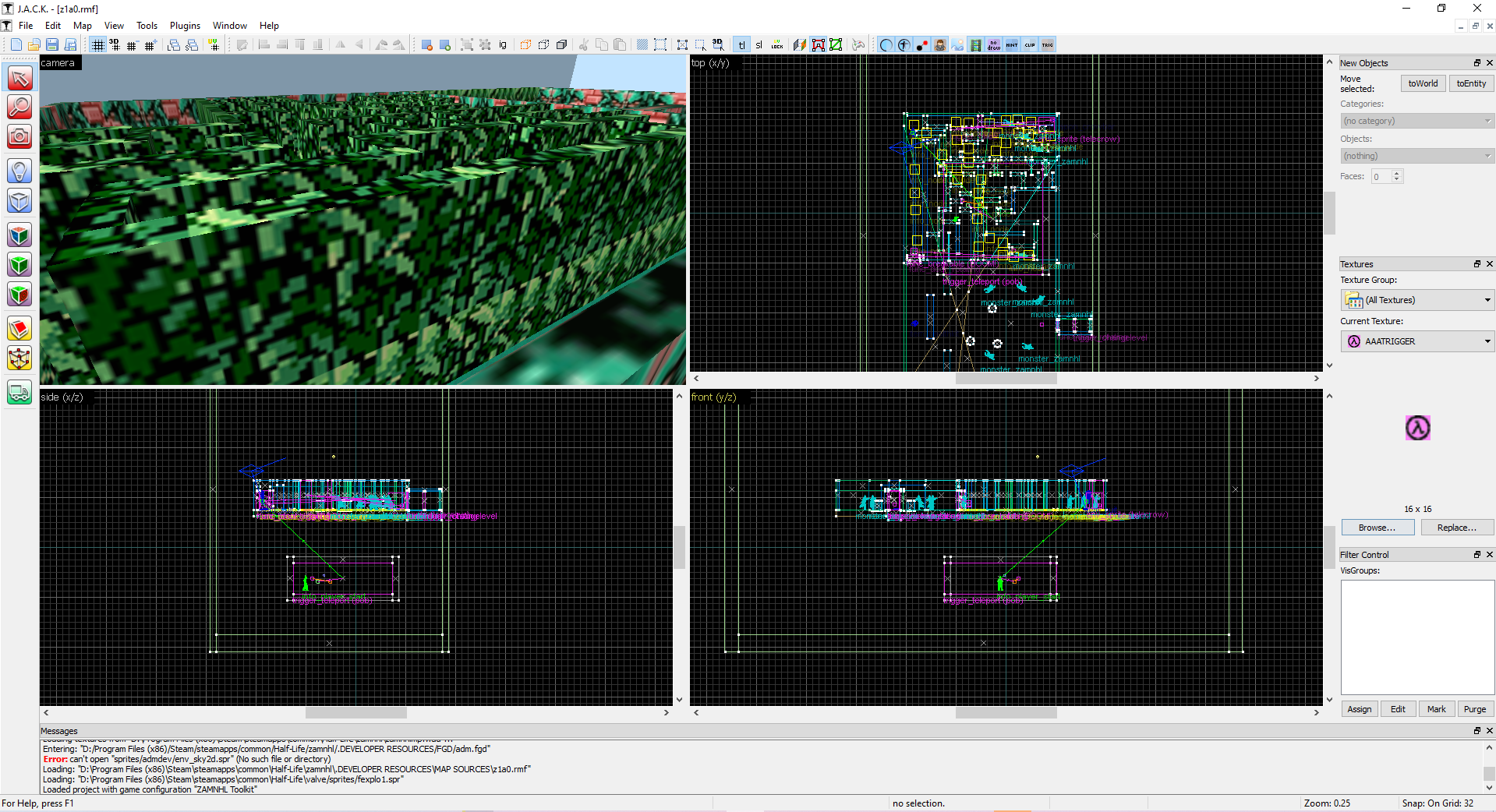 Here is z1a0 in the level editor. Me and RafaXIS worked on this, and we thought it'd be nice to start the main game with a puzzle. Because of The Test, each level has had an overhaul various times.
Z1A0B
z1a0b is, well, the second part. Zeke enters another neighbourhood of zombies and fights his way through.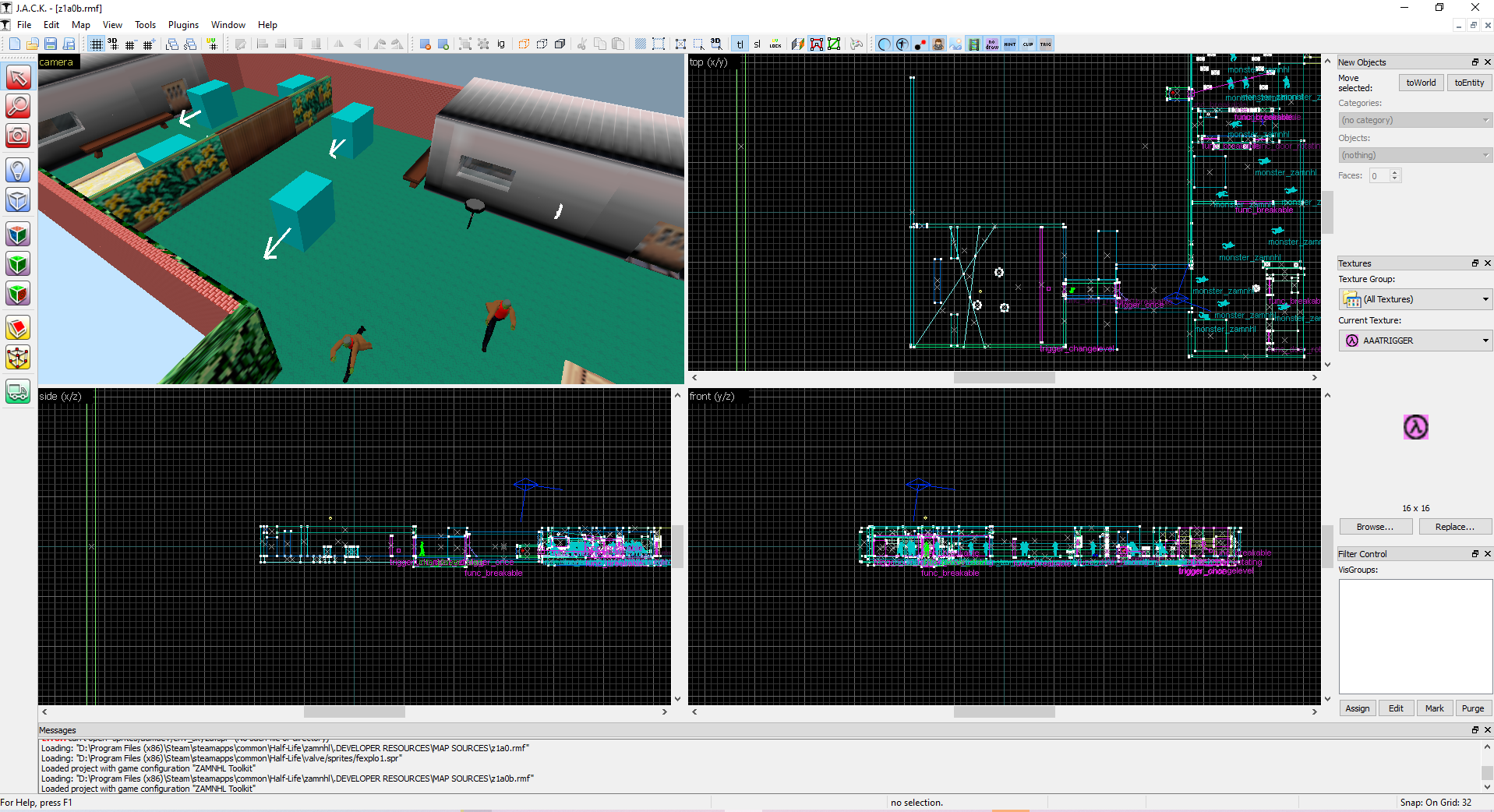 It looks very very simple in the level editor, but in-game it looks much better with the magic of lighting
Lighting is so important because it builds a great atmosphere in your level. If your levels have no atmosphere, it will feel very blank when you play them.
THE REST OF IT ALL
Because the not very much to say about the other levels, I'll just show them all in game.
AUDIO
Audio is another important aspect at building atmosphere.
With Half-Life 1, Valve didn't do outdoor ambience very well. Once all the enemies are dead, and the music stops playing, it's just dead silent.
By adding a simple ambient_generic, you can add much more atmosphere to your outdoor level.
SOUNDTRACK
My favourite part of this game! The soundtrack!
Since March last year, me and Rafael have made about 31 tracks for the soundtrack. Why? Because we've gone nuts.
You can listen to the entire soundtrack here:
Well, that's all we can say ri—
Oh wait, I forgot! Lost and Dead Anniversary!

In 2022, to celebreate The Phoenix Project Software's (and Lost and Dead's) FIFTH ANNIVERSARY, we are remaking Lost and Dead from the ground-up in an all new game called Lost and Dead Anniversary. The ModDB page should be up in the next few months.
For now, that's all I have to say. I hope you enjoyed the new music, videos and screenshots and I hope to make another update soon.
Oh, and also, a demo might be coming next month. We'll see.
-Sabian Roberts
Lead Developer and co-founder of The Phoenix Project Software