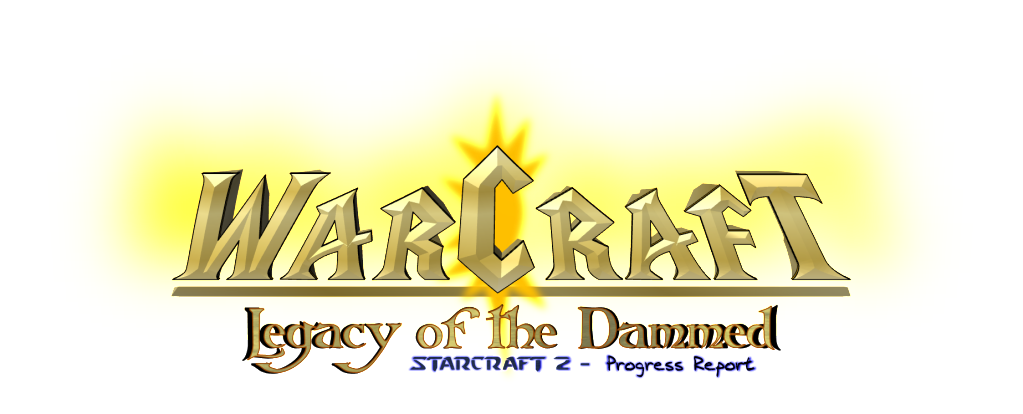 Greetings everyone, This may be my first ever news article here on Moddb, and I'd like to start of by thanking the wonderfully supportive people here, for their input on Warcraft: Legacy of the Dammed! (Wc: LotD
I've decided to post this for a few reasons, Number one, I feel like it will be nice to get back in contact with the community, As I've been fairly removed from that process, And number two, we feel that you need to know just what the hell is going on. (Pardon my French)
So without further tripe:
Data Progress:
We recently began the process of editing in all of out unit and engine data into the Starcraft 2 Built in tool, the Galaxy Editor. As a Modder, I was much more familiar with WarCraft's user interface, and the leap to the Galaxy tool was a hard one. The tool is Very complex, but VERY powerful, it even has the capacity to run games like First Person Shooters and such. The things we can do to edit the engine and the game cons tenants themselves give us renewed vigor for this, the unfortunate part is that The World Is Flat (me!) Is the only one on the team who knows HOW to use the data editor extensively enough on the team At the Moment, and we are currently looking for another, because I am also a 3D modeler and am learning how to use Sc2's GUI coding, and along with education, simply don't Have enough time to complete all of these tasks!
The problem with the power of the data editor is the fact that it simply takes 10X as long to do anything than in the editor I was used to, Which has set my estimates for alpha back a bit.
Art Progress:
As a novice 3d modeler, art is progressing well, if slowly. The absence of Star tools was a frustrating one, but with the news at BlizzCon 2010 that they would be adding both Warcraft 3 and World of Warcraft model and art assets, we can take a breath of fresh air, it is far easier to edit a model than to make one from scratch. Also the textures will be a godsend, when they do come. Fear not though, We are dead set on including as many custom assets as possible, for those who find thrill in that area.
Egaming Developments
Egaming is one of the aspects of this mod we have focused on the most, and for that reason, we needed someone experienced in that field as a reference for our design philosophy. We found just the person, Or i should say, he found us, here on Moddb, thank our lucky stars. He is the WarCraft 3 Egaming Team manager in Bulgaria, nicknamed EMO/Beast. With these new developments, hopefully competitive melee is only a step away.
ETA TO ALPHA
If asked to estimate the time to a working alpha for one race, I would put it at whenever Blizzard releases some if its new art assets X 1 month, hopefully this will be around 1.2 or only a bit later, so my guess is 3-4 months, but from there, progress will be swift onto completion, we may be looking at a late 1011 release, but definitely NO promises there, the amount of content that we need to shift through is Enormous. Expect Delays.
But, to end on a positive note, many obstacles and hills we thought we needed to climb have been surmounted without difficulty. And progress has been amazing as of yet, thanks to the support here and elsewhere, and our Excellent and Dilligent team.
Love,
The World Is Flat