The development was under ice because I gave some attention on a project named de_cargo_defenders2 for CS Original: Snarkpit.net
Anyway, I have continued tweaking the CA maps. Most tweaks were made in the first map. But the other maps didn't need many tweaks. But I have found what to change:
Many of you have noticed the new Test map and the new puzzle. But if you haven't seen them, take a look:
After testing the the puzzle in game, I faced a little problem: While a door is moving, it can't go back until it's fully opened. This f**ks the puzzle. Do you have any ideas how to fix it or at least to avoid it?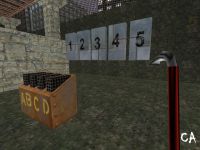 I have also made another test: I tried to remove the waves of the water. But I failed. The waves effect works on water textures and func_water. So I can't remove the waves and create calm water. This sucks.