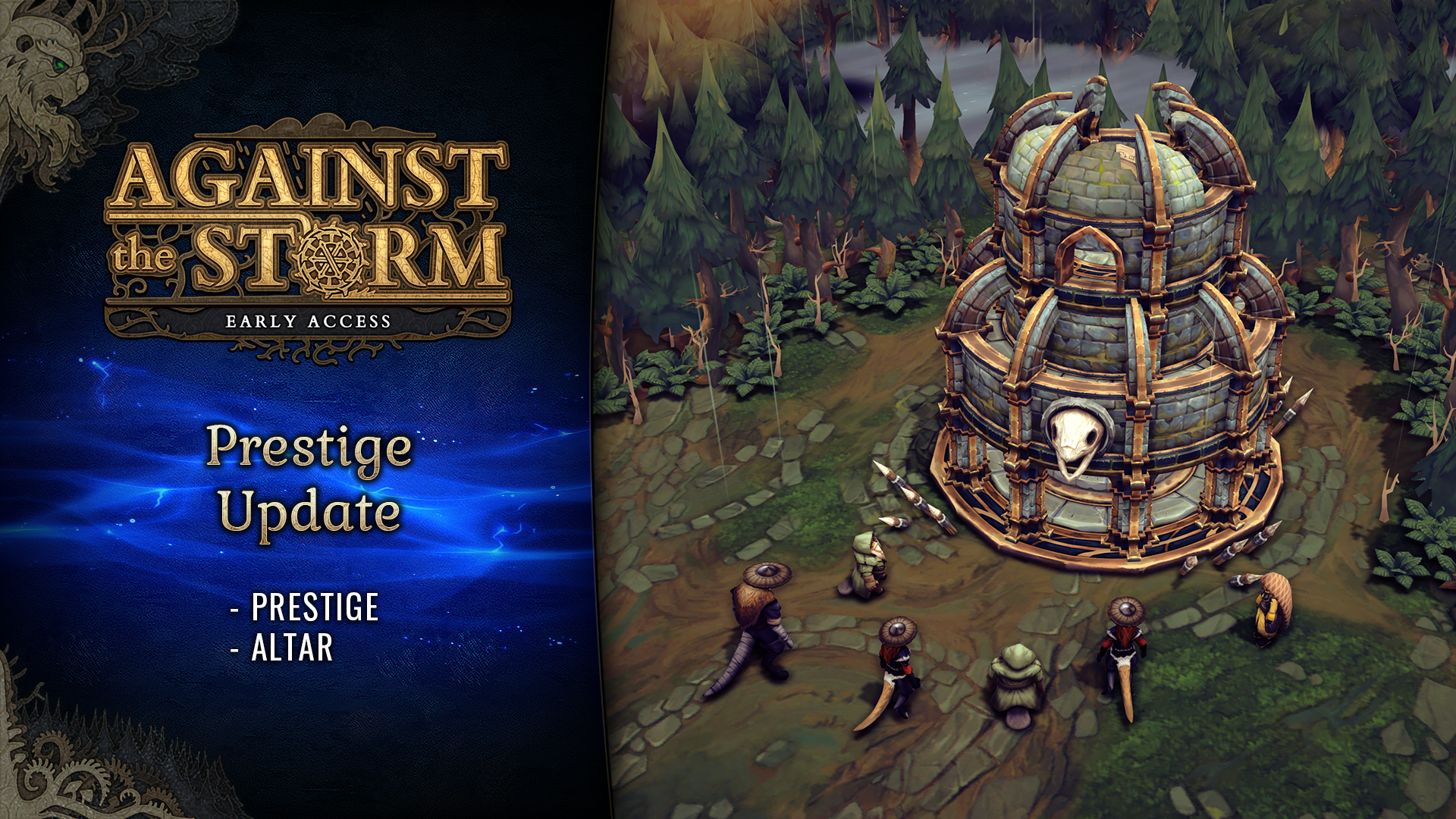 Greetings Viceroys!
Don't be fooled by the title, we're not adding 19th-century magicians from Christopher Nolan's movie (which, by the way, we recommend). Instead, the new update introduces features aimed mainly at players who are looking for even more challenges:
New system: Prestige (optional ascending difficulty levels)

New building: Altar (sacrifice meta resources for perks)

New perks

And more!
Let us know what you think once you give it a try! And if you enjoy the updates, you can do us a great favor by rating the game on Metacritic.
Save 15% on Against the Storm during Epic Games Store Spring Sale: learn more.
DEVELOPER NOTES
Hello everybody! It's Thursday, so you know what that means – another update and more developer notes. In the last couple of weeks – as we've been slowly sliding into the Phase of the Citadel – you may have noticed that we lowered the difficulty of normal maps, and added some power-ups into the Upgrade Tree in the Smoldering City. This, as a result, made the game easier for new players and those looking for a more casual experience after a long day at work. But these changes were also done in preparation for today's shiny new feature – the Prestige system.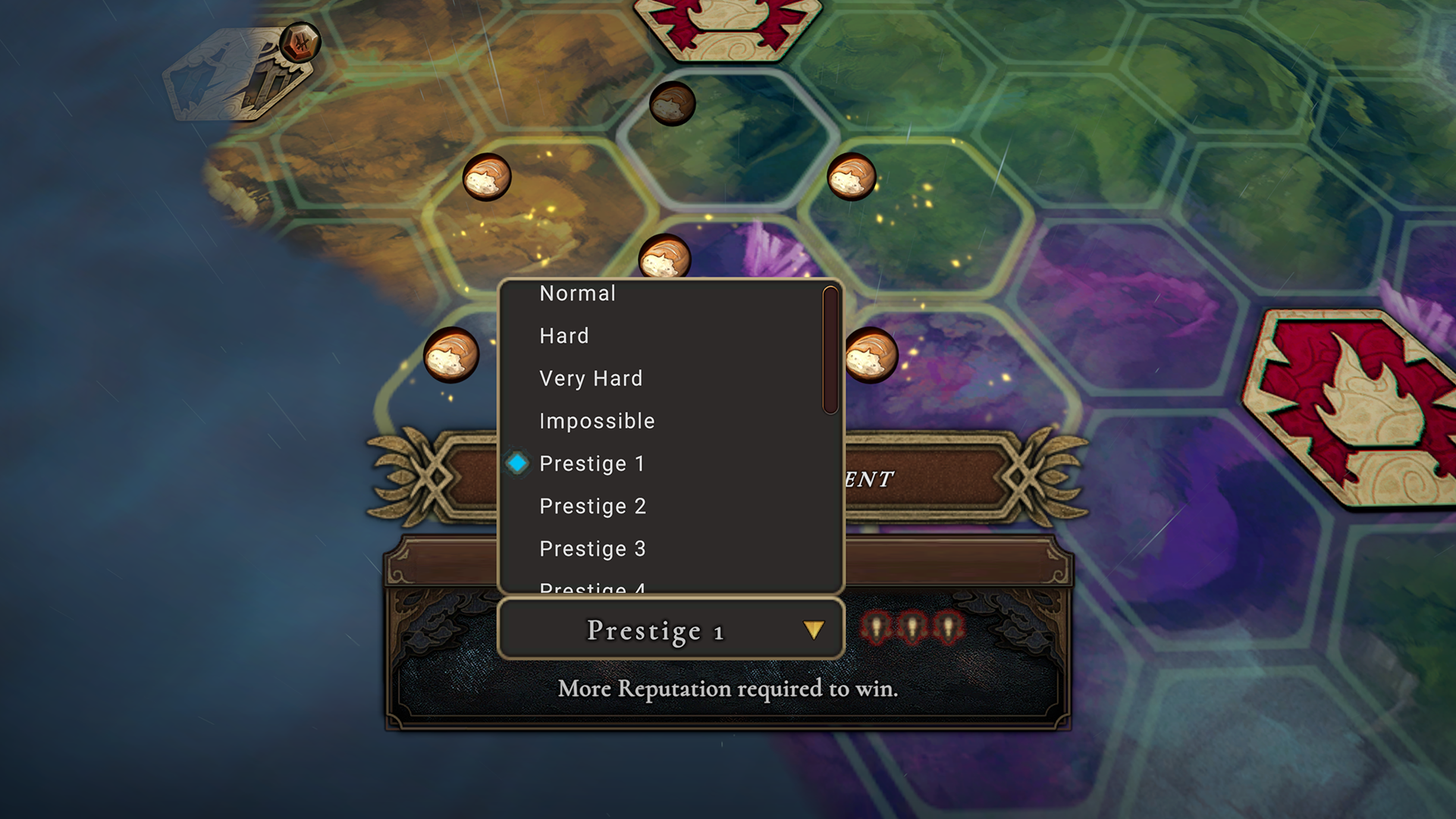 Difficulty selection
The Prestige system is dedicated to our most hardcore players, as it is an optional difficulty ladder of 18 levels above the Impossible difficulty. You can access it after you beat your first Impossible map, and you progress to higher Prestige Levels by beating the lower ones (so by winning a Prestige 1 game, you will unlock Prestige 2, etc.). Each Prestige Level introduces one new challenge on top of all the modifiers from previous difficulties, so on Prestige 18, you will have 18 effects that influence your settlement. We can't wait to see how you fare against these impossible odds.
Although the new Prestige System is designed to give you a hardcore experience, we don't want to just throw impossible challenges at you without any new way of overcoming them. That's why we're also introducing the Forsaken Altar – an ancient shrine to long-forgotten deities, where you can pay with Citadel Resources and your villagers' lives to gain enhanced versions of existing Cornerstones. The Forsaken Altar is only available with Prestige difficulty.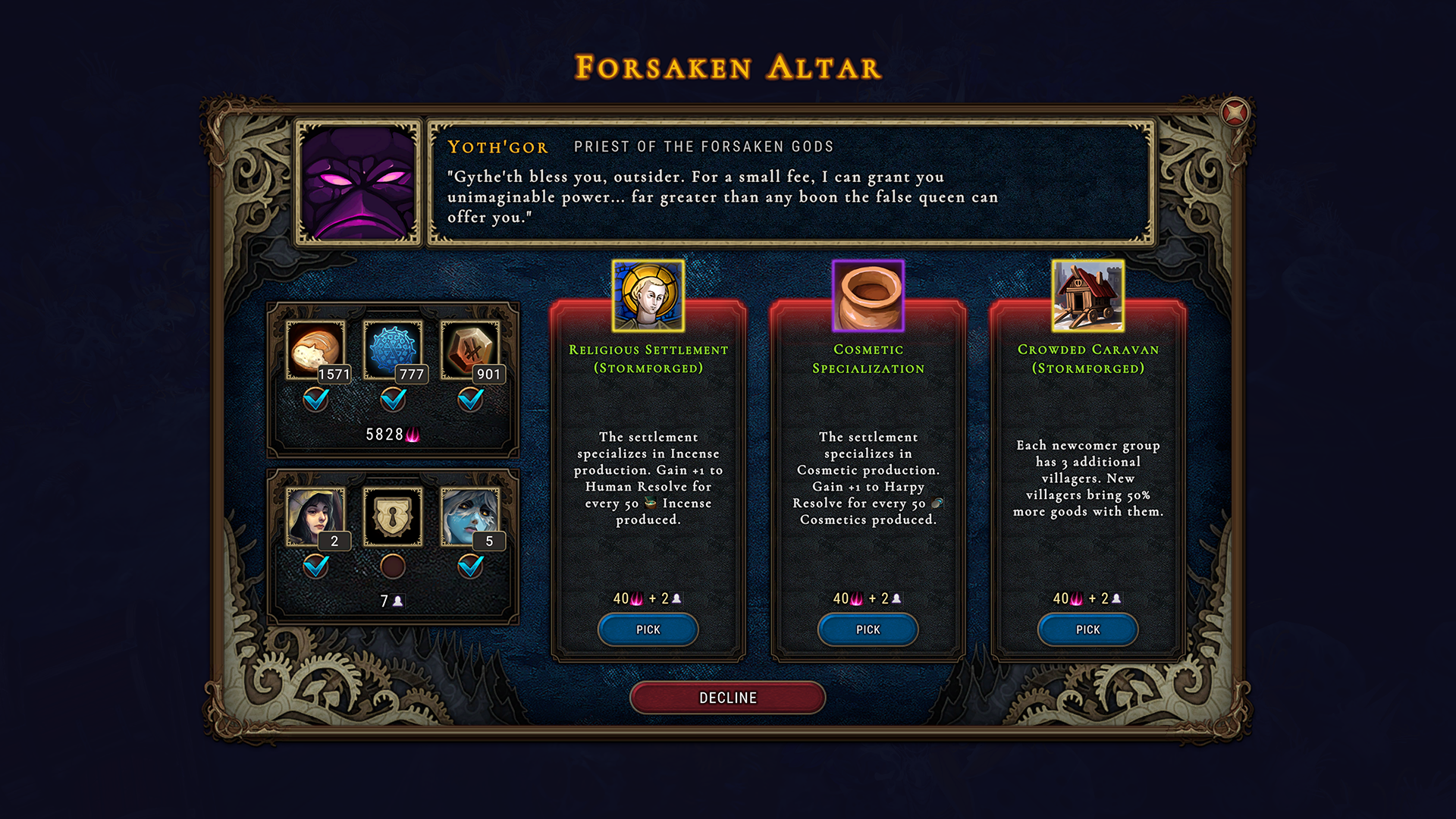 Forsaken Altar Panel (hover over icons to learn more)
Last but not least, we also changed the way you choose a difficulty for your game (partially in preparation for the upcoming World Map revamp). Previously, a map's difficulty was determined by its distance to the Citadel. Now, you can play on any tile on the World Map and decide which difficulty you want to tackle in the Embark Menu. Although the previous approach was interesting and encouraged some form of expansion on the World Map, we felt that ultimately it fell flat, as each Cycle, players felt forced to play easier games to get to the more challenging runs. Plus, the old approach was unintuitive to new players, as they could start a Hard game without even knowing it.
We hope you enjoy the new additions to Against the Storm! As always, feel free to share your feedback on our Discord server or using the official feedback tool.
May the storm be gentle on you,
Eremite Games team
Current Early Access version: 0.21.1R