Hello everyone,

Pre-Alpha 11 Unstable has continued to received a lot of good feedback and bug reports over this past week. Lots of bugs have been squashed and issues resolved, as for many usability issues that were addressed. It's almost not "Unstable" anymore.

However, there's still work to do until we can say we have a stable build at the level we achieved with Pre-Alpha 10.

You can find all the changes in this new hotfix below. Let us know what you think and if you found any more bugs or issues of any kind.

Note: Save games from Pre-Alpha 11 Unstable Hotfix may "work" on this new hotfix but we strongly advise that you create new games to benefit from all the changes and fixes of this new build.

Thanks!

Adam Solo & MalRey
Praxis Games

Interstellar Space: Genesis is a new turn-based space 4X strategy game currently under development by Praxis Games. The game is currently at Pre-Alpha and pre-orders with instant access are open! Feel welcome to open threads and discuss any topic you'd like in the game forums.

We're making the most complete and comprehensive Turn Based Space 4X ever developed, and we count with your support to make it happen! So, please tell your friends about ISG, people who loved Master of Orion but also space 4X games or strategy games in general. Pre-order and play ISG today, and soon you will Discover the Unknown. Thanks!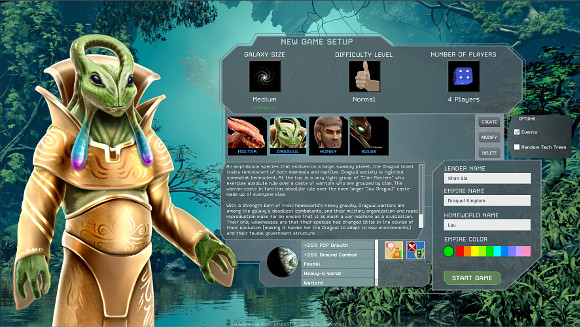 ---

Pre-Alpha 11 Unstable Hotfix 2 (Release Note)

NEW
New rebellion status information provided in the colony view when the colony has unassimilated POPs. This indicates the chance of revolting and what the player can do about it.
Adamantium armor now in the game (found in ancient ruins).

BALANCE
Support Ships now need 3 Ship Support Points (SSPs), instead of previous 2.
Accretion disks now grant a bit more research points bonuses when settled than before.
Autonomous Land Processing and Atmospheric Bio Agents techs moved to one level before.
Greedy trait now appears less often.
Graft and Corruption event, that requires a Marine Barracks to be built, now fires a bit later than before.
Request for defense desire now also fires a bit later.
The Bet event now doesn't appear so soon in the game since the leaders would cost too much money to hire.
Galactic Navigation Archive wonder now takes a bit more time to build.

GAMEPLAY

GRAPHICS
Barren worlds graphics changed to a more grey palette (think the Moon).
Moltar ship models now a bit more orangeish (where too red before).
Colony buildings now a bit larger in the colony view.

PERFORMANCE
Loading a save game now faster in late games.
Game now requires less memory to run (the memory requirements now should range between 2.5GB up to 3GB depending on the system).
Assigning and unassigning leaders is faster now (the game lagged a bit doing those operations).

AI
AI now less prone to break treaties, especially if friendly towards the other player.
AI now less prone to vote for others on Galactic Council sessions unless they have good relations with them (previously, the AI was voting too hastily for players it wasn't that friendly with).

UI
New game icons in the game set up screen (galaxy size, difficulty levels and number of players).
Request Defense leader desire now shows "N Turns" instead of "NT" to make it more clear what it means.
Asteroid belts "sort by having a settlement" in the overview panel now sort asteroid belts by having a settlement of any player, grouped by player.
Weapon damage in the weapon component in the ship design now has a tooltip.
After hiring a leader the game opens the leaders management screen immediately (before, the game was going to the galaxy map).
New turn information panel now displays the player's name and the player's empire name and not the race name as before.
New tooltip for travel speed added to the Ship Design screen.

AUDIO

BUGS
Fixed a bug that was causing following combat encounter dialogs to be skipped (game was only allowing the first combat dialog to take place).
Fixed a bug on space combat where sometimes the wrong shield facing was being hit or being reported as hit.
Fixed a crash during galaxy generation.
Space combat weapons panel now shows a scrollbar when a ship has more than 6 weapons.
Fixed an issue when changing resolution inside the game would cause galaxy labels to not render in the correct place.
Fixed an issue where starting a game in Huge, leaving, and then starting a game on Small one would find the galaxy map wasn't centered and pan would not work.
Shield overload tooltip text revised to change "Halves Damage Taken Damage" to just "Halves Damage Taken".
Fixed an issue where sometimes when closing the planetary assault screen or during the combat encounters, the race portraits would not show or show a grey background image instead.
Fixed a bug where the little planet icons below a system would still show a colony was there after it being razed.
Fixed a bug where the +2 Infrastructure bonus given in Tutor difficulty level was only attributing +1.
Fixed a bug where entering the system view via asteroid or gas giant clicking in the overview panel would reset the map to no zoom.
Fixed an issue where the remote exploration screen would render on top of the system view if the system view was opened via notification.
Revised space culture perk "Galactic Quest" where it read "All leaders not on leave level up" now reads "All leaders level up (except the ones on leave)".
Revised leader desires text to "My people and I wish you would" instead of "could".
Many leader desires and skills tooltip revisions made.
Fixed a bug where sometimes we could click on a planet below the renaming panel when renaming a system causing the rename to abort.
Polar Shift event morale penalty now clarifies that the arrival of a Support Ship cancels the effect.
Clarified that the Moltar's World Shappers unique ability still needs terraforming tech as it could not be so evident before.
Fixed an issue where the PageUp/PageDown keys were too sensible to zoom.
Fixed an issue where asteroid belts, planets and gas giants names were wrapping / not being shown correctly.
Fixed a bug where the zoom level was not being reset on the next combat.
Fixed an issue where ships in the invasion cutscene were too dark because there were no lights in there.
Fixed a bug where sometimes you could not see the accretion disk when invading an outpost.
Fixed a graphical glitch where the Moltar destroyer showed a "white piece" in the model.
---
Instructions on how to download the latest build can be found here.