Hi there!Did you happen to be at PGA (Poznan Game Arena) last weekend? Maybe you have visited our booth? If so, let us know in your comments!
And now for those who haven't visited us – let's start with a general look at our booth: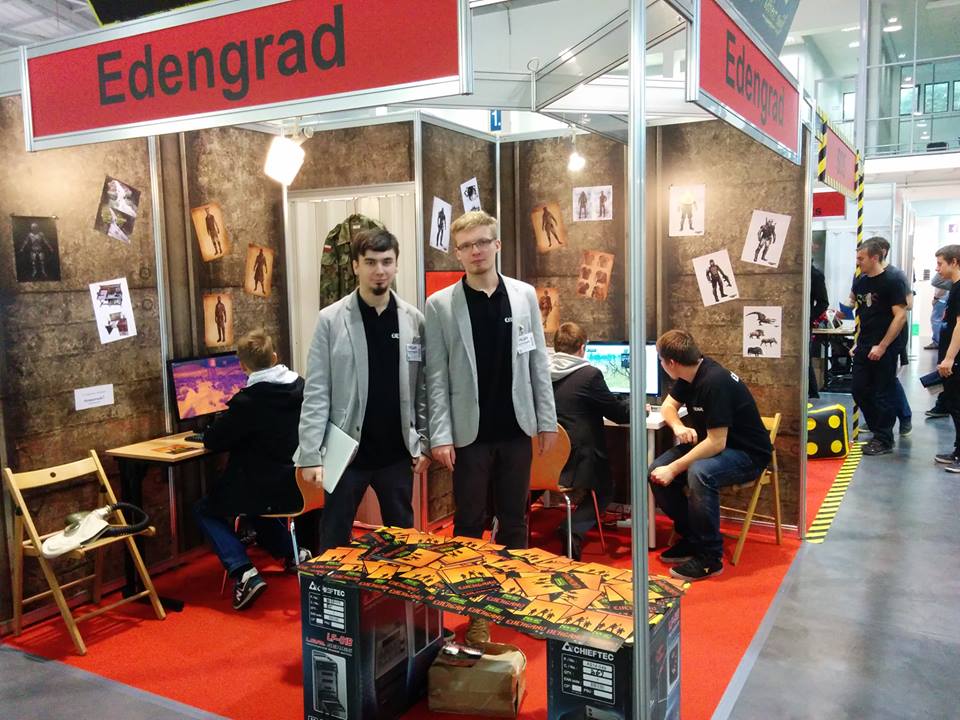 What do you think about it? Adam and I spend a lot of time putting this wallpaper on the walls, but I think it was worth it.And by the way, here's the picture of the part of our team that was present at PGA: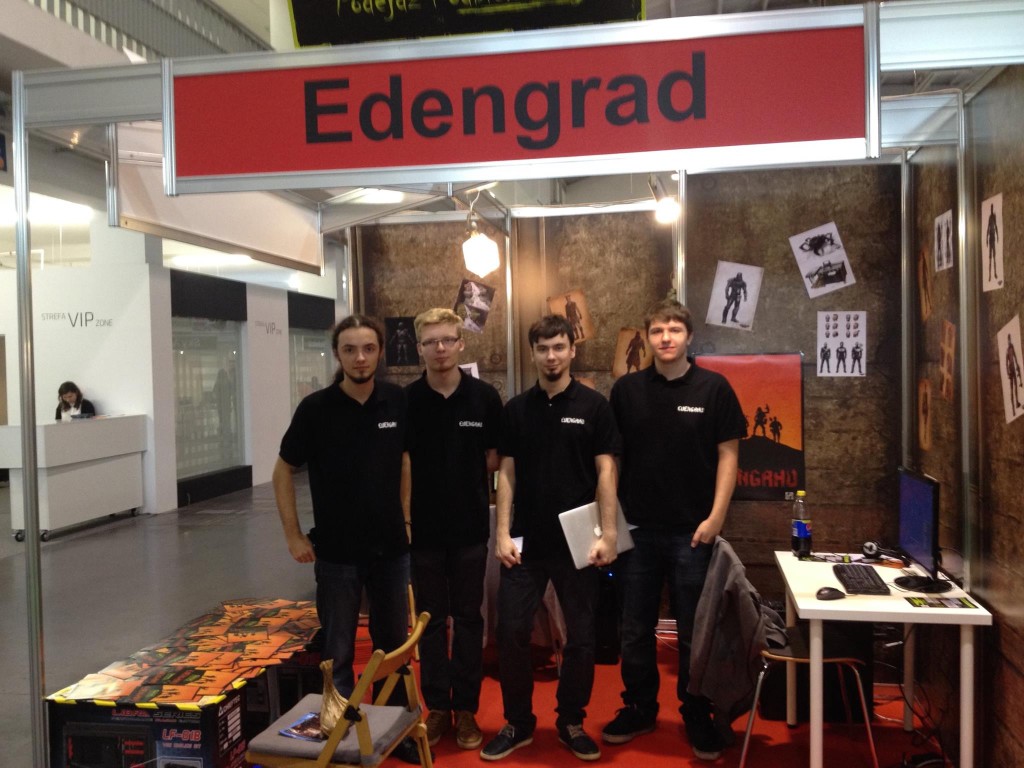 From left: Michal Zomerski – 3D Artist; Bartosz Maciejewski – PR & Marketing; Patryk Borowski – Funder & Lead Programer; Adam Pasek – Lead 3D Artist.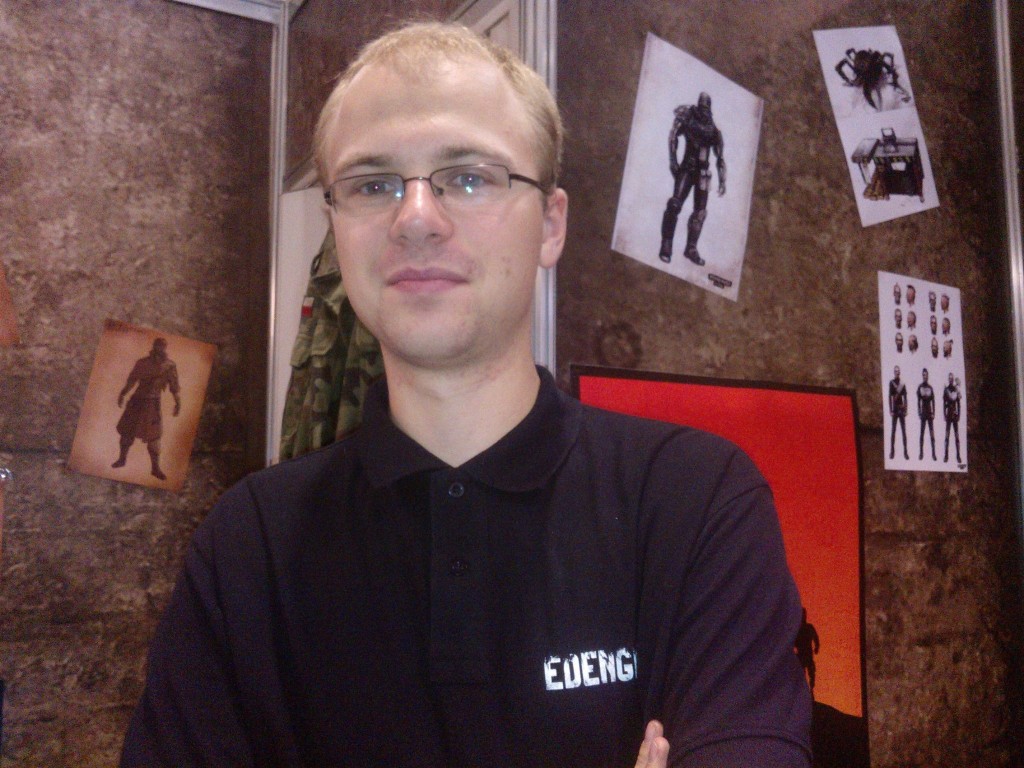 Unfortunately on another picture, but here he is – Wojciech Chalinski – 3D Artist.But let's concentrate on the most important part – the game itself. As you know, thanks to Komputronik, we had 2 PCs on which visitors were able to play Edengrad and build something by themselves. To be honest, we were not expecting such a great number of people who wanted to try our game, so please accept my apologies if you haven't had the chance to play. Next time we'll get more PCs.Those who could play were able to see our three main locations with their own eyes – the shelter, the old city ruins and the brand new factory, created just few days before PGA. The factory was made by Michal and Szymon, who spent days and nights creating this new, unique location.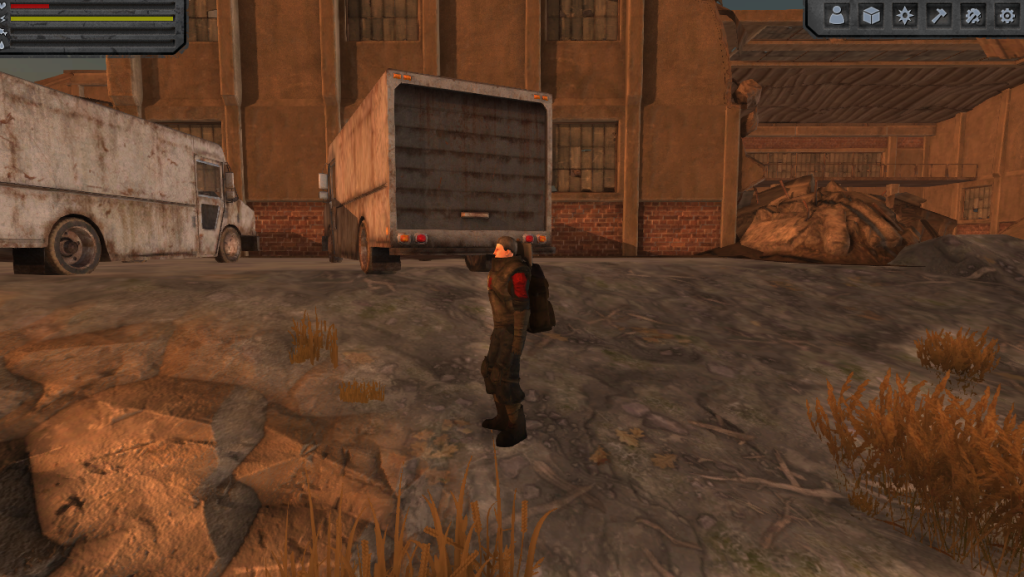 Due to limited time we could devote to people that wanted to play, we concentrated mostly on our building system and some of the skill trees present in Edengrad.
On our booth you could also get more info about what we are planning to implement to the game in the near future. However, it's all really open to discussion, so let me leave it for another news entry.
I also want to remind you about the limited time that's left to get your promo code. The website on which you can redeem it will be online only untill 2.11!