As many of you might have already noticed: The nominations for the Moddb.com - "Mod of the Year"-Award have begun again! In the following 9 days, the community will choose their Top 100, from which the communitys final favorites will be chosen. Last year, Enderal made the 4th place in the category "Best Upcoming 2012", all thanks to your support.
This year, we'd love to be among the Top 5 in the "Best Upcoming" again, not only because it helps us to know that people appreciate what we do, but also an award will help us to motivate voice actors to help us with the synchronisation of Enderal. :)
So, once again, we'd like to ask you for your vote, now in the nominations and afterwards in the final voting! Its very easy to vote for us: Simply click on the image below, which will redirect you to our website on Moddb. Then just follow the instructions of the header - It's really just one click!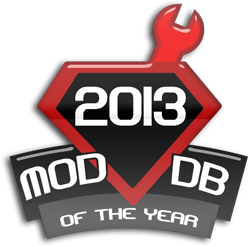 Thanks in advance!
SureAI