Devblog 20
We have finally implemented all the content that has been lying around for a while.
All the creatures, bots and weapons.
Concept art
Now it´s time to do some more work on the enemy faction. We have planned a raidable HQ tower, some outposts and smaller buildings. Tyson made a few rough sketches for brainstorming.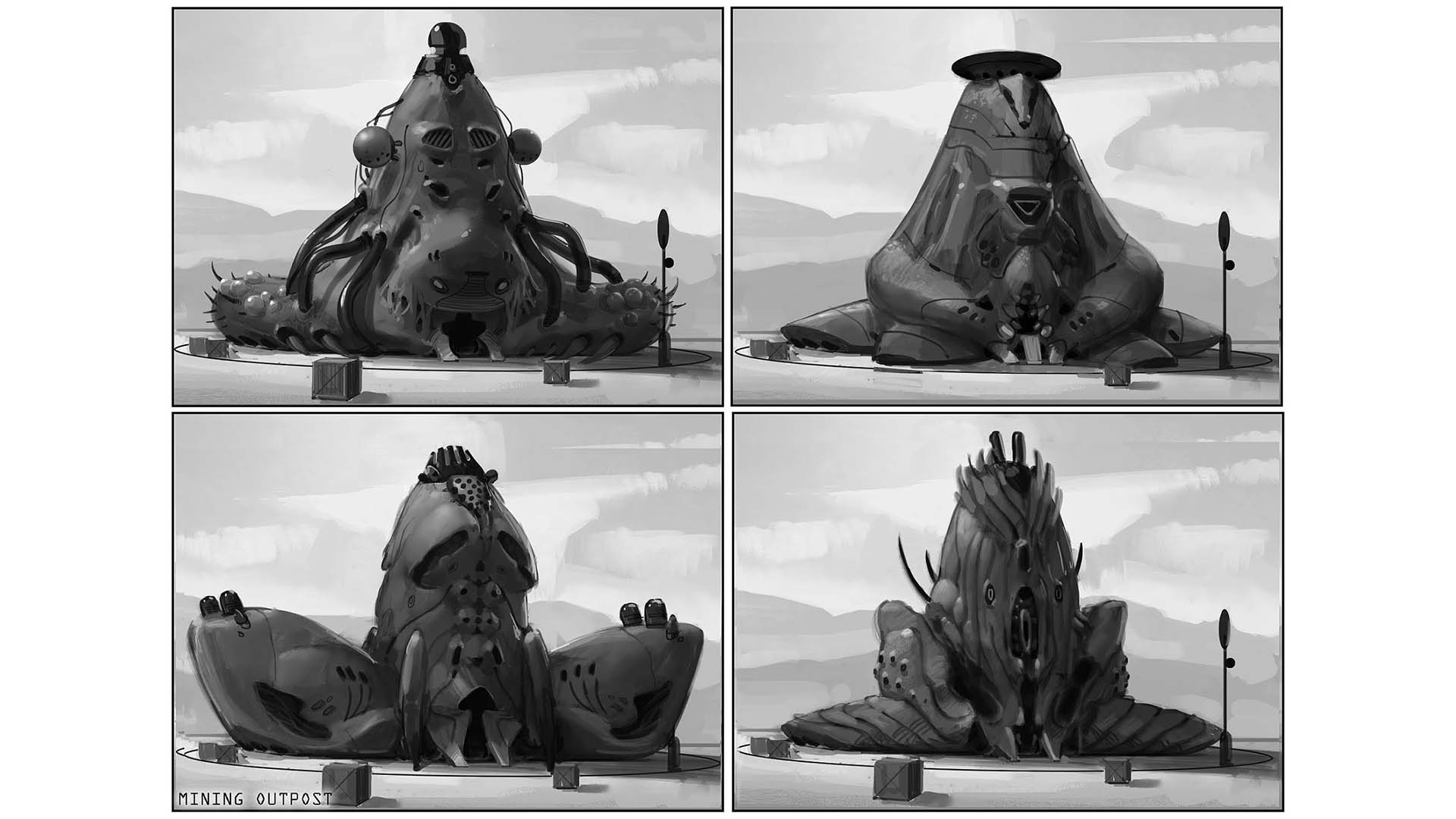 First sketches of the enemy faction mining outposts.
Multiplayer mechs & transport
Julian did a great job on all parts of the game. We still had a lot of trouble after updating to unity 5.5. The whole building system was screwed and we had to fix a ton of stuff.
The multi person system for mechs and airborne vehicles is finally working and I can tell it´s a lot of fun!
T3 Mech in action - still needs IK!
We´ve also implemented a transport system for the mechs. You can now pickup any of the 5 mechs and drop them off at the battlefield. But tell your friends not to use the mech´s weapons while being transported :)
The player ship can pickup all the mechs and drop them at a desired location.
Mech mining!
The scout mech is the first mech featuring a modular weapon system. You can mount a machine gun, mining laser or plasma cannon to it.
Creatures & bots
Julian has polished the pathfinding and AI system. It´s getting better each day.
We had too much fun spawning hundreds of creatures. Poor server!
The guard bot is a heavily armored biotech unity. It has a heavy plasma cannon and missiles.
The worms are also ingame now. We still need to add some better breakout effects, especially for the desert biome.
You´ll encounter these in the desert biome.
Worms react on noise.
The big mining station was implemented last week aswell. No more grinding for ores!
Player base building
Osman has created another barricade model that can be placed on base walls. Spikey!
And for all of you who don´t want to take the stairs – there´s now an elevator. You easily stack these onto each other.
Just in case you don´t like elevators:
Osman has created a nice one-piece stair case model.
The heavy gate is working now too. Get ready for some big things to come!
We had to make a bigger one for some heavy equipment.
Based on many community requests we´ve added a few more building parts :
Going underground!
Don´t want to expose your base to other players and deadly creatures? Craft a tunnel hatch and expand your base underground! We´re still using the same T2 base parts for this. In the future we´ll have a separate underground set for it.
Here´s a quick introduction how it works :
I´ve been pretty busy working on the map. Optimizing some shaders, models and textures and placing 1000+ rocks and cliffs on the map.
I´ve also created a few dense forests.
Subscribe our newsletter and get an exclusive invitation for the closed alpha once it´s released!
Thanks for reading!
Your Pantropy Team