The Delay
Making games is pretty hard. It's much harder to make one alone, as I am with Painters Guild. When you work alone, the game merges with your life. Progress on the game depends on you pausing your life to resume the development. During the past year, I got my Master's degree on History, researching Art History. As a result, the game's development suffered.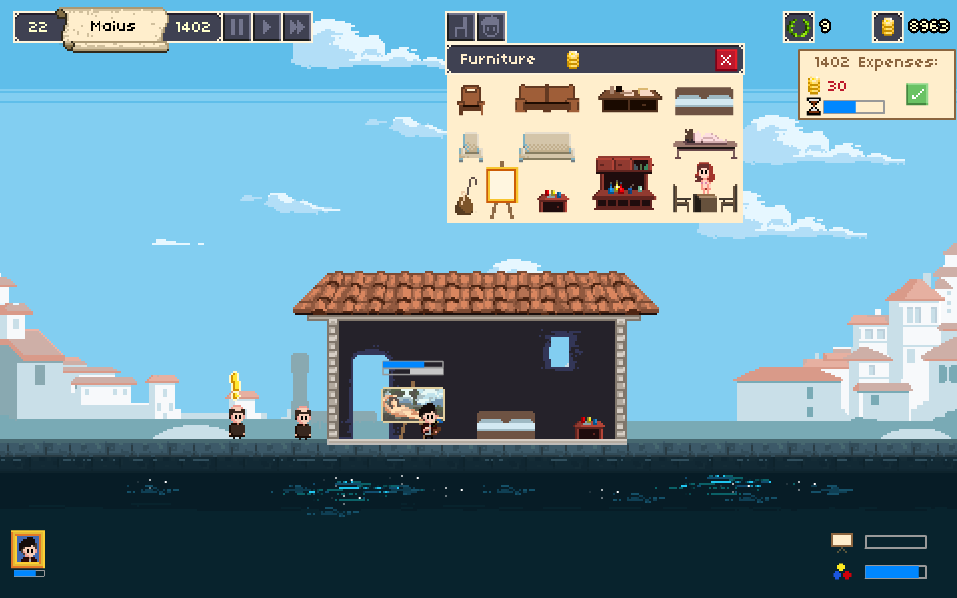 That wasn't all, of course. Personal issues and my job as a History teacher all got in the way of developing the game. And if I can't pause my life, the game doesn't get done. The lack of updates led to this funny comment here on IndieDB:
You are lazybones! You"re do NOTHING for a YEAR!
Fortunately, though, my life is now on pause. Painters Guild has seen considerable progress recently, and I'll show you the state of the game.
Great Works
Great Works are a new mechanic in the game. Every now and then, a patron will request that your artists decorate the inside walls of a great building, like a chapel or a palace. This was common in the Renaissance, think of the Sistine Chapel decorated by Michelangelo. So you need to send your artists away from the guild for a few months, and hopefully they will do the job well. All of this is done through a sort of minigame that looks like this: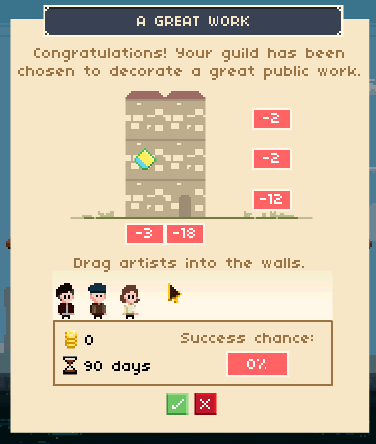 You have to arrange your painters in the best possible way in order to complete the frescoes efficiently. It takes a bit of thinking and trial and error, but it's pretty cool and I'm happy with this 'break' the player has from the core mechanic of the game.
Death
Death is a thing now in the game. Corpses that can be studied to learn anatomy: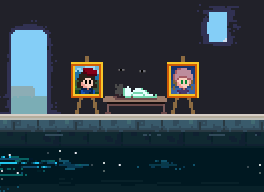 But they cause sickness! Sick artists have a small chance to trigger a death event at all times, and that chance increases the sicker they get (if they are close to someone sick or to a decaying body).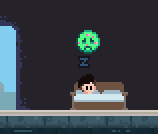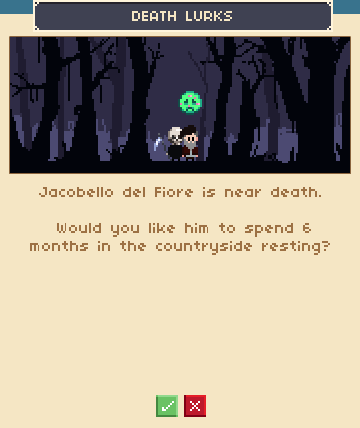 The best way to cure sickness is to have your artist rest for a while:

But if your artist dies, there will be a funeral attended by the other members of your guild: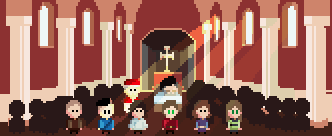 Next time we'll look into more features that are being developed, such as guild expansion and customization, character customization, styles, Great Painters and more!
Follow us on twitter for updates, and check out the DevLog!